RUSSELL TALKS PIES AND MOTHERHOOD.
EXCLUSIVE by Paul Fischer at the Sundance Film Festival.
Keri Russell is a luminous presence, pregnant and all. Sitting on a patio in a Park City hotel, the day after her film, Waitress, premieres at Sundance, Keri Russell may be exhausted from all the attention, but immensely satisfied. Despite the sadness at the untimely death of the film's director Adrienne Shelly, Keri Russell is upbeat and in good humour. Despite a successful track record and her appearance in last summer's MI3, Keri Russell wasn't offered the title role of the pie-making waitress by writer/director Shelly off the bat, but it was a role that she knew she wanted from the outset. "I just loved reading it so much and seeing it for the second time here at Sundance, you see more of the story, and not watching yourself," says the 31-year old. "I was reminded of all the funny and sweet things that I loved above the script, like that voiceover, that one scene when she says, this is the voice to the little baby, 'I hope someone holds you for twenty minutes straight and doesn't want anything else from you, doesn't want you to lift your head up, they just like hold you and let you cry.' I almost took the movie just because of that. I just thought it was so funny and I thought she just had a really good vision and we just started collecting the people involved and it just kind of got better and better."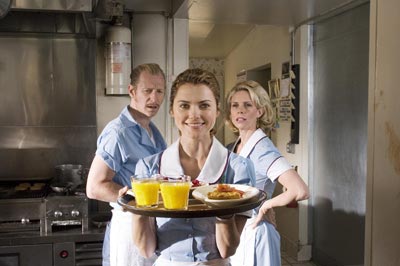 In Waitress, Keri Russell stars as Jenna, a favourite waitress at Joe's Diner, who is also a "pie genius," naming her tantalizing confections after the tumultuous events and emotions of her daily life. She's hoping that one of her pastries, like her "Kick In The Pants" Pie, might even change her life--if she can just win that $25,000 pie contest. But when Jenna discovers that she's pregnant, she immediately bakes an "I Don't Want Earl's Baby" Pie--a quiche of egg and cheese with a smoked ham centre. After all, her husband Earl is a jealous and violent guy that is essentially a child himself, and the last thing they need to do is start a family together. Eventually, though, the pregnancy eventually changes the course of events in her life, giving her an unexpected and newfound confidence via letters to her unborn baby, as well as an adulterous affair with the new doctor in town.
As a mother-to-be in her own life, Keri Russell says it was easy to identify with her latest character, but also in terms of the friendships she forges with the other waitresses in the diner, played by comedienne Cheryl Hines and director Shelly. "I totally relate to the things in your life not being so great but loving your girlfriends. And that's what gets you through." At the same time, the film deals with issues that explore poverty and despair. "I think Adrienne got how scary it is to be that poor and to have no options. There was another line in the earlier draft that I really loved where she was talking to the doctor and he said 'Well why don't you leave?' and she's like 'Have you ever been poor?' and the doctor is like 'Yeah I mean like in college I couldn't pay my lunch'. To him that's broke. Poor is something different. I think she really got that sense for that character and I r I think everyone can relate. I didn't grow up so wealthy or anything, so I really like that. You love those girls and they love you and that's your family."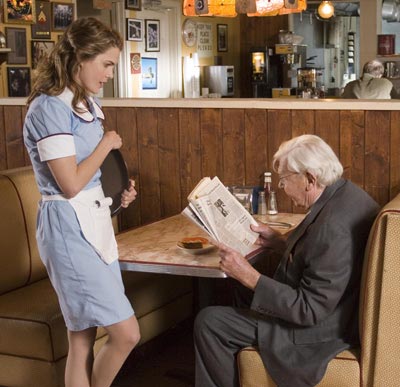 The discussion inevitably turns to Adrienne, tragically murdered about a month prior to our interview. Yet Keri Russell refuses to be maudlin about the tragedy, preferring rather to focus on her strengths as a filmmaker. "I have to say, if there's one thing I could say to her, I'd say 'You were right' about so many things, because she was very strong. She knew exactly what she wanted and every frame of this movie is hers. It's not like she said 'Keri, just go in, work with it and see what you want out of that scene'. Oh my god, line by line she said 'No. That's not what I want. Stop. This is what I want. Don't do that with your hands'. She was very specific and knew exactly what she wanted," Keri Russell explains, her voice shaking with emotion. "Waitress is very much her voice, her sense of humour and there were certain things that I remember giving her a hard time and bitching about what we were doing and I wish I could say it back. 'You were right!' There are things that, the first time we saw that got a huge laugh and I remember going 'This is ridiculous. I don't want to do it like this'. Yet she was so right, because he knew, she knew." Keri Russell's voice trails off. Asked if there is a danger that Shelly's death will somehow overshadow the movie as a whole, Keri Russell pauses. "I'm not sure. The great thing is, I hadn't seen the movie and I sat in that screening and I thought, 'Who knows what's going to happen? Am I going to see her on screen and really like freak out and be so sad' and you know, to be a part of the movie and to be able to sit and watch it and get lost in the story was a really good sign for me. Something I very rarely can do and I think it's a testament to the movie and how well her vision and her whole story telling was and so I don't think it will."
While Keri Russell savours the positive reviews she is receiving for Waitress, her other production, motherhood, is feverishly awaiting release. Due imminently, hen we spoke in January, the beautiful actress conceded that she wasn't particularly nervous about motherhood. "I'm really excited. I might be very naïve, but I've had a really nice experience so far." At the time engaged to carpenter Shane Deary [the couple subsequently wed], Keri Russell jokes that she may not greet the birth of her child with the same sense of adulation that Jenna does in Waitress. "I'm totally the opposite - I'm like, wait that's it? Ewwwh! Shane, this isn't what I wanted. That's not what I had in mind." It seems that Keri Russell went out of her way to avoid dating someone in the film industry and says being with a carpenter "I find very attractive and he's totally redoing a brownstone that we bought. So we're more concerned about that and less concerned about dinner seatings."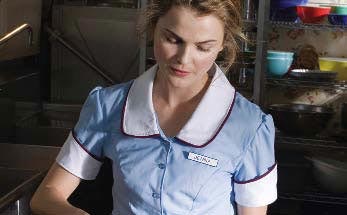 Keri Russell Has a few other films coming out, including the Robin Williams starrer, August Rush. Commenting on her co-star she jokingly quips, "I just wish he would come out of his shell." She describes August Rush as "a smaller and more emotional family oriented movie, it only has, apparently I'm told, only a very few times it can be released because it's a studio movie, so they say it could have been Easter or fall." But at the moment, even with Cover Girl coming out, "in my brain it's giving birth that's all-consuming."
Starring
: Keri Russell, Nathan Fillion, Cheryl Hines, Adrienne Shelly, Eddie Jemison, Lew Temple
Director
: Adrienne Shelly
Screenplay
: Adienne Shelly
Genre
: Romantic Comedy
An audience hit at the Sundance Film Festival, WAITRESS serves up a sweet, sassy and delicious slice of life tale -- as it reveals the power of friendship, motherhood and the willingness to take a chance. Its the story of a small town woman who transforms her hopeless life into a hilarious and unexpected love story. This vibrantly different romantic comedy is the final film from writer-director Adrienne Shelly.
Starring in the title role, Keri Russell (MISSION: IMPOSSIBLE 3, THE UPSIDE OF ANGER) leads a dynamic cast as a diner waitress stuck in a lousy marriage whose only solace is baking out-of-this-world pies. When the awkwardly charming new OB-GYN, Dr. Pomatter (Nathan Fillion, SERENITY), comes to town, shes inspired to mix-master her life into something far more satisfying. WAITRESS will surely do for pie making what SIDEWAYS did for Pinot Noir.
In Cinemas 25th October
Thanks to Fox Searchlight & 20th Century Fox film and the release of new movie WAITRESS, here is your chance to win one of five Waitress Packs including;
2 x double inseason passes, so you can take your girlfriends,
1 x copy of Mum's Favourite Recipes book courtesy of Penguin Books and
1 x Waitress baking set valued at $115 each.
www.femail.com.au/comps.htm