Prince of Persia: The Sands of Time
Walt Disney Pictures and Jerry Bruckheimer Films present Prince of Persia: the Sands of Time, an epic action-adventure set in the mystical lands of Persia. A rogue prince named Dastan (Jake Gyllenhaal) reluctantly joins forces with a mysterious princess Tamina (Gemma Arterton) and together, they race against dark forces to safeguard an ancient dagger capable of releasing the Sands of Time-a gift from the gods that can reverse time and allow its possessor to rule the world.
Directed by Mike Newell (Harry Potter and the Goblet of Fire) with a cast that includes Sir Ben Kingsley and Alfred Molina, and a screenplay by Boaz Yakin and Doug Miro and Carlo Bernard from a screen story by Jordan Mechner, Prince of Persia: The Sands of Time was released in May, 2010.
The executive producers are Mike Stenson, Chad Oman, John August, Jordan Mechner, Patrick McCormick and Eric McLeod. The associate producer is Pat Sandston. The extraordinary behind-the-scenes artists include Academy Award®-winning (and fourtime nominee) director of photography John Seale (The English Patient, Harry Potter and the Sorcerer's Stone, The Perfect Storm), production designer Wolf Kroeger (The Last of the Mohicans, Enemy at the Gates), costume designer Penny Rose (Pirates of the Caribbean trilogy), and film editors Michael Kahn (three-time Oscar® winner for Raiders of the Lost Ark, Schindler's List and Saving Private Ryan), Martin Walsh (Academy Award winner for Chicago) and Mick Audsley (Newell's Mona Lisa Smile and Harry Potter and the Goblet of Fire). The visual effects supervisor is Tom Wood (Sunshine), special effects supervisor is Trevor Wood (Oscar winner for The Golden Compass), and stunt coordinator George Aguilar (American Gangster, Die AnotherDay, Newell's Donnie Brasco). The second unit director/director of photography is Alexander Witt (Robin Hood, The Taking of Pelham 1 2 3) and the composer is Harry Gregson-Williams (The Chronicles of Narnia trilogy, Kingdom of Heaven).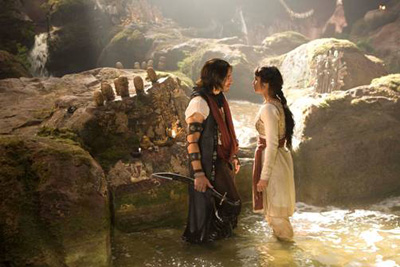 The Story: Filmmakers take Jordan Mechner's exotic world to new heights
"We love bringing audiences into new worlds they haven't yet explored," says producer Jerry Bruckheimer, "and ancient Persia is one of the most wonderful of them all. It has such a rich heritage of imagination and fantasy, and we've tried to honor that in Prince of Persia: The Sands of Time. We tackle epic films, from Armageddon to Pirates of the Caribbean, and Prince of Persia: The Sands of Time falls right in line with those kinds of movies. It's got enormous imagination, enormous scope and phenomenal action."
Jordan Mechner created his seminal Prince of Persia video game in 1989. "I was looking for a universe that hadn't yet been done in video games," says Jordan Mechner. "The early days of video games were like the early days of cinema. We looked to previously established genres, like sword-and-sorcery and science fiction, to find things that would work in this new medium."
Adds director Mike Newell: "I love the idea of it being a living myth that you are watching. This is a story that's absolutely real and extraordinary-a non-rational, nonphysical universe as we now understand it. These things happen in this film."
It wasn't Dastan's birthright to become a prince-it was his destiny. As a boy in 6th century Persia-one of the greatest empires the world has ever known-young Dastan is a street urchin, parentless and penniless. Threatened with severe punishment by a Persian Army captain after defending a youngster caught stealing an apple, Dastan is first spared, and then adopted, by the noble King Sharaman, who detects a touch of greatness in Dastan. Raised alongside Sharaman's sons Tus (Richard Coyle) and Garsiv (Toby Kebbell), and taught the ways of wisdom and nobility by his adoptive father and beloved uncle, Nizam (Sir Ben Kingsley), Dastan retains his rough edges while growing into a strong young warrior.
"What appealed to me about the story is the notion that everybody has great potential," says Sir Ben Kingsley. "And this is where I thought it would be a very affirming film, particularly for young people-to realise that whilst you might be a child of the streets, it doesn't mean that your potential is any less than that of a child from the palace. Our film is an examination of the potential of a child coming into adulthood, and the choices he has."
Dastan, driven to prove his worth, leads the attack on Alamut, a peaceful holy city which is reported by spies to be hording weapons that are supplied to Persia's enemies. But in fact, Alamut holds a much deeper and greater treasure-the legendary Sands of Time, which gives mortals the ability to turn back time. Dastan comes into possession of an ancient glass-handled dagger, the key to accessing the Sands of Time, but King Sharaman is assassinated and Dastan is accused of the crime. Now on the run and desperate to clear his name, Dastan finds himself in an uneasy alliance with Tamina, a feisty young Alamut princess whose family has guarded the Sands of Time for centuries, and who will do whatever it takes to protect it.
Dastan and Tamina, who are like oil and water from the start, are challenged to survive the unforgiving desert and some even more unforgiving enemies-from the wily Sheikh Amar (Alfred Molina) and master African knife thrower Seso (Steve Toussaint) to the deadly attempts of the Hassansins-each one trained to kill with their own lethal techniques. It will take all of Dastan's bravery and fighting skills, as well as Tamina's cunning, in order to uncover the one truly responsible for the king's death, and for him to discover the nobility that truly lies within.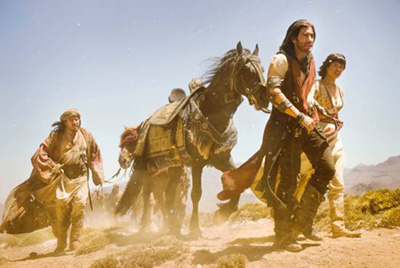 According to Jake Gyllenhaal, the filmmakers had an interesting perspective about the film's fantasy backdrop. "It was Mike Newell and Jerry Bruckheimer's initial and brilliant idea that this film be based in reality. Mike Newell said, 'I want this movie to be based in the mentality of sixth-century Persia, where they believed in fantasy becoming reality, that you could find a dagger that could turn back time and have no doubt in the possibility of that happening because that's what they would have believed back then.'"
At a time when European civilisation was but a dim gleam on humanity's horizon, mighty Persia was creating great cities and buildings throughout its vast and mighty empire: Persepolis, Baghdad, Susa, Pasargadae, Arg-é Bam, Isfahan. The Persian Empire at its height stretched from the Euphrates in the west to the Indus River in the east, and from the Caucasus, Caspian, and Aral seas in the north to the Persian Gulf and the Gulf of Oman in the south. In addition to Iran itself, the empire included what are now the modern nations of Azerbaijan, Afghanistan, Pakistan, Turkmenistan, Tajikistan, Uzbekistan and the eastern parts of Turkey and Iraq and their surrounding regions.
Two great works of Persian literature greatly influenced Jordan Mechner: the Shahnameh, a massive work written by the great poet Ferdowsi in approximately 1000 AD and considered to be the national epic of Iran, and One Thousand and One Nights, a collection of stories dating back to the ninth century that incorporated ancient Persian, Middle Eastern and Indian folktales and legends. Jordan Mechner recognised that he could build an alternative world based upon the historical realities of ancient Persia, creating new mythologies about a culture that had created so many of its own fantasies for thousands ofyears.
Jordan Mechner created a protagonist who defied gravity with his acrobatic acumen yet remained governed by the laws of physics and human capability. "With Prince of Persia, I wanted to create a character that felt like flesh and blood-like if he missed the jump, it would really hurt," he says.
Jordan Mechner was not only creating a character who leapt from one precipice to another; the young video-game genius was also taking a giant leap himself, seeking new technologies to bring his world of Prince of Persia to life as fully as possible. "The world of the 'Prince of Persia' video game was fascinating," says executive producer Mike Stenson. "It had a wonderful fantasy aspect about it, and the Sands of Time element introduced in the 2003 game was perfect for the big screen. We felt that we should have elements of the game, but, just as we did with 'Pirates of the Caribbean,' develop our ownstory, taking off from what was given us. But we think we're being true to Jordan Mechner's vision of the game."
Mike Newell was, of course, tapped to direct the big screen's Prince of Persia: The Sands of Time. Says Jerry Bruckheimer, "Mike Newell can do just about any kind of movie, from Four Weddings and a Funeral, which is a dramatic comedy, to Donnie Brasco, a hard-edged, gritty street movie. And then he goes and does Harry Potter and the Goblet of Fire, which had just the right blend of adventure and mystical fantasy that we were looking for. Mike Newell has a really wonderful palette that he paints from, and that's very important to us. We want an entertaining film that appeals to a broad audience, but also something special, that concentrates on character and story."
"The more exquisite, the more dark, the more agonised, the more true to our fallible human natures a film can be-that's a good Brit picture," says Mike Newell. "But lately, I've been really interested in great, big entertainment Prince of Persia: The Sands of Time is exactly that great, big entertainment and I'm very pleased to have it."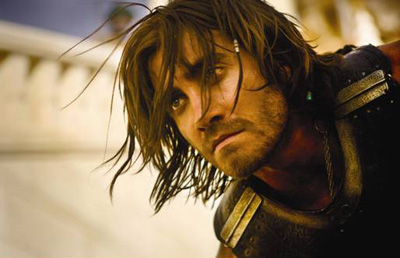 The Makings of an Action Hero: Jack Gyllenhaal leads a powerful cast
What qualities make a hero? The role of Dastan required an actor who could be multi-layered: dashing in the classic-movie mode; wily, with a sense of raffish fun; burdened with the underlying gravitas of poverty; and driven to become a better man. Jake Gyllenhaal had already demonstrated his serious acting chops in such films as David Fincher's Zodiac, Sam Mendes Jarhead and Ang Lee's Brokeback Mountain, which brought Gyllenhaal an Academy Award® nomination and a BAFTA Award.
"Jake Gyllenhaal is an actor that I've been watching and wanted to work with for a very long time," says producer Jerry Bruckheimer. "He's a wonderful actor, exceedingly handsome and a great gentleman. Jake Gyllenhaal is also incredibly dedicated. He did an amazing job training himself for Prince of Persia, putting on an enormous amount of muscle-fight training, sword-fighting, parkour training, horse-riding. And he continued to work out and train every single day of the more than 100-day shoot."
Adds director Mike Newell: "Jake Gyllenhaal has a man-of-the-people quality. He's curious, open, gentle, very tough, and has great comic abilities, and in Prince of Persia, he uses all of that. I saw pretty much everything he had made and thought him a marvelous actor, with terrific charisma. But what I didn't know about Jake Gyllenhaal was that he would be an absolutely God-given action hero. He can fight; hold a sword, run, clamber, and jump and ride a horse as if he were glued to the back of it. And that I didn't expect. It's no small thing."
Jake Gyllenhaal also received a ringing endorsement from the man who created the prince: Jordan Mechner. "Any time you have a character that an audience has connected to through another medium, whether it's a novel or a video game, people are going to have strong feelings about it," says Jordan Mechner. "But I think that if you have a good actor and a good movie, then after the first minute it's no longer an issue. I think Jake Gyllenhaal is a fantastic choice for the role. Once you see him in costume and in action, you have no doubt that he is a prince in sixth-century Persia. He's strong, heroic, humorous, sensitive and vulnerable, and you have no doubt he's going to do the right thing."
When offered the role by Jerry Bruckheimer and Mike Newell, Jake Gyllenhaal was overwhelmed by the sheer scope of the project. "Prince of Persia: The Sands of Time was just so different from anything that I had been involved in," says Jake Gyllenhaal. "I thought that creating an iconic character like Dastan could be both fun and a huge challenge. I've always loved movies in which the hero has the capability to do almost anything, but still be a human being, and not a superman.
"The development of the character was massively physical at first," Jake Gyllenhaal continues, "getting in shape and learning parkour, sword-fighting and the mentality of a warrior. I knew that if I got through that, I'd be halfway there. And when it was decided that Dastan would speak in a standard British accent to be consistent with the rest of the performers, I worked hard at that as well with a dialect coach named Barbara Berkery."
After a worldwide search, Gemma Arterton was summoned by to star as Tamina in Prince of Persia: The Sands of Time. "Gemma Arterton is a wonderful young actress whom we found in London-a recent graduate of the Royal Academy of Dramatic Arts," says Jerry Bruckheimer. "She had a small part in Quantum of Solace, and we cast her before that picture hit the big screen, so we feel very fortunate that we got in on the ground floor, because she's been turning a lot of heads ever since the Bond film was released. Gemma Arterton is going to be a really big star."
Adds Mike Newell: "What I loved about her is that-and long may she retain the quality- Gemma Arterton has none of those layers of artifice, defense and arrogance that build up in a young actor who quickly becomes successful."
"The scale of it, creating a new world on-screen-something that's never been done before-and the action, were really exciting to me," Gemma Arterton says. "I've always wanted to do an action movie and kind of fancied myself as a bit of a stunt girl. When I first heard about the film, though, I never thought I'd get it. I hadn't yet done 'Quantum of Solace,' so being cast in an even bigger film was a far-fetched idea.
"She's a great character for me to play," Gemma Arterton continues, "because Tamina is more than a typical action figure. She's spiritual, very wise, thoughtful and sensitive as well. The most beautiful thing about Tamina is that she's a character with faith and really believes in what she's trying to do. But she also gives the guys a run for their money and really kicks some butt."
Filmmakers called on Ben Kingsley to portray Dastan's uncle, Nizam, the brother of Dastan's adoptive father, King Sharaman. "You always try to populate your film with fantastic actors," says Jerry Bruckheimer. "And when you get somebody like Sir Ben Kingsley, you're very fortunate to be able to entice him to do the project. He was, in every way, the perfect choice to play Nizam."
Veteran actor Alfred Molina was enlisted to play Sheikh Amar. "He's a sort of roguish opportunist," says Molina of the character. "He really doesn't care whether he breaks the law. He's quite dangerous at times. Sheikh Amar describes himself as an entrepreneur. His methods are unusual, unconventional, and he's basically a thief. But although he starts off as sort of a bad guy, Sheikh Amar becomes a reluctant ally of Dastan, and in the end, they join up and have the same quest, although for very different reasons."
A coterie of fine British actors round out the cast, including Richard Coyle and Toby Kebbell as Dastan's brothers, the troubled Tus and militant Garsiv; Steve Toussaint as the imposing African warrior Seso; Ronald Pickup as Dastan's beloved adoptive father, King Sharaman; Reece Ritchie as his servant and sidekick Bis; and Will Foster as Young Dastan, the first role for the parkour-studying British boy.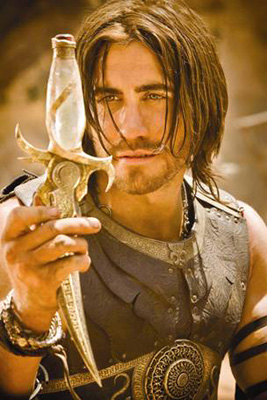 Tackling Stunts and Parkour: Filmmakers go right to the source
From fantastic parkour displays of gravity- and death-defying leaps and acrobatics to outrageous ostrich races to medieval Near Eastern battles on a grand scale, Prince of Persia: The Sands of Time gave its stunt coordinators an epic canvas. The daring team was comprised of first-unit stunt coordinator George Aguilar, second-unit stunt coordinator Greg Powell, Morocco co-stunt coordinator Stephen Pope, co-fight coordinators Thomas Dupont and Ben Cooke, and parkour choreographer David Belle.
For the actors, preparation began several weeks before the cameras rolled, with rigorous training programs designed to whip them in shape and get them on horseback. Jake Gyllenhaal was already in prime physical condition as an avid runner, cyclist and allaround athlete.
"There's no reason to do a movie like this if you can't do the stunts," says Jake Gyllenhaal. "It was all about functional fitness, being able to do everything that was asked of me. So I got into the best shape I could, with a whole lot of running, parkour training, weight-lifting and horseback-riding."
Along with the other cast members, Jake Gyllenhaal did extensive training with horses under the tutelage of Ricardo Cruz Moral, one of Spain's top equestrians, at his ranch outside of Madrid. For Gemma Arterton, it was a revelation. "I'd never ridden a horse in my life, so I was sent away with the others on a kind of horse-riding boot camp before we started the film. It was brilliant, and now horseback-riding is one of my hobbies. One of the stunts in the film that I do myself is when I'm swept onto a horse as it's coming towards me, and I was really proud of that."
Thomas Dupont, whose credits include all three Pirates of the Caribbean films, served on Prince of Persia: The Sands of Time as co-fight coordinator, with Ben Cooke. He also portrayed the lethal Hassad, a Hassansin who fights with two blade-tipped whips.
Dupont was charged with shooting a big action scene at an elevation of 8,200 feet. "As far as the altitude was concerned, the hardest part was the sustained fighting. We had to do a lot of things at once for up to a minute at a time. Now, that may not seem like a long time, but if you're performing at full energy, with strikes, running and jumping, that tends to wind you. And if you're already up 8,000 feet and the oxygen is scarce, it really takes its toll."
Filmmakers incorporated one aspect of Jordan Mechner's creation that promises to set Prince of Persia: The Sands of Time apart. "In the video game, the prince can run up walls and has other skills which are based on parkour," explains director Mike Newell.
"Parkour started in the suburbs of Paris, where the kids were so bored that they started to use what was available to them as some kind of test. I watched documentaries about them and saw that they really do walk up walls and leap from rooftop to rooftop. They are extraordinary athletes. So we brought some of the great world experts of parkour to teach us what to do and how to make it look good."
"We decided to go right to the source," says Jerry Bruckheimer. "We wanted the best of the best, and that's David Belle." David Belle is a young legend and the originator of parkour. "This is the kind of film that makes me wish I was in the movie industry," says David Belle. "When you watch this type of movie, it's so magnificent that you want to be a part of the scene. And all of a sudden, I find that I am. It's like a child's dream come true."
In French, parkour is also known as "l'art du déplacement," or the art of movement. And indeed, to its practitioners and those who observe the astounding feats of traceurs- practitioners of parkour-it is nothing less than wondrous. The action of Prince of Persia: The Sands of Time incorporates both parkour and its offshoot, free running.
Says Jerry Bruckheimer, "It's really an art form. It's so exciting to watch people literally bouncing off of walls, all done without wires, doing it through their own physical force." David Belle's own description of parkour is, as one would imagine coming from the man responsible for its present form, perfectly concise and lucid. "To make it simple, parkour is a training method that allows a person to develop their physique so that they can overcome obstacles. The more you train, the faster and more efficient you become.
When training, you can create a wide range of movements. These movements help you to get through difficult passageways, between buildings and over rooftops. It's a different way to learn to move your body."
David Belle was impressed by Jake Gyllenhaal's parkour abilities and the enthusiasm with which the actor quite literally threw himself into the action. "Jake Gyllenhaal certainly had me convinced," he says.
"I've seen his work, his movements in various scenes, and I have no doubt."
Particularly thrilled to work with David Belle was Will Foster, a junior parkour student portraying young Dastan. "I was quite nervous when I heard that I was going to be training with him," Will Foster admits, "but he really put me at ease. He's also really easy to talk to, because I speak a little French. David Belle showed me quite a lot of jumps and basic vaults. If he sees I'm doing something good, he'll say so, but then he tells me how to improve it, which is really helpful. It's really important to David Belle that kids know that parkour isn't about getting your camera and filming yourself jumping off the highest thing you can find. You have to study for a long time and become very strong."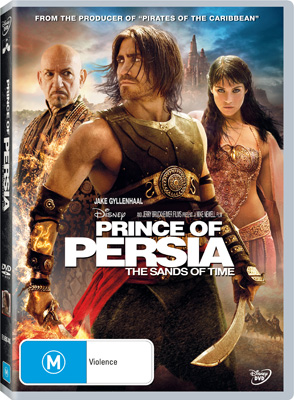 Prince of Persia: The Sands of Time
Cast
: Sir Ben Kingsley, Alfred Molina, Gemma Arterton, Jake Gyllenhaal
Director
: Mike Newell
Genre
: Action, Adventure, Fantasy
Rated
: PG
Running Time
: 111 minutes
Synopsis
: From the team that brought the Pirates of the Caribbean trilogy to the big screen, Walt Disney Pictures and Jerry Bruckheimer Films present Prince of Persia: The Sands of Time, an epic action-adventure set in the mystical lands of Persia. A rogue prince (Jake Gyllenhaal) reluctantly joins forces with a mysterious princess (Gemma Arterton) and together, they race against dark forces to safeguard an ancient dagger capable of releasing the Sands of Time-a gift from the gods that can reverse time and allow its possessor to rule the world.
Release Date
: May 27th, 2010
Website
:
www.princeofpersiamovie.com.au
Prince of Persia: The Sands of Time Fun Facts
On Location:
The first shooting location for Prince of Persia: The Sands of Time was at an altitude of 8,200 feet in the mountain village of Oukaimden in the High Atlas Mountains, surrounded by indigenous Berber communities. The cast and crew had to acclimate themselves to proceed with the demanding action sequences filmed there.

The production battled ferocious sandstorms in Little Fint, outside of Ouarzazate, Morocco.

Morocco offered 100+-degree Fahrenheit temps during production. Massive, air-conditioned tents were erected at the Lycee Hassan II school in Marrakesh. One, which was the size of a football field, housed wardrobe, hair and makeup for the film's background players. The adjoining tent was built just for washing and drying. It was a mind-blowing 124 degrees Fahrenheit on the last day of Moroccan filming (Merzouga Sand Dunes outside of Erfoud). According to Morocco Facilities Manager Gregoire Mouveau, during filming in that country the Prince of Persia company consumed 1,114,894 bottles of water.

Typical warnings on call sheets in Morocco: "Please do not touch the ostrich on set today" or "Beware, snakes nad scorpions can be found at this location under and around the rocks. Be Cautious!"

In Morocco, there were a combined 1,350 cast and crew members, including 800 local Moroccans. Adding the 500 people working in post-production, the total cast and crew amounted to more than 1,850.

A local Moroccan was hired to clear the shooting areas in the desert of a vipers and scorpions. Donning a t-shirt emblazoned with Snake Dude, he was easy to spot.

The Nasaf marketplace and city gates were built adjacent to the UNESCO World Heritage site of Ait Ben Haddou, but the original structure was untouched by the filmmakers.

Details, Details:

Some 20 different versions of the Dagger which holds the Sands of Time were fabricated for the film-from the 'hero' version, made of steel-to latex versions, created for stunt sequences.

The only other ostrich race scene other than the one shot for Prince of Persia was for another Disney movie-the 1960 version of 'Swiss Family Robinson.' The moment in which Alfred Molina, as Sheikh Amar, kisses his favorite ostrich on the neck was completely unscripted. "I thought I would either get my eye poked out," notes Molina, "or that I would get away with a funny moment."

The film's parkour adviser is none other than France's David Belle, who actually invented parkour.

The exterior set of Alamut, designed by Wolf Kroeger, was constructed around the actual 700-year-old walls of the village of Tamesloht, 20 kilometers southwest of Marrakesh. It required 30 miles of scaffold tubing and 400 tons of plaster, with 350 members of the construction crew. The colorful frescoes and mural paintings which adorn the set were painted in seven weeks. The Alamut Eastern Gate set built at Pinewood Studios' "007 Stage," also designed by Wolf Kroeger, required 3,000 eight-by-four-foot sheets of wood, 70,000 feet of three-by-one inch timber, and 40 tons of casting plaster for moldings. It was constructed in a relatively brief 14 weeks.

Armorer Richard Hooper and his department fabricated 3,500 individual items, including swords, shields, spears, axes, arrows, bows, quivers, scabbards, bow cases, daggers and Hassansin weapons.

Working on the film for a few days at Pinewood Studios in England was legendary British assistant director Michael Stevenson, who knows a thing or two about epics having worked on "Lawrence of Arabia," "The Fall of the Roman Empire," "Doctor Zhivago," "The Charge of the Light Brigade" and "Barry Lyndon."

Wardrobe:

With more than 7,000 costumes created and fabricated for the film, costume designer Penny Rose's wardrobe department exceeded that of the Pirates of the Caribbean films, which she also served as costume designer.

The patchwork coats worn by Alfred Molina as Sheikh Amar were made from Indian bedspreads sewn together. Their shredded look, revealing the different layers of fabric, was achieved by rubbing cheese graters across the coats. Other costumes were aged by throwing them into a cement mixer with stones.

Costume designer Penny Rose discovered fabrics used for the film's costumes in locales as diverse as India, Thailand, Italy, France, Malaysia, China, Great Britain and, of course, Morocco.

The character who has the most wardrobe changes is not Tamina, played by the beautiful Gemma Arterton, but Nizam, portrayed by Sir Ben Kingsley.