A Few Best Men
Cast
: Xavier Samuel, Kris Marshall, Kevin Bishop, Tim Draxl, Olivia Newton-John, Laura Brent, Rebel Wilson, Jonathan Biggins, Steve Le Marquand
Director
: Stephan Elliott
Genre
: Comedy, Drama, Romance
Running Time
: 97 minutes
Synopsis
: An outrageous comedy about a groom and his so called 'three best mates'.
When David travels to Australia to marry the love of his life,
his three best men give a whole new meaning to the phrase
'for better or worse'.
The chaos-filled wedding is a classic culture clash
between his friends and her family...
because blood is thicker than water and so are David's mates!
Release Date
: January 26th, 2011
Website
:
www. afewbestmenthemovie.com
Production Notes
Dean Craig's script for A Few Best Men was developed with producers Share Stallings and Laurence Malkin. It is their fourth collaboration together and recaptures Dean Craig's unique voice, which spoke to audiences worldwide on both productions of Death At A Funeral, (Sidney Kimmel Entertainment's 2007 original and the Sony Screen Gems remake, starring Chris Rock in 2010). Laurence Malkin approached Arclight Films' Mark Lindsay and Gary Hamilton. A long time champion of Australian productions - Gary Hamilton immediately saw the creative connection for the film, and had a clear vision of how to produce and finance the feature in Australia.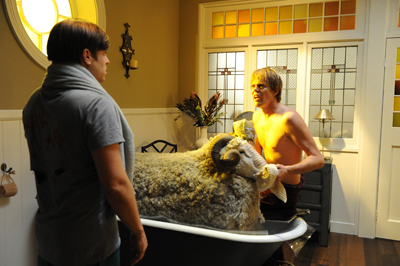 Upon his return to Australia, after some seventeen years away, director Stephan Elliott (Easy Virtue, Eye of the Beholder, The Adventures of Priscilla, Queen of the Desert) was slipped the script by Gary Hamilton asking him to read it 'as a favour'. Remembering the words of acclaimed screenwriter Richard Curtis (Love Actually), who had once told him - 'a comedy script is only successful if you laugh out loud at least three times when reading it' - Stephan Elliott knew he had his next project.
A destination wedding gone totally wrong A Few Best Men was written by Dean Craig (Death at a Funeral, Off The Hook, Fresh, Caffeine) and produced by the team of Share Stallings (Death at a Funeral, Curious George 2, Curious George TV Series, The Reality Trap) and Laurence Malkin (Death at a Funeral, Five Fingers, Soul Assassin, Caffeine), Arclight Films' Gary Hamilton (Salvation Boulevard, Romulus My Father, Merchant of Venice, The Bank Job), and Antonia Barnard (Burning Man, Last Ride, The Painted Veil).
With a stellar international cast all saying 'I do!' A Few Best Men stars Xavier Samuel (Twilight: Eclipse, Bait, Anonymous, 2:37) as the hapless groom, with Stephan Elliott's Easy Virtue star Kris Marshall (Death At A Funeral, Merchant of Venice, Love Actually), British stand up comedian and actor Kevin Bishop (The Kevin Bishop Show, Star Stories, Spanish Apartment, Food of Love) and Australian Tim Draxl (Tangle 2, The Shark Net, Traveling Light, Swimming Upstream) as his delinquent best men.
Stephen Elliott has long been friends with Olivia Newton-John and was determined that she was absolutely perfect to play 'the mother of the bride'. He was delighted when she agreed to make her Australian feature return as Barbara.
Also in the ensemble are Laura Brent (Not Suitable For Children, The Chronicles of Narnia: The Voyage of the Dawn Treader) as the bride, Bridesmaid's Rebel Wilson as her sister, the ubiquitous Steve Le Marquand (Beneath Hill 60, Last Train To Freo, Kokoda) as the lonely drug-dealer Ray, political satirist Jonathan Biggins as the bride's politician father and recent VCA drama school graduate Elizabeth Debicki as his right hand woman, Maureen. Elizabeth has since been cast as Jordan Baker in Baz Luhrmann's upcoming The Great Gatsby.
Behind the camera, Stephen Elliott amassed an outstanding crew of longstanding collaborators and industry greats including the internationally acclaimed Director of Photography Stephen Windon (Fast & Furious 5; The Pacific, The Fast & The Furious: Tokyo Drift and the upcoming GI Joe 2: Retaliation), Production Designer George Liddle (Daybreakers, Willfull, Dark City) and reuniting with The Adventures of Priscilla, Queen of the Desert's Academy Award® winning Costume Designer Lizzy Gardiner (Stealth, Mission Impossible II, Eye of the Beholder), composer Guy Gross (Frauds, The Adventures of Priscilla, Queen of the Desert) and editor Sue Blainey (Easy Virtue, Eye of the Beholder, The Adventures of Priscilla, Queen of the Desert).
Working with writer Dean Craig, Stephen Elliott says that the final shooting script was a meeting of their two minds. "Dean Craig has a definite voice and it can be heard loudly throughout the film" said Stephen Elliott. "We worked together to ensure his humour and the Australian sensibility went hand in hand" … and of course the sheep ending up in drag was always going to happen!
Determined that the film be set not just in Australia but specifically in New South Wales, Stephen Elliott convinced Screen NSW (the State funding body) to assist with the location recce, thus hiring a helicopter to scope the areas around Sydney (flown by Stephen Elliott's friend and helicopter hero Gary Ticehurst, who was tragically killed in a flying accident 5 months after filming was completed and just prior to film lock off - Stephen Elliott hopes A Few Best Men will do Gary Hamilton proud).
It was during this reconnaissance that the perfect location for the wedding was found - Yester Grange - a grand federation house perched on a stunning escarpment in the heart of the Blue Mountains. Lawrence Malkin and Share Stallings were grateful to Screen NSW and Screen Australia for supporting Stephen Elliott's vision of the film. They were particularly impressed with how focused the agencies remained on ensuring the film made it into production.
The film was shot over a period of eight weeks at Fox Studios in Sydney and on location in the Lane Cove National Park, The Rocks and the picturesque Blue Mountains - all during the height of the Australian summer and in the midst of a sweltering heatwave. Having recently been to a summer Australian wedding - where parasols were handed to the guests upon arrival - Stephen Elliott asked production designer George Liddle to supply the same to the extras playing the guests in the wedding scene. This single act greatly assisted in protection from sunstroke and heat exhaustion as temperatures rose to the high 30s and early 40s as cast and crew were forced to withstand the demands of the heat wave, whilst shooting the spectacular garden wedding scenes in the grounds of Yester Grange.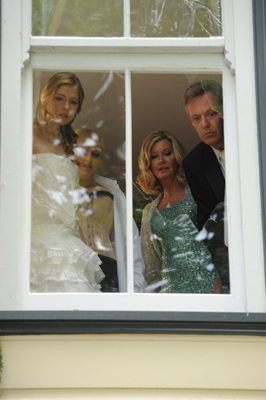 One character central to the comedy was Ramsy, the Merino sheep prized by father of the bride Jim Ramm and credited with his success - 'the ram behind the man'! Any self respecting Merino would normally have been shorn prior to the summer - but in keeping with the script Ramsy had to maintain his prize Merino pelt for best cinematic effect - resulting in the production team having to keep him in air-conditioned comfort between takes.
Always good humoured during the shoot Ramsy had to be lowered out of a window, be dressed in drag and suffer the ignominy of pretending to have items removed from his nether regions. He was a stand out member of cast, despite 'making a bolt for it' and disappearing down the mountain only to be returned safely with a rather sheepish look on his face.
Director of Photography Stephen Windon shot A Few Best Men using the revolutionary Arri Alexa camera. The second Australian film to use the camera, it was the first film to use the camera's RAW uncompressed data - giving the production a better resolution and greater quality control in the grading suite. This groundbreaking system is reshaping the future of feature films.
The interior wedding scenes were shot at Sydney's Fox Studios with a massive wedding marquee constructed on one of the main soundstages. With 360-degree removable sides and its facility for lighting, this set gave Stephen Windon more control and greater access to what could have been quite a restricted space.
Production Designer George Liddle built the interior house sets, carefully matching the era and authenticity of the exterior of historical Yester Grange, whilst portraying the upper class home of the Ramm family.
Academy Award winning costume designer Lizzy Gardiner worked with George Liddle and Stephen Elliott to complete the look of the upper-class wedding. Historically, wedding scenes have been a major challenge for designers with cameras not being able to successfully capture white on white, however with the use of the Arri Alexa camera, and its ability to read white on white, Lizzy Gardiner was able to design a white wedding dress to compliment the Paul Smith suits for the groom and best men, and the filthy 'tighty whities' worn by Steve Le Marquand's character Ray, for most of the film.
Lizzy Gardiner designed a few different wedding dresses for the bride, before settling on 'the dress', which was painstakingly tailored to actress Laura Brent. Olivia Newton-John's mother of the bride outfit was a Collette Dinnigan, with Lizzy Gardiner designing a matching bolero to complete the shimmering ensemble.
Where the film took eight weeks to shoot, it took four months to assemble in the edit suite. Stephan Elliot worked alongside long time colleague and friend, Sue Blainey, who edited three of his previous features The Adventures of Priscilla, Queen of the Desert, Eye of the Beholder and Easy Virtue. Howls of laughter could be heard emanating from the edit suite as together they went through the various takes and scene options, compiling the final cut of the film.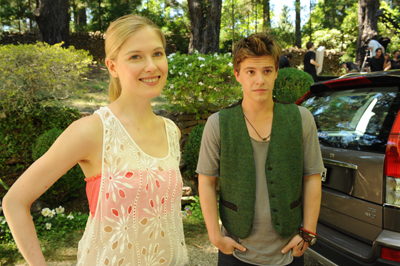 Also working closely with Stephen Elliott during this process was composer Guy Gross, who had scored both Frauds, The Adventures of Priscilla, Queen of the Desert and music supervisor Warren Fahey.
Together they have produced an outstanding contemporary soundtrack covering iconic songs from the 70s and 80s whilst giving them a quintessential 'Aussie Wedding Band' feel, with classics including Georgy Girl, Brand New Key (Rollerskate Song), Love Boat and Ballroom Blitz.
Stephen Elliott also convinced Olivia Newton-John go back into the studio with long time collaborator John Farrar (with whom she has worked for over thirty years, producing her perennial hits Xanadu and Physical amongst many others) to write and perform a new dance track called Weightless which is played over the end credits of the film.
A Few Best Men was fully completed two days shy of its hugely successful screening to 600 Australian Theatrical Exhibitors and Distributors at the Movie Convention on the Gold Coast. In introducing the film Stephen Elliott said "its good to be back!
From the Director
Way before the film, Priscilla, I was a pioneer of the 'wedding video'. As a teenager I had a side-line business filming weddings. This was back in the day when the video camera weighed more than the 14 year old trying to operate it. Do you have any idea how many times I have shot a drunk Mother Of The Bride performing YMCA? By the time I was 23, I vowed NEVER to go to another wedding. And that included my own.
However karma is a cruel creature. Post Priscilla (for some demented reason) all I got offered out of Hollywood was bloody wedding movies. Hundreds if not thousands of the buggers. The only way I would ever face this horrific genre was on my own terms. That opportunity surfaced in the form of A Few Best Men - it read like 'Die Hard At A Wedding'. I would finally extract my revenge.
Originally set in England, relocating the script to Australia gave me the perfect excuse to come home. I could do my bit for state and country, gather all the old team together and make some magic. Problem was, most of the team hobbled into the production office on zimmer frames (living off shore for 17 years can do that to you). No matter. We fastened our leg braces, girdles and wheelchairs and went for broke.
It was David Niven who famously warned 'the more fun you have on the movie, the bigger disaster you'll have at the box office'. The last time I had this much fun was making Priscilla. If you herd this many genuinely funny people into one place, what do you think is going to happen? Some days, all I could do was point the camera and get out of the way.
Kris Marshall and Kevin Bishop would whip each other into a frenzy (they've worked together since they were kids); Rebel Wilson and Jonathan Biggins would retaliate with brilliant Aussie sarcasm; Tim Draxl would face plant (a truly gifted physical clown); Xavier would explode in sheer frustration and finally, ONJ (Olivia You Know Who) just put her head down and charged into the fray. It was comedy gold.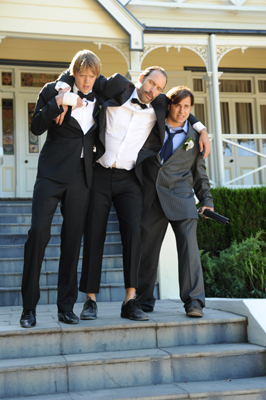 When was the last time you laughed till you cried? We were shooting in RAY's (the drug dealer) caravan for an intimate scene. Lizzy Garnier and I had decided to put Steve Le Marquand in filthy underpants for pretty much the entire movie. Now I had to do a close up of the underpants (plot point). It soon became apparent I could not possibly get a lens that close as it was taking the term 'meat and potatoes' to a whole new level. The only option was to block the dangerous part of the frame with Kevin Bishop's head. Steve Le Marquand and Kevin Bishop were inches apart. Once the giggles set it, Kevin Bishop kicked into 'Robin Williams' mode and once he goes, you can't shut him down. After 30 exhausting minutes the whole crew were rolling around on the floor without a frame in the can.
I blew my top. For the first time in my career - I lost control of a set. The more I screamed at everybody to grow up, the worse it got. In the end, out of sheer desperation, I threw 35 'children' off the floor and operated the camera myself. I furiously walked out to find 100 grown up human beings still doubled over, screaming with laughter.
It was one of the best shoot days of my life.
Music was the icing on my revenge cake. My plan was to have composer Guy Gross score the entire film with classic Aussie wedding tunes. All those great songs destroyed by god-awful wedding bands over the years (I'm still in therapy over Toni Basil's Mickey). No underscore … just the band. As the big day loses control, the bored band turn into Guitar Heroes and all hell breaks loose. Getting wind of this, Olivia Newton John wanted in on the act. I refused, she was acting for her supper this round. All right - what if she got John Farrar to write her something? They hadn't worked together in years.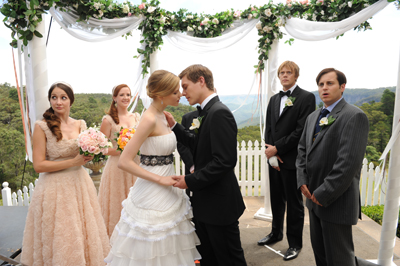 Are you kidding me? The man wrote Xanadu! The closing credit track is produced in collaboration with my long time friend Marius De Vries (Massive Attack, Madonna, Bjork). It is also, proudly, ONJ's first dance track ever.
Sorry Mr Niven. I hate to prove you wrong … but I think we just have.
And to think I get paid to do this job.
-Stephan Elliott, Director
PS: Everyone still asks me to video their bloody weddings.