Dolphin Tale
Cast
: Harry Connick Jr., Ashley Judd, Nathan Gamble, Kris Kristofferson
Director
: Charles Martin Smith
Genre
: Family, Drama
Rated
: PG
Running Time
: 113 minutes
Synopsis
: Based on true events "Dolphin Tale" is a family film about Winter, a young dolphin who loses her tail in a crab trap and Sawyer, the introverted, 11-year old boy who befriends her. Sawyer meets the rescued dolphin at the Clearwater Marine Aquarium, a marine rehabilitation center where she lives. Sawyer rallies friends and family alike to save Winter by convincing a pioneering doctor to create a unique prosthetic attachment to restore the dolphin's ability to swim. Winter the dolphin will play herself in the movie.
Release Date
: December 15th, 2011
Website
:
www.dolphintalemovie.com.au
About the Production
"We're here because of the most amazing animal, and friend, that I've ever known."
Dolphins and humans have always shared an intriguing symbiosis despite the natural divide of land and water. Their gentle spirits, smiling expressions and undeniable intelligence captivate us, and dolphins, likewise, seem drawn to the people who venture in or onto the oceans they call home…sometimes to their own detriment. Throughout the years, there have been many tales of dolphins saving the lives of people. In the feature film "Dolphin Tale," a few dedicated humans join together to return the favor.
Director Charles Martin Smith offers, "One of the larger themes of the film is that we, people, animals, nature, are all in this together. We are part of an overall community that extends beyond our human family, and I think the movie speaks to that in a meaningful and entertaining way, with both humor and heart."
The film's star, Harry Connick, Jr., who worked closely with dolphins in his role, notes, "When you look at a dolphin, you know there is a connection. You can see the intelligence in their eyes; it's almost as if they can look right through us. I felt that the whole time I was making this movie."
"Dolphin Tale" has its origins in a story that would be almost impossible to believe if it weren't true. In December 2005, a fisherman in Florida happened on a baby dolphin that had become entangled in the ropes of a crab trap, cutting off the circulation to her tail. Critically injured, the young animal was transported to the Clearwater Marine Aquarium (CMA), where she eventually lost her tail altogether, increasing the odds against her survival. However, the people working 24/7 to help Winter, as the dolphin was named, were determined to defy those odds, and Winter's own will to live trumped all the cards she'd been dealt. Her miraculous recovery was due, in large part, to an ingenious prosthetic tail. It is held on via a revolutionary sleeve made out of a supersoft, flexible, durable material, dubbed "Winter's Gel," which not only saved her life but has since changed the lives of physically challenged people around the world. It wasn't long before the media became aware of the events unfolding in Florida, which is how the story came to the attention of producer Richard Ingber. He recalls, "I was watching morning television when a piece about Winter came on that stopped me in my tracks. I was completely caught up in it and immediately realised the potential for a great family film that would be appealing to audiences of any age."
Richard Ingber, who is Alcon Entertainment's President of Marketing and makes his producing debut on "Dolphin Tale," continues, "I started doing my homework and learning everything I could about Winter. One of the things I found so amazing is that there were many times she could have given up, but she survived challenge after challenge."
Producer Andrew A. Kosove says, "'Dolphin Tale' is about overcoming adversity, about persistence, and about courage-qualities that human beings can relate to at a very core level. What makes it even more special is that those qualities are seen through the experiences of an animal."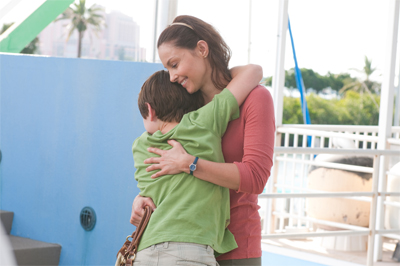 "Andrew A. Kosove and I have always gravitated to these kinds of inspirational movies," adds producer Broderick Johnson. "From 'My Dog Skip' to 'The Blind Side' and now 'Dolphin Tale'…these are stories that lift people up. When you hear about Winter, and especially when you meet her, it's a life-affirming experience, regardless of your age or background or circumstance. We wanted to capture that feeling in the movie."
Bringing Winter's story to the screen involved an amalgam of fact and fiction. Screenwriter Noam Dromi clarifies, "Researching the true story, Richard Ingber and I saw how many elements would translate cinematically but felt we needed to anchor it in the emotional context of the dolphin's relationships with people. Who better to exemplify that than a young boy? Seeing Winter through the eyes of children gives us that sense of wonder."
The filmmakers also enlisted screenwriter Karen Janszen, who is no stranger to animal-centric films, having previously worked on the screenplays for "Duma" and "Free Willy 2." She reveals that she also had a very personal window onto a child's perspective of Winter's story. "I thought about my daughter, who loves dolphins the way some little girls love puppies or horses. And I've always been fascinated by their obvious intelligence and empathetic nature; there is something magical and mysterious about dolphins and their underwater world. Watching and listening to them, you have to ask: what would they say if they could actually communicate with us?"
To helm "Dolphin Tale," the producers chose Charles Martin Smith, who has a particular appreciation for nature that dates back to his role in the acclaimed drama "Never Cry Wolf." He later demonstrated an affinity for working with both children and animals as the director of the family hit "Air Bud."
Richard Ingber states, "From the first meeting, we knew Charles Martin Smith was the perfect person to takes the reins. He shared our vision; he immediately got that Winter's story was very heartwarming but, at the same time, a lot of fun."
"As soon as I heard about Winter, I just knew I had to do this film," Charles Martin Smith says. "I thought it was delightful and very much the kind of movie I'm interested in making. I also loved the idea of approaching it from a child's point of view because children and animals have a kind of innocence and purity, and I really wanted to emphasise that bond."
Additionally, as Noam Dromi points out, "It was equally important to include adult characters, some of whom are composites of the real people who rallied together to save Winter. Their knowledge and wisdom and broader perspective of life really informs the story."
Karen Janszen notes, "We wanted to show the remarkably strong relationship Winter fostered with people, who saw her as a sentient, feeling and intelligent being, worthy of the enormous time and energy required to help her. She pushed the humans around her to reach higher and be better…for her and for one another."
In addition to Harry Connick Jnr., the multi-generational cast of "Dolphin Tale" includes award-winning actors Ashley Judd, Kris Kristofferson and Morgan Freeman, as well as young stars Nathan Gamble and Cozi Zuehlsdorff.
Playing the title role, as only she could, is Winter herself. Charles Martin Smith recounts, "When we were prepping, there was the obvious question of how to depict Winter. Because of the distinctive side-to-side wiggle that she developed to swim, which is also integral to the story, the best solution was to use the real Winter. That also meant filming on location at her home at the Clearwater Marine Aquarium, called Clearwater Marine Hospital in the movie. The results were above and beyond our expectations."
Before Winter could make her film debut, the production needed the cooperation of her real-life "family" at CMA, which came with certain ground rules. The CEO of the Aquarium, David Yates, confirms, "I had many conversations with Charles Martin Smith and the producers because, first and foremost, I had to protect Winter; we wanted it to be a positive experience for her. They also had to understand who we are and what we're about because they were pretty much going to be dropping into the middle of our operations, and we had to make sure we didn't, in any way, put any of our animals at risk. From day one, they all said, 'This is your call; whatever you say is how it's going to be done.' It turned out to be a fantastic partnership."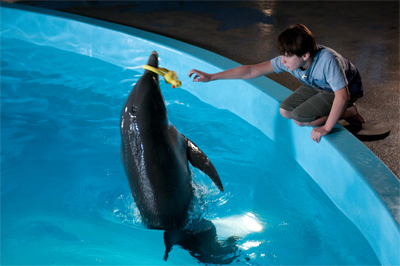 Protecting Winter, as well as the other animals who call CMA home, was also imperative to the filmmakers. Johnson attests, "In certain scenes, we incorporated some CGI and animatronics because Winter's safety came first. But, whenever possible, what you're seeing is her because the true essence of this amazing animal could only be conveyed by Winter herself."
The filmmakers made another important decision to better capture Winter's habitat on the screen. Says Charles Martin Smith, "There are two environments in this movie: one on land and another underwater. I wanted a way to pull people into that second world, so we decided to shoot the film in 3D. In the opening sequence, where we meet Winter swimming free in the ocean with her pod, it gives you the sense of gliding through the water with the dolphins. The ability to share that with audiences was the main benefit of 3D. And I tried to recreate that feeling later in the movie, when Sawyer swims with Winter."
Andrew A Kosove adds, "I think one of the best things about this film is that moviegoers can meet and fall in love with Winter, as we all did."
"We're all her mom."
Without exception, the human cast of "Dolphin Tale" did fall in love with their aquatic co-star. Harry Connick Jnr says, "It's an extraordinary sensation to be so close to such a majestic animal. And there's something else that sets this dolphin apart-maybe it's what she went through or the fact that she survived when others wouldn't have, but it's a privilege just being around her."
Ashley Judd remarks, "I didn't really know anything about Winter before I became involved in the movie, so it was an exciting process of discovery. As soon as I finished the script, I went to seewinter.com to look at her. I couldn't wait to meet her, and it was even more magical and moving than I anticipated."
"I was looking forward to getting to work with Winter," Morgan Freeman says. "I know she's the real star of the movie, so I just tried to ingratiate myself," he laughs. Morgan Freeman may have been joking, but, with regard to another cast member, he was closer to the truth than he knew. The central thread of "Dolphin Tale" is the link between Winter and Sawyer, the boy who saves her life. So before he won the role of Sawyer, young actor Nathan Gamble had to win over Winter.
Nathan Gamble recalls, "It was funny because I went through four or five auditions with Charles Martin Smith and the producers, but they still had to make sure Winter was okay with me. I flew down to Florida and it was one of the best experiences of my life; we clicked right away. When they said I had the part, I was thrilled because I knew I would get to spend the next few months with Winter and the other animals, which was really cool."
Nathan Gamble was only 12 years old when he was cast as Sawyer, but, Charles Martin Smith comments, "I've seldom seen actors of any age who can do what Nathan Gamble can do. The entire movie revolves around Sawyer's relationship with Winter, so he had a big burden for someone so young. But he is a consummate performer with a confidence and skill some actors work their entire lives to achieve."
At the start of the movie, Sawyer is anything but confident. "He is really shy and doesn't have any friends, and he seems to fail at everything," Nathan Gamble relates. "His dad left when he was younger and now his cousin Kyle, who is like a big brother to him, is leaving, too, so Sawyer feels lost. But then he meets Winter, and it totally changes him."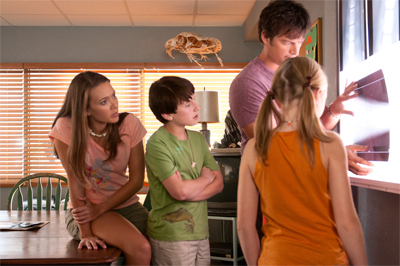 Sawyer first encounters Winter after the dolphin has somehow become entwined in the ropes of a crab trap. Unable to swim, she ends up beached and is barely alive. Mustering his courage, Sawyer approaches the stranded animal and cuts the ropes binding her. In that instant, a different bond is forged.
Seconds later a rescue team from the nearby Clearwater Marine Hospital arrives, led by Dr. Clay Haskett, played by Harry Connick, Jr. "He is the one in charge of Winter's care, and he's passionate about his work," the actor observes. "While he's trying to save this dolphin, he's also trying to save his rescue facility because they're out of money. Adding to that, he's a single father trying to raise a little girl, so there is a lot on his plate. I liked the character; I liked the struggle he goes through to figure out what to do, knowing he may have to make some tough decisions. Talking to the people at CMA, I learned that you truly have to be dedicated to working with animals because, even though it's rewarding in one sense, there aren't a lot of financial rewards and they're there 24/7. I wanted to do them justice."
Harry Connick Jr. says he also wanted to collaborate with Charles Martin Smith. "I'm a fan of his work and he's a great guy. Between the animals and the children and the animatronics, there were a lot of variables on this film, but he was just a rock. There was no detail that wasn't completely thought out, and everything fell into place."
Newcomer Cozi Zuehlsdorff makes her screen debut as Dr. Haskett's daughter, Hazel, a self-described "chatterbox." Cozi Zuehlsdorff admits, "Sometimes she doesn't know when to stop talking, but she's also really caring and has incredible strength for a young girl. She loves the animals and takes on a lot of responsibility at the aquarium, even though she sometimes forgets to lock the door," she smiles. "I think she's awesome."
"I auditioned more than a hundred kids for the part of Hazel, but as soon as Cozi Zuehlsdorff came in, I knew this girl was something special," Charles Martin Smith says. "She's amazingly talented. And during filming, even though she'd never been in a movie before, I could throw a new line or piece of blocking at her and she nailed it. She's already a total pro; I can't say enough good things about her."
Andrew Kosove agrees. "Nathan Gamble and Cozi Zuehlsdorff both blew us away. In terms of child actors, they are as good as we've ever seen. They just light up the screen."
Hazel lives with her father and grandfather, Reed, on a houseboat adjacent to the Clearwater Marine Hospital so "she knows more about animals than she knows about other kids," Charles Martin Smith observes. "Then she meets Sawyer and finds a sort of kindred spirit. He's very introverted, but because Hazel is so spunky and outgoing, she draws him out."
Reed Haskett is portrayed by veteran actor Kris Kristofferson, who had acted alongside Charles Martin Smith almost 40 years ago in the 1973 film "Pat Garrett and Billy the Kid." The director says, "What a joy to be reunited with Kris Kristofferson. He has such strength and presence, which is exactly what we needed for the part of Reed Haskett, who is the wise man of the movie."
Kris Kristofferson says that what interested him in the role was the story's emphasis on family and respect for nature. "Reed Haskett is close to his family, which is something I can identify with; my kids are the best part of my life. I also think dolphins are remarkable animals. Years back, I had an opportunity to swim with a dolphin and I've never forgotten the experience. I fell in love right away."
Like Hazel, Sawyer is also growing up with a single parent. Ashley Judd plays Sawyer's mother, Lorraine, who is worried about her son until she is introduced to the thing-or rather being-that has altered the course of his life. Ashley Judd explains, "Lorraine finds out that he's been spending every waking moment at an aquarium and he's in a whole new dimension about which she knew nothing. She goes from being understandably upset to seeing with her eyes, and feeling with her heart, the profound changes in him that are all happening because of his friendship with Winter."
"Ashley Judd conveys the warmth and concern of a mother facing the challenges of raising her boy on her own," Charles Martin Smith says. "Then when she sees the bond between her son and this dolphin, the look on her face tells you everything. Ashley Judd is really a wonderful actress."
Ashley Judd has equal praise for her director. "Charles Martin Smith is a filmmaker I greatly admire. 'The Snow Walker' is one of my all-time favorite movies, so the opportunity to work with him was very appealing. And this film seemed like something I would enjoy doing, as well as a project I will always be grateful to have been a part of. I appreciate the theme that the found family-the chosen family-is an important part of our sense of community. I also like the principles espoused by Clearwater: that an animal should be rescued, rehabilitated and, if appropriate, returned to the wild. That is very congruent with my personal values."
Sawyer's tie with Winter helps to fill the void left when his cousin Kyle, who is his hero, is deployed overseas after enlisting in the Army. Kyle, a champion swimmer, had dreamed of competing in the Olympics someday. But that dream ended in an explosion that spared his life but destroyed any hopes he had of returning to competitive swimming.
Cast as Kyle, Austin Stowell describes his character as "an outgoing, likeable guy, who was a role model for Sawyer. But then Kyle goes through this tremendous, life-changing event where he is injured and loses the strength of his leg. He's thinking, 'What now?' He comes back very cold and cut off, even from his family, but Sawyer pushes him. He wants to reignite that spark in Kyle."
Nathan Gamble affirms, "That's when the characters switch places-Kyle was always motivating Sawyer and now Sawyer is the one trying to motivate Kyle, especially by introducing him to Winter."
"Austin Stowell did a great job as Kyle, who represents the many physically challenged veterans who have drawn inspiration from Winter's indomitable spirit," Andrew Kosove comments.
On a visit to Kyle at the VA hospital, Sawyer meets Dr. Cameron McCarthy, a brilliant but somewhat eccentric prosthetics designer, and asks an admittedly "weird" question. Could Dr. McCarthy help Winter?
In a bit of a casting coup, Oscar®-winning actor Morgan Freeman plays the role of Dr. McCarthy. Broderick Johnson notes, "Morgan Freeman is one of the greats of cinema and a personal hero. We're all huge fans of his, so it was extraordinary to have him in the movie."
Morgan Freeman says he was attracted to the project by the script, as well as the chance to join Ashley Judd on their third film together. "I've loved Ashley Judd from the first time we worked together; she is one of the precious people in my life. I also thought it was a lovely story and a nice part."
The actor continues, "I thought of Dr. McCarthy as a man who spends all his time thinking about ways to help people-the kind who jumps out of bed in the middle of the night, grabs a pencil and paper, and starts drawing new ideas. He probably has no other life, so he appears a little scruffy."
"It was wonderful to see Morgan Freeman with the unkempt tufts of hair and the gray beard that was a bit messy," Ashley Judd smiles. "One of the things I love about him is that when he steps on set, he completely transforms from the Morgan Freeman I know to the character he's playing."
"Morgan Freeman is terrific," agrees Charles Martin Smith. "He brought so much warmth and humor to his character. But, at the same time, he gives Dr. McCarthy the wisdom and authority to make you believe he is the one to help Winter."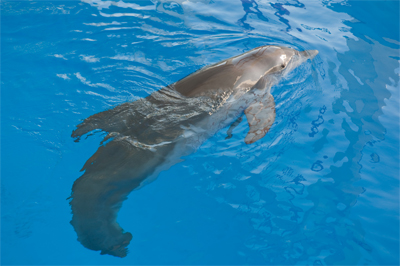 Winter's support team also includes Phoebe, played by Austin Highsmith, who spent almost every on-camera moment in the water. "I was on a swim team and I've also been a lifeguard, a pool cleaner and a swim coach, so it helped that I've been in and out of the water my whole life," says the actress.
Austin Highsmith did, however, need to learn the ins and outs of being a dolphin specialist. She says, "I had the privilege of working with the people at CMA, especially Winter's trainer, Abby Stone, who is like her surrogate mom. She is incredibly precise with her words and gestures, so I watched everything Abby Stone did and tried to emulate that as closely as possible. When Winter responded to me…I can't even put into words how cool it was. It was the most gratifying experience, and to have that in combination with doing what I love was an absolute dream."
Abby Stone and other members of the CMA team also gave instruction to several other actors and their director on how to work with Winter. David Yates says, "Charles Martin Smith, Harry Connick Jr, Nathan Gamble, Cozi Zuehlsdorff, Austin Highsmith…they all did a fantastic job of learning and listening to our staff about how to interact with her."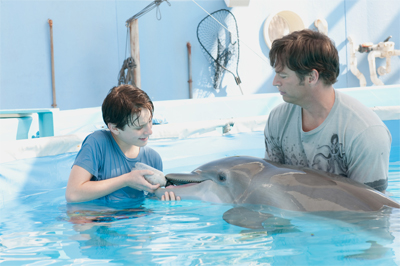 "We can't make her want to live.
She's gonna have to do that part on her own."
In the weeks leading up to "Dolphin Tale" principal photography, the staff at CMA practiced with Winter to get her ready for her close-up. Although she has had a number of news media cameras pointed at her over the years, a longstanding movie production is another matter, so they brought in mock cameras, lights and boom mics to help acclimate her to the equipment.
Richard Ingber emphasises, "One thing we knew going in was that Winter is not an actor. She is not a captive animal that is trained to perform. She's been through so much in her life already, so we had to be respectful of that and of her."
David Yates recounts, "We sat down with the production team early on and said, 'Here are the parameters of what Winter can and can't do, and they were completely accommodating. If she didn't want to do something, they didn't do it." Charles Martin Smith confirms, "We were guided by her schedule and her comfort level. Winter came first. There was never even a question."
At the same time, says David Yates, "Dolphins-being as intelligent as they are-need mental stimulation, not unlike people. So learning new things was great for her and something she'll always be doing."
"We wanted it to be fun, so we turned it into a game," Abby Stone elaborates. "A lot of the behaviors we worked on were based on things she already knew, but we expanded them or adjusted them a little bit, staying within her limitations." But, like any star, Winter did have a "stunt double." For actions that were beyond her limitations or that would, in any way, jeopardise her safety, the filmmakers relied on a fully articulated animatronic dolphin that was designed, modeled and rigged by KnB EFX Group, Inc.
The creation of the animatronic model presented challenges in both form and function. Winter's sleek exterior appears to be a single shade of gray, but there are subtle variations that happen every time she sheds her skin-which dolphins do every few hours-so matching her from scene to scene proved difficult.
Generating movement required a system of electronic controls, which would have to withstand being submerged for hours in naturally corrosive salt water. The animatronics team used actuators that had been made for the U.S. Navy, specifically to go underwater, and the electronics were all sealed in special watertight housings.
Utilising both remote and wired controls, the rigging team could manipulate the replica's eyes, tongue, blowhole and fins.
The finished product impressed everyone, no one more so than the man who was truly in the best position to judge. "When I saw the animatronic, I couldn't believe my eyes," David Yates declares. "I had a moment of panic because, for a second there, I thought Winter was out of the water. The way they made it look and move was jawdropping." Nevertheless, Winter was not one to relinquish the spotlight so easily. "She's a total ham," Charles Martin Smith asserts. "When the cameras weren't pointed at her, she would come to the edge of the pool and squeak and tweet as if to say, 'What about me? I'm the star!' I kept telling her that the director is the one she had to be nicest to if she wanted more close ups," he grins.
Winter also turned out to be a natural comedienne. "She is not only funny, she actually knows when she's being funny," Charles Martin Smith marvels. "She loves to make people laugh and when you do, she's delighted. If you asked me who the biggest prankster was I'd have to give it to Harry Connick, Jr., who was always pulling little jokes. But he would be neck-and-neck with Winter."
"Harry Connick Jr. is a goofball," Cozi Zuehlsdorff teases. "He was always trying to make us laugh, even sometimes when we shouldn't be."
Harry Connick Jr. admits, "It's fun to be able to joke around when you're making a movie, and it was easy to do on this set because everybody had such a great sense of humor." Even Winter, as Nathan Gamble could attest. "We were filming the scene where I'm supposed to give her the bottle and she spits it in my face. Boy, she loved that scene. When we were done with that and moved on to the scene where she's supposed to take the food, she wouldn't do it. She would spit at me, over and over. I was like, 'Hey, stop that,'" he laughs. "But it was great because that's when I realised that Winter and I were at the point where we could fool around and have a good time together."
Winter was not the only animal lending some comic relief to "Dolphin Tale." The film also features a freeloading pelican called Rufus, who has set up residence at Clearwater Marine Hospital. Rufus was played by two pelicans, named Ricky and Lucy. To ensure their safety, there was also a puppet pelican for use in certain shots. Rufus is always lying in wait in hopes of stealing any leftovers, leading to one of Ashley Judd's favorite moments, when Rufus chases Lorraine, trying to snatch her purse. To accomplish the sequence, the trainers taught the pelican that there was something in the bag he wanted, so when the cameras rolled, the bird was bound and determined to get that purse, sending Lorraine running for the door.
I love animals in general and I am a 'birder,' so I was excited to work with the pelican," Ashley Judd says. "And acting with it was hilarious. It was definitely one of the highlights of my time at Clearwater."
"It wasn't realistic to save Winter in the first place.
But you did it."
The Clearwater Marine Aquarium already had the most important element of the film in place: Winter. However, the production team had their work cut out to make the rescue facility-which had been converted from a sewage treatment plant-into a film friendly location. "It wasn't the most photogenic place," Charles Martin Smith acknowledges. "Our production designer, Michael Corenblith, did a terrific job converting the hospital into a viable set for the film, and we had so much support from the people at the Aquarium."
One of the main modifications was the construction of two circular outdoor pools at the Aquarium: a forty-foot diameter, nine-foot deep pool, which is at deck level; and a smaller twenty-foot diameter, four-foot deep above-ground pool, where we initially see Winter being nursed. Unlike most temporary film sets, the new pools were built to be permanent additions to CMA.
Michael Corenblith remarks, "With few exceptions, movie scenery exists only for those moments that the cameras are rolling, but I have the pleasure of knowing we created something that will not only benefit Winter but all the other animals, for years to come."
In fact, the additions to CMA proved their worth even before the film company left town. On the night of the "Dolphin Tale" wrap party, an orphaned baby dolphin was found, not far from Clearwater, exactly five years and one day after Winter was rescued. Because of the new pools built for the film, CMA had the space to give the dolphin- named Hope-a new home and a new friend…Winter.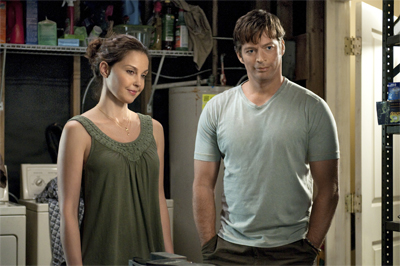 David Yates states, "The pools are already allowing us to expand our work. It's lifechanging for our mission to rehab more animals and educate more people about them." Given the nature of the film, there are pivotal moments that take place underwater. To film beneath the surface of the pools, as well as in the ocean, a special waterproof casing was used to protect the 3D camera. The camera operator for those scenes was Peter Zuccarini, who has filmed underwater sequences all over the world, for both feature films and documentaries.
The outdoor placement of the pools triggered certain modifications to the set, in order to provide the mandated shade for Winter from the Florida sun, and to enable cinematographer Karl Walter Lindenlaub to better control and filter the ever-shifting daylight. Karl Walter Lindenlaub and Michael Corenblith collaborated to devise a complex system of tensile membrane structures that, Michael Corenblith says, "were designed to look like repurposed sails, given that both Clay and Reed Haskett are both longtime sailors."
The triangular sails had different levels of opacity, allowing them either to block or merely diffuse the sunlight. They could also be furled or unfurled and positioned as needed for each scene.
From a visual perspective, Karl Walter Lindenlaub notes, "They created another dimension against the blue sky, which was great for the 3D cameras."
The sky was not the only thing that was blue. "Going in, the entire Aquarium was very blue," Karl Walter Lindenlaub nods. "So you either have to embrace the blue or repaint. We decided to leave the exterior as it was and just repaint the interior."
Charles Martin Smith and Michael Corenblith chose a misty shade of green that would offer just enough change from the blues while maintaining the organic hues appropriate to the location. Color was also utiliseed by both Michael Corenblith and costume designer Hope Hanafin to underscore Sawyer's story arc. Michael Corenblith explains, "We framed it so that he moves from a terrestrial palette of browns, greens and grays to a more vibrant world, dominated by cool aquatic tones."
Hope Hanafin describes, "At the start of the film, Sawyer's clothes are pale and somewhat monotone-predominantly tan, beige and olive. Then, as he starts spending time in the magical world of the aquarium, there is a different kind of energy. The color picks up and continues to intensify as the story progresses."
Hope Hanafin dressed Clay, Hazel and Reed Haskett in the casual, versatile clothes of people who spend their lives in and on the water. By contrast, Morgan Freeman's Dr. McCarthy wears long-sleeved, button-down shirts and slacks. The costume designer reveals, "It was Morgan's idea to wear a bowtie, but it's a clip-on because they're easier and more mechanical, which would interest his character."
Michael Corenblith drew another contrast between the suburban residence where Sawyer's family lives and the houseboat that is home to the Hasketts. Docked outside the marine hospital, the houseboat was constructed on two barges welded together and comes complete with its own crow's nest. Corenblith says, "Charles Martin Smith wanted the houseboat to be a bit fanciful…the fulfillment of every boy's dream." Like the two new pools, the houseboat has become a permanent addition to CMA.
The interior of CMA had some space constraints that made it unfeasible to use for the scenes in the aquarium's large main lobby and exhibit hall. Instead, the two-story set was constructed from the ground up in a nearby warehouse that was converted into a soundstage. The hall is filled with reminders of the wonders of the deep, including a replica of a full-size whale skeleton that looms overhead. The visual effects team, led by Robert Monroe, turned the hall's large observation windows into an underwater view of the dolphins swimming by.
It is in the aquarium's main hall where a little girl named Margaret-who relates to Winter in a special way-gives Sawyer the idea of how to save the Clearwater Marine Hospital…and Winter.
The festive "Save Winter Day" sequence was filmed on the nearby docks, where hundreds of local extras showed up to fill the stands and cheer for the unique dolphin who is beloved by the local community. "We felt so welcomed in Clearwater," says Charles Martin Smith. "Everybody knows Winter there, and they wanted to be part of telling her story and putting her optimistic message out into the world."
The director concludes, "I hope audiences come away from this film being entertained, but also inspired by the notion that 'If Winter can, I can.'"