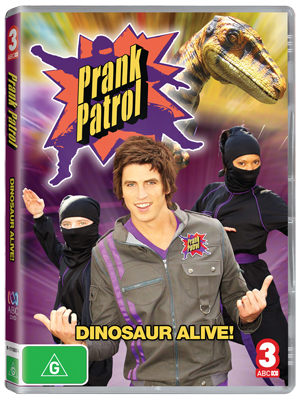 Prank Patrol Dinosaur Alive DVD
Starring Australia's hottest young star Scott Tweedie, Prank Patrol: Dinosaur Alive is the final DVD release taken from the first series of the hit ABC3 television series of the same name.
Follow Scotty and the Ninjas as they make a former prankster believe there's a Dinosaur Alive; a game of bowling turns into a disaster in Bowling Madness, while a self destructing bike is enough to turn anyone into a Motorpsycho. Plus, one prankee gets a visit from a Ghost, and some schoolmates believe they've caused a worldwide Internet Crash.
See if the Pranksters can pull it all off in these five side-splitting episodes!
While April Fools may have past, school holidays provide the perfect time to tune and practise your pranks, for plenty of action grab Prank Patrol Dinosaur Alive.
Prank Patrol Dinosaur Alive

RRP: $14.95
Buy Now from Fishpond