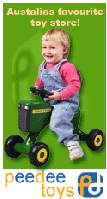 It's a kid's cyber wonderland here at PeeDee Toys. Let your kids dance down the cyber aisles of PeeDee Toys, and become enraptured as they come across new and old friends. At PeeDee Toys, they'll stumble across their favourites, including Astro Boy, the Saddle Club, Spiderman, Shrek, the characters from Toy Story and more!

On the site, you can browse through their eclectic range of arts and craft products, books for toddlers, infants and older kids, games and puzzles for children, families and adults, greeting cards for baby, birthday and Christmas, learning toys, dress ups, novelties; including stationary and glow creations, outdoor toys; such as for pool and water and much more.

Gift vouchers are available so that friends or family can choose their own ideal gift, and payment is flexible to suit your needs.PeeDee Toys is a wholly Australian owned online retail store with over 10 years experience. Being a member of the Australian Toy Association, PeeDee Toys have access to the latest trends in toys, games and hobbies, providing toys and games that are easily accessible, economical and fun.