Squinkies™ Arrive!
The world's hottest collectable girls' brand hits Australia


The world's hottest collectable girls brand is set to hit Australia! Squinkies™ are a collection of squishy, squooshy, squashy and totally adorable mini doll and pet pencil toppers, which come in a surprise capsule that fits in the palm of your hand.
In the US, Squinkies™ were the hottest girls' collectible toy for Christmas 2010, and have quickly become one of the latest crazes among collectors and kids alike, selling out across the country.
The Squinkies™ Cupcake Surprize Bake Shop has just been awarded 2011 Girls Toy of the Year at the New York Toy Fair - awards heralded as the the "Oscars" of the toy industry, the "best of the best" as voted by consumers, retailers, media, and members of the toy industry.And now Australian kids can join in the fun!
When you 'pop' your Squinkies™ bubble, you find the surprise inside. Squinkies™ friends come in lots of different collections like Babies, Kitties, Friends, Ponies, Pets, Puppies, Club and Friends.
The Squinkies™ Surprize Inside Bubble Packs contain 16 different Squinkies™, some in clear bubbles and some in secret opaque bubbles so you can't be quite sure just what you'll find! You also get a booklet with numbered figures so you can track your collection and know just what you'd like to find next.
Squinkies™ Share 'n Wear glitter bracelets come with five Princess, Fairy or Birthday themed Squinkies™ charms and six Squinkies™ charm connectors, plus your very own Squinkies™ ring for a co-ordinated look. Collect, mix and match charms to create your own unique bracelet!
There's also a surprise inside each of the Squinkies™ Jewel Cases. Open the case to reveal the three adorable Squinkies™ figures inside, themed to match the Princess and her throne; the bride; shopping fun; and a day at the beach. This is the perfect place to hide your Squinkies™..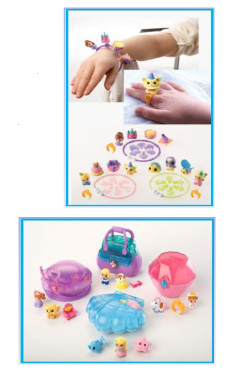 New York Toy Fair
GIRLS' TOY OF THE YEAR WINNER!
There are literally hundreds of different Squinkies™ to collect. Collect everything from one style (like all the babies or girls) or select your favourites from each to create your very own special collection. And try tracking down the really rare Squinkies™ that are only available in limited packs.
Then you can keep your collection in one of the pretty Squinkies™ accessories like the Squinkies™ Cupcake Twister Surprise Playhouse or the Squinkies™ Teapot Twister Surprise Playset.
The deluxe playsets magically transform from fun vending machine dispensers to themed playhouses. Just insert the play coin and twist the dial for a Squinkies™ bubble to roll out. They come with special Squinkies™ bubbles and characters for your collection.
The Australian launch range of Squinkies™ includes:
- Squinkies™ Surprize Inside Bubble Packs, with 16 Squinkies™, RRP $19.99
- Squinkies™ Share 'n Wear, RRP $7.99
- Squinkies™ Jewel Case, RRP $9.99
- Squinkies™ Tea Time Surprize! Playset, RRP $24.99
- Squinkies™ Gumball Surprize! Playset, RRP $24.99
- Squinkies™ Cupcake Surprize! Bake Shop, RRP $39.99
- Squinkies™ Gumball Surprize! Playhouse, RRP $39.99
Squinkies ™
are available from all major toy retailers and independent toy stores.
The world of Squinkies™ fits in the palm of your hand. These soft and squishy figures are so cute you'll want to collect them all.For customer enquiries or more stockist information please contact Funtastic's free-call Customer Care Line on 1800 244 543.