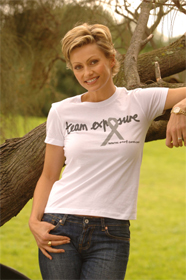 Ovarian Cancer Awareness campaign kicks off the 2005 Silver Ribbon Appeal. $2 Silver ribbons and $5 silver pins are available in all National Australia Bank branches until October 28, and all money raised goes directly towards finding an early detection test.


Ovarian Cancer - The Facts
Ovarian cancer has the highest mortality rate of all female cancers.

Ovarian cancer is the sixth most common cancer affecting women.

Every 10 hours, one Australian woman dies from the disease.

Finding an early detection is the key to improving the survival rate.

Over 63% of Australian women remain unaware that ovarian cancer is not detected by a pap smear.

65% of Australian women are unaware that ovarian cancer has a lower survival rate than breast and cervical cancer - both of which have screening tests.

Most cases of ovarian cancer occur in women over the age of 40 but unfortunately it is not age discriminate.

Currently there is no effective screening test for the disease and the majority of ovarian cancer cases are diagnosed at an advanced stage.

Because it is usually diagnosed in its advanced stages, proportionally more women die from ovarian cancer than breast cancer.

Only 25% (approx.) of women diagnosed at later stages will survive for more than five years.

This year, Nicky Buckley has become a team ambassador as her mother passed away from ovarian cancer last year. The Ovarian Cancer Research Foundation has become her charity of choice in Channel 7's Dancing with the Stars.