Starring: Uma Thurman and Luke Wilson
Director: Ivan Reitman

The film follows the story of a regular guy, Matt, who briefly dates and then breaks up with a seemingly normal girl due to her neediness. However, the girl, Jenny, is really a superhero called 'G-Girl' who decides to destroy his life with her super powers as he destroyed her heart. With a hilarious twist on the dating game, My Super Ex Girlfriend will have you laughing out loud!

My Super Ex Girlfriend is available to rent or buy from December 20.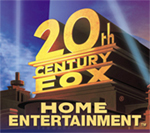 "TCFHE LLC 2006. All rights reserved"