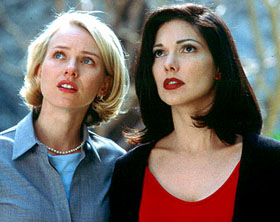 Mulholland Drive - Nothing is what it seems

Starring: Naomi Watts, Laura Harring, Ann Miller, Justin Theroux, Robert Forster

Directed by: David Lynch

Produced by: Mary Sweeney, Alain Sarde, Neal Edelstein, Michael Polaire, Tony Krantz

Written by: Joyce Eliason, David Lynch

Screenwriters: Joyce Eliason & David Lynch

Genre: Drama and Thriller

Running Time: 2 hr. 27 min.

Rated: MA

Along Mulholland Drive nothing is what it seems. In this complex tale of suspense, set in the unreal universe of Los Angeles, writer/director David Lynch explores the city's schizophrenic nature, an uneasy blend of innocence and corruption, love and loneliness, beauty and depravity. Lynch constructs a puzzle, propelling us through a mysterious labyrinth of sensual experiences until we arrive at the intersection where dreams and nightmares meet.