Experts Say Reading Is Good for Kids' Social Skills
Australia's leading children's authors and literature experts are getting behind the popular MS Readathon, which launches next week, to help spread the message that reading for a cause encourages kindness, compassion and social skills as well as contributing to academic success. In its 41st year, the much-loved program is more popular than ever with more than 15,000 students already registered and enthusiastically reviewing books online as well as raising funds to help MS families attend special camps. www.msreadathon.org.au


Interview with Megan Daley
Megan Daley is passionate about children's literature and sharing it with young and old alike. In daylight hours, Megan is a teacher librarian at St Aidan's Anglican Girls School and was recently awarded the Queensland Teacher Librarian of the Year by the School Library Association of Queensland, as well as the national Dromken Librarians Award, presented by the State Library of Victoria. A former national vice-president of the Children's Book Council of Australia, she is on the Queensland chapter of the board of the Australian Children's Laureate and on the Publications Committee of the National Library of Australia. She also thinks sleep is overrated.

Question: Why should parents encourage their children to participate in the MS Readathon?

Megan Daley: As parents we encourage our children to be involved in sporting events and music events and all of the training that goes along with those pursuits. The MS Readathon provides a period of focussed reading (the month of August) where they read/train intensely and then celebrate raising money for a great cause - to raise funds for families living with multiple sclerosis to attend MS Camps. It's kind of like a sporting activity…for readers (which can be all kids)!


Question: How does reading help children develop compassion and social skills?

Megan Daley: Reading helps children to walk in the shoes of others and deeply understand issues around the world and those close to home. It is through reading the stories of others and learning of their hardships and triumphs that young people begin to develop kindness, compassion and empathy and understand that the world is beautiful diverse and filled with the stories of millions of people. Everyone's story is unique, and every story is important. Reading age appropriate stories about grief (and there are beautiful ones for children as young as two) can help children to empathise with a peer who has experienced the death of a parent and perhaps how best to talk to them and support them. Likewise, stories of asylum seekers help young people to understand the issues faced by immigrant families in their school community. The MS readathon has the added benefit of encouraging reading and educating young people about the lives of those affected by MS.


Question: This is on top of the academic skills gained from reading regularly?

Megan Daley: Absolutely! There is lots of academic research showing correlation between reading and academic success, but there is less research looking at the deep social and emotional leaning and development that happens when we encourage our young people to read.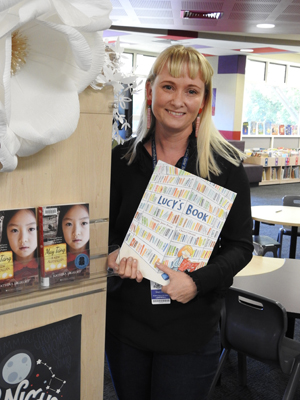 Question: Can you tell us about your book, Raising Readers?

Megan Daley: Some kids refuse to read, others won't stop - not even at the dinner table! Either way, many parents question the best way to support their child's literacy journey and I really wanted to write an accessible book which looked at this and answered some common questions and concerns around reading. When can you start reading to your child? How do you find that special book to inspire a reluctant reader? How can you tell if a book is age appropriate? What can you do to keep your tween reading into their adolescent years? I hope what I have done is unpack my 15 years of experience into an accessible guide, enhanced with up-to-date research and first-hand accounts from well-known Australian children's authors. It also contains practical tips, such as suggested reading lists and instructions on how to run book-themed activities.


Question: What books should young Australians have on their MS Readathon book list?

Megan Daley: Oh my gosh so many! Some of my recent fav's for young readers (5-8) are 'Tiggy and the Magic Paintbrush' series by Zanni Louise, 'Sporty Kids' series by Felice Arena and illustrated by Tom Jellet, 'Billie B Brown' and 'Hey Jack' series by Sally Rippin, the 'Ginger Green, Playdate Queen' series by Kim Kane and illustrated by Jon Davis and 'Flying High', 'Going Bush with Grandpa', 'The Memory Shed' and 'One Rule for Jack' by Sally Morgan and Ezekiel Kwaymullina and illustrated by Craig Smith. My full list for this age group is here.

For readers 9+ I love 'Pippa's Island' series by Belinda Murrell, 'The Extremely Inconvenient Adventures of Bronte Mettlestone' by Jaclyn Moriarty, 'The Mapmaker Chronicles' series by Allison Tait, 'The Grand Genius Summer of Henry Hoobler' by Lisa Shanahan and 'Mrs Whitlam' by Bruce Pascoe. My full list for this age group is here.


Question: How can parents ensure they're getting books their child will love?

Megan Daley: Just like when we want to know the best foods to feed our kids we turn to chefs or nutritionists and when we want to know the best way to train for soccer we turn to a coach – with finding books for your child to love and fall deeply into – seek out an expert. Your school-teacher librarian, your local public librarian, your local bookseller – they can all help you to find the right book at the right time for your child. They can help you to put together a really great list of books tailored exactly to your child.


Interview by Brooke Hunter