Top Tips To Hosting The Ultimate Durable, Delicious Dinner Party For Your Children
Its seems the days of celebrating another year around the sun with a plate of fairy bread, mini hot dogs, party pies and pass the parcel are long behind us as our children's birthday parties become a topic of focus amidst todays social media-driven world. As we try to stop our babies from growing up so fast, the luxe party scenes are proving expensive and competitive to stay ahead of. So, why not steer away from the norm? A dinner party offers a "grown-up" celebration whilst keeping the cost down and entertainment flowing. From invites, to entertainment, to styling and the food itself, we've pulled together the ultimate guide to throwing a fabulous first dinner party.

Planning
When it coms to children and sit-down meals, planning goes a long way! Depending on your child's age, take into account their routine and schedules (hungry x tired = hangry children, no fun for any occasion). Also, you may wish to invite a fellow adult to help you run the event (and drink the wine)! Keep it all straightforward and simple, including the menu and entertainment! Have a set roll-out for the event, with a prompt arrival time, pre-dinner entertainment, serving schedule and home time.

Invitations
Whilst it might feel easier to lean towards a modern digital e-vite, you can't go past the special moment you open a traditional, handmade invitation. Homemade invites can be quick, fun and cost effective, whilst also allowing you to get creative with your little hostess and set the scene for the dinner party. Make use of recycled paper, ribbon and cardboard by tearing, cutting and trying your hand at a spot of calligraphy. There are plenty of how-to videos online, or pop into your local craft store for some tips and suggestions.

Styling
Styling your dinner party has never been easier as mix and match trends come into play across any chosen theme. Visit your local flower market or make use of the garden flora to create a warm welcome and dress the table. Even a simple garden posy makes a meal special! For something a little different, why not try using succulents, offering a quirky appearance with subtle colour and intriguing shapes.

Why not set the place with some DIY edible nametags? Simply cut out their name on ready-bake pre-made piecrust using alphabet cookie cutters, place on a Pyrex oven tray and bake for a few minutes before arranging on your dinnerware. You could use the left over dough for cookie party favours.

A long centre table runner can be made using brown paper for a quick, easy disposable option, or get a little more fancy using colourful wrapping paper, perfect for setting the mood.

Your local reject shop or discount store is fantastic for creative accessory sourcing. Save old jars and use as vases for fresh flowers, or as simple tea light holders. A square or rectangular Pyrex dish, or even a Pyrex bowl is fantastic for filling with water and placing floating candles or flowers in.

Create a bold, themed focal point with a centrepiece. You can use something from another part of the house, or even use holiday travel souvenirs and build a setting around them for a special occasion. Travel finds paired with vintage silverware can become conversation starters for beautiful meals shared with friends.

When it comes to dinnerware and children, it is important you pick something durable. Household name, Corelle, is a no-brainer. The easy to stack, stylish tempered glass dinnerware is virtually indestructible, with more than 2,000 patterns designed since the 1970s, when the brand was first launched into Australian homes.

For a sophisticated style with a pop of character, start with a plain white table settings using different shapes, squares and rounds on the one table, bringing in other patterns for bread and butter plates, serving bowls and accessories. Jazz it up with vintage finds of the same colour as the patterns.

Mix and match patterns and shapes to create a bespoke style. Many patterns can be blended together on one table, or mixed with classic white ware.

For a dreamlike, watery floral feel on a contemporary shape, why not check out the Corelle Dalena. Alternatively, for a contemporary feel you could opt for a more structured, geometric design, such as Corelle's Modena, inspired by natural fractals and angular contemporary elements or a particular colour. The Modena design is gorgeous paired with soft pink or peach colours and natural materials, such as linen, to juxtapose the angular lines with softer elements.

The Corelle Florentia design is a gorgeous choice for a warm summers evening, inspired by travels through Spain, and boasting classic navy colours. The style is perfectly paired with a strong, bright coloured tablecloth and contrasting serviettes, or can bring sophistication to outdoor dining when the setting is paired with washed natural linens, oversized jugs and weathered cutlery.

Food
When it comes to cooking for a young group, it is best to keep it simple. Check on dietary requirements in advance to avoid any allergies. A heavier selection of finger foods to start combined with easy, bite-size dishes or mini mains are a great option as this will give you time to prep ahead and spend less time in the kitchen. Pop out a few menus so your party guests know what to expect, too.

We've included two delicious recipes for you to try your hand at that are sure to be crowd favourites!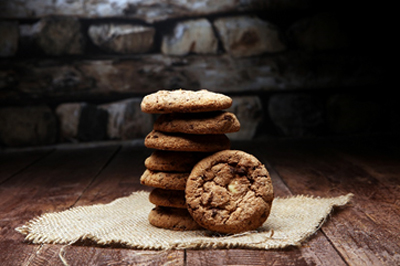 Double Choc Chunk Cookies
Makes 12
Prep 25 minutes (plus refrigeration)
Cook 15 minutes

Ingredients
85g butter, chopped
140g dark chocolate, chopped
⅔ cup brown sugar
2 eggs, lightly beaten
1 teaspoon vanilla extract
½ cup plain flour
½ cup self-raising flour
2 tablespoons cocoa powder
80g white chocolate, chopped

Method
Place butter and dark chocolate in a saucepan over low heat. Stir for 3 minutes or until melted. Remove from heat. Transfer to a large bowl.
Add sugar, eggs and vanilla. Mix well. Sift flours and cocoa over mixture. Stir to combine. Fold in white chocolate. Refrigerate for 1 hour or until form enough to roll.
Preheat oven to 180C/160C fan-forced. Line a Pyrex Platinum Medium Cookie Pan with baking paper.
Roll heaped tablespoons of mixture into balls. Place 3cm apart on prepared tray. Bake for 12 to 15 minutes or until biscuits are just firm. Cool on tray for 5 minutes. Transfer to a wire rack to cool completely. Serve.

Vegetarian Deluxe Pizza
Makes 1 pizza Prep 25 minutes Cook 15 minutes

Ingredients
1 cup plain flour
1 teaspoon dried yeast
1/4 teaspoon caster sugar
100ml warm water
1 tablespoon extra virgin olive oil
2/3 cup pizza cheese
1/3 cup caramelised onion relish
100g chargrilled eggplant
1 small red onion, thinly sliced
50g swiss brown mushrooms, sliced
80g cherry tomatoes
¼ cup pitted black olives
30g baby rocket

Method
Preheat oven to 220C/200C fan-forced. Grease a Pyrex Platinum Pizza Pan.
Sift flour into a large bowl. Add yeast, sugar and a pinch of salt. Combine warm water and oil. Add to flour mixture. Mix until dough comes together. Turn onto a lightly floured surface. Knead for 8 minutes, adding more flour if necessary, or until smooth and elastic. Roll out dough to a 30cm round. Place in prepared pan.
Sprinkle with cheese. Top with relish, eggplant, red onion, mushrooms and tomatoes. Bake for 12 to 15 minutes or until pizza is browned and crisp. Top with olives and rocket. Serve.

The new Corelle dinnerware designs are available through Big W nationally.
Modena 16-piece dinner set RRP $59
Dalena 16-piece dinner set RRP $89
Florentia 16-piece dinner set RRP $59
*some individual plates and bowls sold separately