During the last year, many of us have turned to puzzles and construction toys as a shared activity that we can work together with families to enter and reignited a forgotten passion. For those who like to create in 3D, GraviTrax may just be the answer to keep families engaged and entertained.
GraviTrax Starter Set: RRP: $119.95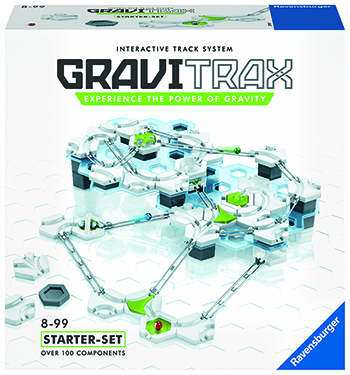 This is the set that really gets the ball rolling! The GraviTrax Starter Set comes with over 100 pieces and 18 different construction elements. It includes everything you need to begin building your own action-packed track systems.
Discover how the laws of physics effect the track your ball takes with curves, crosses, freefalls and even a cannon. Experiment using different heights and angles to control the speed of the ball. The included tasks and construction plans introduce you to the world of GraviTrax. Or let your creativity take over and begin constructing your own track designs from screatch.
How long can you keep the marbles going? Can you beat your own record?
Expansion Packs
Once you've caught the GraviTrax bug, you're going to want to challenge yourselves more, make things taller, faster, more complicated. And that's where the expansion packs com in. Each different expansion pack means you can add in bridges, tunnels, add height, breadth, a volcano to power your ball along, or loops and flips and hammers.
Each expansion pack lets you extend your track system by combining the additional components with your GraviTrax Starter Set - so you can build even bigger marble track worlds!
There are big expansion packs, and smaller more specialised packs. so, once you have a GraviTrax fan in the family, you are set for presents year round.
For ages 8 and up, GraviTrax is available at Target, Toyworld, David Jones, Amazon, QBD Books and all other good toy stores and specialty gaming stores.

Instagram: @ravensburgerofficial
Facebook: https://www.facebook.com/Ravensburger/
#ScoMoGraviTraxChallenge #GraviTrax #GraviTraxmoment #ravensburger #constructiongames
GraviTrax is highly addictive and thought provoking construction and play STEM toy, suitable for 8 and up. Using your creativity and enginuity create your on GraviTrax world, change, update and reinvent to challenge yourself. it's really easy to use and great family fun. We really enjoyed embracing our inner creativity and challenging ourselves, hours of old school fun.
Check out our creation.