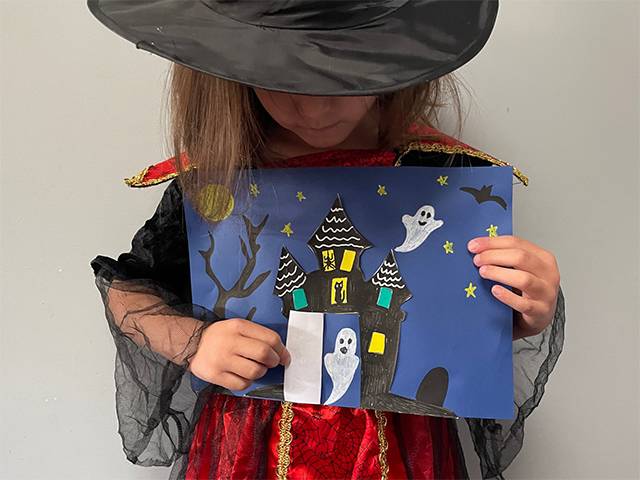 Cats and Bats and Witches, Oh My – Halloween Craft is Great for Spooking up Kids' Imaginations, say experts.
From dressing up to trick-or-treating, there's no doubt about it, kids love Halloween. Craft expert, Shannon Wong-Nizic who runs parenting hub Oh Creative Day , says that creating and making Halloween costumes and decorations is a great way to stimulate kids' imaginations.
"World-building and storytelling is an important part of a creative childhood which is why Halloween really captures kids' imaginations – it makes anything possible!" She says. Here, Shannon shares her top tips for Halloween crafting with the kids.
Set the scene – create a fun, spooky mood for your Halloween craft activity. Dim the lights, put some ghoulsome music on to transport your little crafters to another world, where the only limit is their imagination. Kids love to immerse themselves in a creative adventure and Halloween is the perfect opportunity to go all out!
Simple Symbols – from cats to bats, to witches and ghosts – Halloween is bursting with symbols that can be drawn free-hand or can be traced and cut-out to create fantastic masks, costumes and decorations. For little children, practising cutting out with scissors helps build fine motor skills as well as confidence.
Tools for the job – so many parents say they dislike craft due to the mess. I hear you! You don't need to go glitter glue crazy to create fabulous artwork. Scissors, Sellotape or a glue stick and some colours are all you need. My advice is to keep it simple. I love using paint markers such as Pilot Pintor because they are low mess and require no set-up or cleaning after, plus the colours are pleasingly vibrant.
Balance it out – young artists can sometimes find a blank page confronting. Ideally, we want to encourage them to engage in creative activities that are open-ended and where they have a choice over their designing and making. We also need to find that balance between guiding and scaffolding, which is why sometimes a template can be helpful. They can cut it out, colour and create it how they like to add their own touches to create a unique artwork to be proud of.
Shannon has created a free 'haunted house' craft template that kids can cut out and colour. It has a 'haunted door' they can open and close and use their imagination to create their own cute or creepy creature to hide behind and even build their own story. To download, visit: https://pilotpen.com.au/ink-spot/
Pilot Pintor Paint Markers are available from Officeworks and select independent retailers, RRP from $5.45 each.