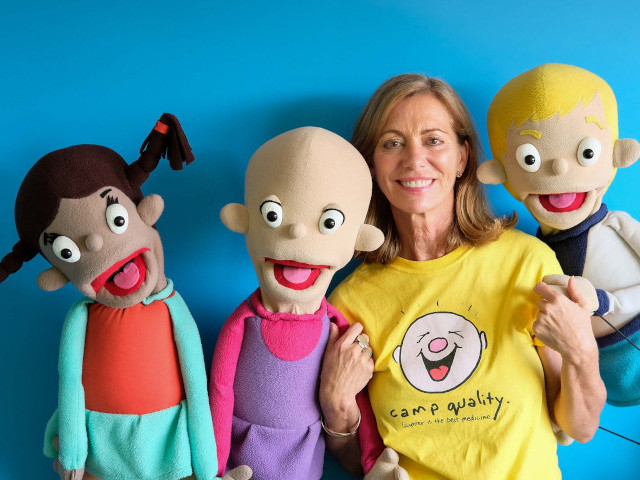 National children's cancer charity, Camp Quality, has launched 'Big Walk For Little Kids' - a brand-new, COVID-safe walking challenge to raise much-needed funds to support children facing cancer.
The inaugural event suits all fitness levels and asks everyday Aussies to challenge themselves to walk 25km, 50km or 100km during the month of October.

Camp Quality ambassador, Australian actor, Kerry Armstrong says Big Walk For Little Kids provides two great outcomes.

"Not only can you help Camp Quality support children and families facing cancer, particularly during these uncertain and challenging times, but it's also a great way to get fit, feel fabulous and positive about life.

"Every walk brings with it a different story and a new way of seeing the world. I love looking at the sky, the trees, the beauty of nature - and relishing the promise of the new day. When you walk you are always looking forward. It's a great way to stay connected and motivated," she says.

Camp Quality CEO Deborah Thomas says COVID 19 had been particularly difficult for kids and families facing cancer.

"These are challenging times and we have to look at COVID 19 safe and ways to engage the community to raise funds to support kids and families facing cancer.

"Big Walk For Little Kids has been created in line with the ever-evolving and varied restrictions in each state. Australians anywhere can get involved and walk throughout the month of October in many different ways, on the treadmill, outdoors, as an individual, with a friend or as part of a virtual team," Ms Thomas says.

Camp Quality ambassador Jarrod Woodgate adds he's looking forward to the walking challenge.

"Many kids and families facing cancer are really struggling at the moment so I'm keen to walk for this important cause. I'm aiming to walk 100kms by doing 3kms a day. The great thing about Big Walk for Little Kids is I can create my own challenge by walking around my farm. I can track my kms on my fit bit and my supporters can follow my progress on my fundraising page," he says.

Funds raised will help Camp Quality support kids and their families facing cancer with adapted services and programs throughout COVID and to ensure no child misses out when face to face programs resume. (see About Camp Quality)

To register for Camp Quality's Big Walk for Little Kids and help raise much needed funds for kids facing cancer go to www.bigwalk.org.au

There are some great prizes to be won including a $1,000 freedom voucher and 5 x $250 Running Bare vouchers.

About Big Walk For Little Kids
Kids facing cancer are facing next level of isolation and need us now more than ever. Camp Quality is challenging Aussies to walk 25, 50 or 100 kilometres throughout October for kids facing cancer. Participants can sign up online and get friends, family members, school or work mates to sponsor their efforts to help raise funds for Camp Quality to give kids facing cancer an opportunity to get away from it all. Participants can form virtual teams and track kilometres online using Fitbit or Strava. Every step taken helps Camp Quality get closer to their goal of sending 800 kids facing cancer on Camp.

About Camp Quality
Camp Quality gives kids facing cancer the chance to be kids again. Camp Quality's services and programs are created specifically to help children 0 –13 years of age, who are dealing with their own cancer diagnosis, or the diagnosis of someone they love, such as a brother, sister, mum or dad. By supporting kids and families through the cancer experience and creating positive memories, Camp Quality helps change the cancer story, in hospital, at home, at school and away from it all at one of our camps or retreats.

During these challenging times Camp Quality is still delivering services and programs: in hospital, where Camp Quality sponsored Child Life Therapists continue to support children undergoing cancer treatment in NSW and Victoria, and via our one-one-one, Puppet Digital Playdates on a child's device; at home, online with our new website Happiness Hub, the Camp Quality Puppets on social media and with our trusted cancer education and information apps, Kids' Guide to Cancer and the New Normal Navigator; away from it all, with safe, fun Family Experiences to games or events, along with family breaks and respite at one of our Retreats, for those doing it tough dealing with cancer during COVID.

Camps are also going ahead this year in WA, and we hope to be able to resume services in other states ASAP, subject to government restrictions and safety requirements. Camp Quality is also currently developing Virtual Camps so that kids can enjoy an interactive camp experience online, in real time now and into the future.