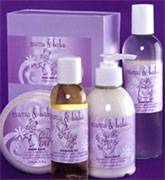 Baba's skin is different from yours or mine which is why we have created Mama & Baba Rituelle. Mama & Baba products have been formulated using natural ingredients and a pure blend of essential oils. Our products are designed to be used with one hand and are specially formulated to clean, soothe & protect young skin while being great for Mama as well. No added colour or fragrance.
BABA BATH 250ml
A gentle low-lathering formula that gently cleanes Bab's delicate skin. Aloe vera protects, geranium oil helps to combat skin dryness & the calming scents of chamomile and neroli help soothe & relax.
BABA BALM 250ml
Enriched with sweet almond oil, cocoa butter shea butter, evening primrose oil, aloe vera & vitamin E. This extra gentle moisturising balm is excellent to nourish baby's dry skin. Pure essential oils of geranium, neroli & chamomile help soothe & calm irritated skin.
MAMA BALM 250gm
Enriched with cocoa butter & shea butter this rich and creamy body balm will absorb deeply into your skin & ill assist in maintaining the elasticity of stretching skin during pregnancy. Grapeseed oil, Wheatgerm & Vitamin E help to improve cirulation and restore the natural tonicity of the skin. Blended with geranium, lavender & mandarin essential oils.
Review:
Makes an excellent gift for mother and baby packaged in a clear Rituelle bag. Australian made, quality products. So much so Femail will be stocking them shortly.
www.rituelle.com