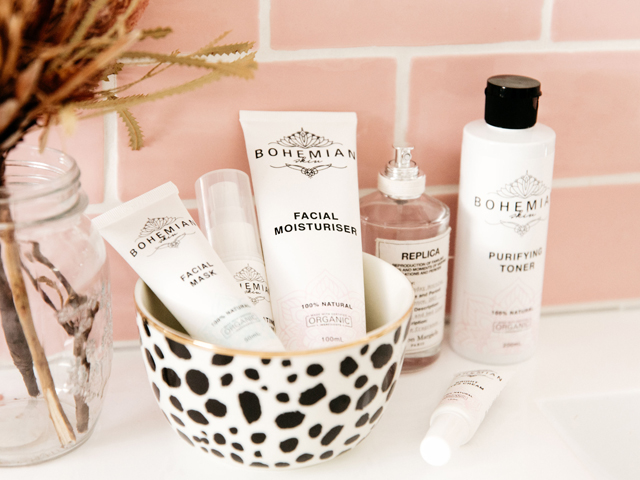 Just because our skin changes throughout our life, it doesn't mean our skincare regime has to. Australia has a saturated skincare market of both international and local brand, both chemically-infused and 'natural' - all promising miracle solutions to skincare concerns. In an industry that preys on insecurity, it comes with no surprise that the average person could use multiple personal care products per day. What is a nasty surprise, however, is that when combined with the addition of perfumes, we can place hundreds of individual chemicals on our skin each day through cosmetic use. Considering that out skin is our largest organ, it is alarming to think about what happens to those chemicals when they are absorbed into the epidermis.

Australia skincare brand, Bohemian Skin, have developed a trusty range of skincare products that we can rely on throughout our lives. From combating acne during puberty, to pregnancy-related skincare concerns, to skin ageing later in life; the ethical team at Bohemian Skin have developed a cruelty free, chemically free, no fuss skincare range that's perfect for all skin types – from sensitive to acne prone. Suitable for use throughout our entire life-cycle (even during breast-feeding!), Bohemian Skin have pioneered a range of natural and vegan friendly skincare products that will revolutionise the way you think about skincare.

The Bohemian Skin journey began when Australian, Morgan Littler, was constantly on the hunt for holy-grail beauty products after battling common skin troubles but felt that she was compromising her general health by using the chemically-infused skincare products widely available in Australia. After falling pregnant in 2015, Morgan had more to protect that just herself. It was then that her passion and obsession with safe and and natural skincare amplified. After searching tirelessly for a skincare regime suitable and effective during pregnancy, breastfeeding and beyond, Morgan began formulating ideas for her ideal skincare product range and with the encouragement of her husband, Keenan, and the support of a team of ethical cosmetic, bio and quality control chemists – the Bohemian Skin journey began. Launching in April 2016, Bohemian Skin was proudly one of the first brands in Australia to market their range as pregnancy suitable. Containing only good ingredients to look after yourself, Bohemian Skin also looks after others by donating 10cents from every product sale to the very worthy charity PANDA (Perinatal Anxiety and Depression Association). Boasting a gorgeous range of gentle, yet incredibly effective products, Bohemian Skin has revolutionised the standard skincare regime by providing a range that works for every body, for life!

The lush range of pregnancy-suitable products provided by Bohemian Skin include a Gel Cleanser (150ml, $32 RRP) that promotes clarity and youthfulness with hero ingredients of hempseed oil, coconut water, witch hazel and lactic acid; a safe and natural Purifying Toner (200ml, $28 RRP) that assists in the removal of blemish causing bacteria while refining pores and balancing PH levels to reveal a clarified and radiant complexion; a nourishing Facial Moisturiser (100ml, $37 RRP) that promotes clarity and hydration without leaving skin feeling greasy or shiny; a Rejuvenating HY C Serum (30ml, $52 RRP) that fights free radical damage and encourages cell renewal; a Bright Eyes Cream (15ml, $34 RRP) that brightens, firms, hydrated and nourishes the eye area; a Spot Assist Treatment (15ml, $32 RRP) to banish blemishes and includes a colloidal sulphur that boasts anti-bacterial and anti-inflammatory properties and is effective in drawing out impurities and cleansing pores; and a hydrating Facial Mask (150ml, $32 RRP) that contains kaolin clay as a natural, gentle exfoliant that purifies pores, removes excess oil and evens skin tone.

With 5-star reviews and 100% of customers saying that would recommend Bohemian Skin to others, it is clear that Bohemian Skin have created a range of Australian made and owned, cruelty free, natural and vegan friendly skincare range that all Australian's can rely on.

Bohemian Skin support the charity PANDA as the owner of Bohemian Skin (Morgan Littler) suffered from Post-Natal Depression herself. Because of this they donate 10cents of every sale to the PANDA charity.