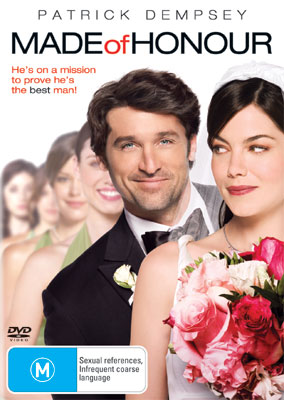 Cast: Patrick Dempsey, Michelle Monaghan, Sydney Pollack
Director: Paul Weiland
Genre: Romantic Comedy


Made of Honor chronicles the relationship between Tom (Patrick Dempsey) and Claire (Michelle Monaghan) who have been platonic friends for 10 years. He's a serial dater, while she wants marriage but hasn't yet found "Mr Right".
For Tom (Patrick Dempsey), life is good: he's sexy, successful, has great luck with the ladies, and knows he can always rely on Hannah (Michelle Monaghan), his delightful best friend and the one constant in his life. It's the perfect setup until Hannah goes overseas to Scotland on a six-week business trip... and Tom is stunned to realise how empty his life is without her.

He resolves that when she gets back, he'll ask Hannah to marry him - but is floored when he learns that she has become engaged to a handsome and wealthy Scotsman and plans to move overseas. When Hannah asks Tom to be her "maid" of honour, he reluctantly agrees to fill the role... but only so he can attempt to woo Hannah and stop the wedding before it's too late.

Review: Brilliant, funny, romantic and dare I say.... Dreamy! Made of Honour is gorgeous story about love, friendship and recognising your match. When Tom (Patrick Dempsey) suddenly realises that the woman of his dreams has been right under his nose the whole time, he makes a desperate attempt to win her back before her big day. Thwarted at every hilarious attempt, it seems that is outmatched against the charming Scotsman who has stolen Hannah's heart. With the odds against him, and with a vengeful bridesmaid out to get him, will Tom be the last man standing?

Available to rent or buy on DVD and Blu-ray now

Patrick Dempsey Made of Honour Interview
www.girl.com.au/patrick-dempsey-made-of-honour-interview.htm












© 2008 Columbia Pictures Industries, Inc. and Beverly Blvd LLC. All Rights Reserved.
© 2008 Layout and Design Sony Pictures Home Entertainment Australia. All Rights Reserved.