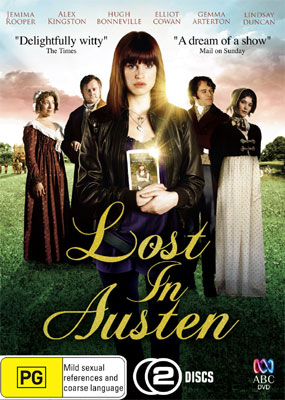 Lost in Austen
Director : Dan Zeff
Cast : Jemima Rooper, Alex Kingston, Hugh Bonneville, Elliot Cowan, Gemma Arterton, Lindsay Duncan.
Genre: Drama and Romance
Disc: 2
Rated: PG
Running Time: 226 minutes

What if you found yourself ruining the worlds greatest love story?

Is there a better constructed, more balanced, sublimely satisfying story than Pride and Prejudice? As a sequence of dramatic progressions, reverses, false summits and romantic epiphanies, the book cannot be beaten...until now.

Lost in Austen is an ingenious, intelligent and insightful reinvention of the classic novel, Pride and Prejudice, in which Jane Austens story is thrown off track by a very modern heroine, Amanda Price (Jemima Rooper: The Black Dahlia, As If and Hex). Amanda swaps places with Elizabeth Bennet (Gemma Arterton: The Quantam of Solace) and takes centre stage in the celebrated love story.

Dissatisfied with her life in London and disenchanted with her boyfriend, Amanda takes solace in reading Pride & Prejudice. The story represents everything that her life is not... the manners, the etiquette and the courtesy she thinks are missing from her life. Her story is one that millions of women around the world will identify with.

After discovering Elizabeth Bennet in her bathroom, she soon finds herself swapping places with Lizzie, and entering the 'real' fictional world of Pride and Prejudice. Amanda arrives at Longbourn, the home of the Bennet family, and realises shes joined the action at the very start of the story. She gets to know the remaining Bennet sisters, and prepares to meet Mr Darcy (Elliot Cowan: The Golden Compass). Of course she is too clumsy to fit into the manners of Georgian society and makes a mess of many of the situations she finds herself in. Before long, Amandas presence in the story has corrupted almost every detail, and shes going to have to work seriously hard to get the book back on track.

An all star cast brings Austen's classic characters to life in a cleverly modern context; with Hugh Bonneville as Mr Bennet and Alex Kingston as the irrepressible Mrs Bennet.

The four part series is written by acclaimed television writer Guy Andrews (Chancer, Prime Suspect, Absolute Power; Poirot) and was one of the biggest hits both on the UKs ITV and on DVD for 2008, with critics and audiences alike gripped by the new romantic twists and turns which emerge while waiting to discover who claims Mr Darcy's heart.

Synopsis: Amanda Price is a devoted Jane Austen fan; often immersing herself into a world of dashing gents, elegant corsets and picturesque manor houses.

Unsatisfied with her life and relationship in modern day London, Amanda's ordinary existence is changed forever when she discovers Elizabeth Bennet alive in her bathroom and ends up replacing her in the very 'real' fictional world of Austen's Pride and Prejudice.

An all star cast brings Austen's classic characters to life in a cleverly modern context; with Huge Bonneville as Mr Bennet and Alex Kingston as the irresistible Mrs Bennet.

Special features include a 44 minute Behind-The-Scenes featurette.

Lost in Austen
RRP: $29.95 2-Disc Set


Review: This is the perfect movie for anyone who has ever daydreamed about being Elizabeth Bennett or searched for their own Mr Darcy. A great spin on a classic.