Little People® celebrates 50 years of play!
It's time to join in the fun and celebration as this year marks 50 years since Fisher-Price Little People® began inspiring fun discoveries and imaginative play for preschoolers the world over. This iconic toy brand continues to reach out to new generations with its delightful and simplistic charm - and this year,it's time to throw a party.
The Little People® journey commenced in 1950 when two of Herm Fisher'skey toy designers created the Looky Fire Truck (pictured right), with threeround-headed wooden firemen attached to the toy. Nine years later, theSafety School Bus was introduced and paved the way for one of thelongest running and most beloved toy brands, known today as LittlePeople® by Fisher-Price.
An immediate hit with children and parents alike, Little People® forged itself a reputation for fun andquality - a reputation which remains strong today.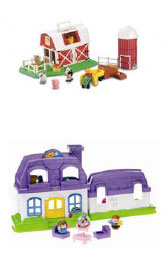 Since then, more than one and a half billion Little People® figures havedelighted children worldwide and evolved from wooden figures into poseablecharacters that can sit and stand, such as theadorable Sonya Lee, Eddie and Maggie - who evenfeature in their very own entertainment DVDs!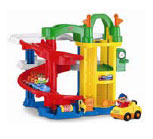 Throughout the past five decades, the Little People®figures have helped preschoolers discover a wholeworld of imagination and fun with a product range thatis "just their size", including timeless playsets like the Little People® Farm,House and Garage (pictured), each designed to help children discover,imagine, learn and build.
Bruce Fox, Fisher-Price toy historian and author said "Toys with longevity that bridge the generationalgap are rare these days. We're very proud of the fact that Little People® have stood the test of time for50 years and foresee that they will continue to inspire creative, imaginative play for generations tocome".
Celebrating this longevity and commemorating 50 years of play, Fisher-Price has released two iconicplaysets, the Little People® 50th Birthday Play 'n Go Farm (pictured) and Little People® 50th BirthdayPlay 'n Go School, featuring a nostalgic retro-style enabling parents to remember their own LittlePeople® experiences. The classic Little People® playsets also take on a new on-the-go format withappealing farm and home themes.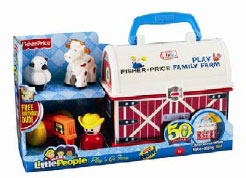 Little People® 50th Birthday Play 'n Go Farm:


Take a trip back in time with the Little People® Play 'N Go FarmPlayset, which has been designed to reflect the classic look ofthe original Play Family Farm first introduced in 1968, completewith retro-style figures! The playset includes farmer, sheep andcow figures, tractor vehicle, 3 connectable fence pieces andwater trough play piece. Everything stores inside the collectibletake-along barn that features a handle and open/close top.
(RRP: AUD $37.99 / RRP NZ: $43.99. Available: Now. Suitable for children 1 - 4 years)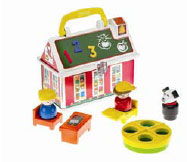 Little People® 50th Birthday Play 'n Go School:


Housed in a nostalgic, collectable take-along playset with a handle andopen/close top, the Play 'N Go School is designed to resemble theoriginal Little People® School House - first introduced in 1971. Theplayset includes retro-styled teacher and pupil figures, dog, teacher'sdesk and chair, student desk and spinning merry-go-round for recess.
(RRP: AUD $37.99 / RRP NZ: $43.99. Available: Now suitable forchildren 1 - 4 years)
Little People® Take Along Assortment:


Each of the Little People® Take Along sets is housed in a portable "lunch box" with a handle andopen/close top. The farm has a traditional design and includes a farmer figure, cow and sheep animalfigures, tractor, food trough and 3 fence pieces. The house has a modern design and includes Mum,Dad and Baby figures, table, 2 chairs, baby high chair and rocker. These sets are perfect for on-the-gotoddlers and incorporate all the storage that mums love.
Whether you recall playing with wooden peg figures or colourful chunky characters, the legendaryLittle People® toys have touched many generations with their charm. Today, they continue to delightmillions of children worldwide. Join the Little People® celebration and commemorate 50 years of play!To view more of the history of Little People®, view the following timeline and take a nostalgic step backin time to where it all began.
www.fisher-price.com/pages/v6/default/littlepeople/timeline.asp
For further information regarding Fisher-Price and its products, please visit:
www.fisher-price.com.au
Little People Place Mats