Scanopedia
DISCOVERY CHANNEL SMART ANIMALS MAKING FOR SMART KIDS
The perfect combination of learning AND FUN!
Discovery Channel
Smart Animals
featuring clever recognition technologyset out to teach the kids of today, not yesterday!
The brand new Discovery Channel Smart Animals collection encourages kids to explore animals and nature - they're an interactive way for kids to learn about their favourite animals.
Each Smart Animal figure features a Discovery Channel patch that can bescanned by the electronic talking
Smart Animals Scanopedia
™.
The Scanopedia unlocks unique sound effects, fun facts, and even quizquestions about that animal.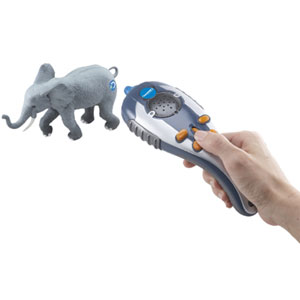 The handheld Scanopedia holds over 2500 sound effects, facts and quizzeswith information for over 200 animals. And you also get a poster full ofscannable images, interactive maps, games and other activities to help childrenlearn about animals.
The
Smart Animals
Collection also includes the fully articulated Deluxe SmartAnimals with push-button sound effects and scannable logo. Real livingenvironment Playsets for the Smart Animals will be released later in the year.
Both parents and children will love Discovery Channel toys. Parents can beassured that everything has an educational aspect built in; and kids will love Discovery Channeltoys because they're interactive, innovative and fun!
Each and every Discovery Channel toy is designed to inspire children to learn about, and interactwith, the world around them - making learning an integral and natural part of play, showing kidshow fascinating the world truly is!
Both parents and kids will love the range - parents for its educational value, and kids for the interactive, innovative and fun play.
Designed for kids aged 3 and up, the Scanopedia (rrp $59.95), Smart Animal Figures 4-pack(rrp $19.95) and Deluxe Smart Animals Single Pack (rrp $21.95) are available from majorretailers and independent toy stores. Additional Smart Animal packs are sold separately.
For customer enquiries or more stockist information please contact Funtastic's free-call CustomerCare Line on 1800 244 543.
Review: A clever toy that encourages learning through play. While the Scanopedia may initially seem to be aimed at boys, because of it's diverse range of animals, girls will enjoy learning about our wildlife. Parents will also learn & enjoy Scanopedia as it reveals information on animals known & unknown.