Ready for covert night ops?

Check out EyeClops Night Vision
We dont want to just see action heroes; we want to be action heroes! Using real military-style technology, the new EyeClops Night Vision infrared stealth goggles puts the latest spy technology in your hands.Powered by invisible infrared illumination technology and an LCD monocle,EyeClops Night Vision enables clear visibility up to 15m even in absolutedarkness.
With EyeClops Night Vision, youre ready to conduct covert ops in your backyard,investigate nocturnal activities in your kitchen and take games like hide n seekor spotlight tiggy to a whole new level.
With two viewing modes you are equipped for any situation - MaximumSurveillance Mode is suited to long range recon and scouting missions, whilstClose Proximity Stealth Mode is for missions requiring a closer look.
The Night Vision goggles have a fully adjustable headstrap, padding for comfort around the face, a safetybreakaway power cord and a counter weighted batterypack.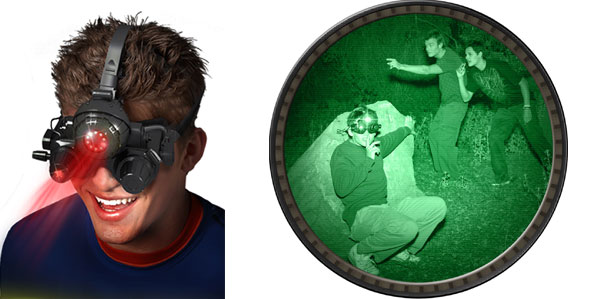 EyeClops Night Vision provides an authentic nightvision experience like never before.
EyeClops Night Vision
Stockists: From all major retailers and independent toy stores
RRP: $139.99*