Disney's global hit, The Lion King, will be launched for the first time on DVD in February 2004. This classic and timeless tale that has captured so many hearts will undoubtedly become the biggest family DVD of 2004.
One of Disney's biggest children/family movies and still holding in the top 10 movies. The entire franchise, which covers the recent IMAX release, video, stage show, TV series, soundtrack, publishing and merchandise, is the world's number one licensed entertainment property. It's no surprise, for you will all remember the trademark opening African call and theme song 'Can you feel the love' which touched us all so deeply.
The Lion King is set amid the majestic beauty of the Serengeti, Disney's epic coming-of-age saga tells of the love between a proud lion ruler Mufasa and his son Simba, a naïve and curious cub who "just can't wait to be king". When Simba's envious Uncle Scar schemes with his hyena henchman, including Shenzi, trouble invades the kingdom. To the rescue comes a hilarious meerkat named Timon and that warm-hearted warthog, Pumbaa, and soon Simba joins in the carefree lifestyle of "Hakuna Matat". With Rafiki at his side, Simba reclaims his true destiny and joins the "circle of life".
The new DVD is sensational, not only can you watch and listen to the movie in its original format, but now there is an amazing second option innovated by Disney. The new 5.1 Disney Enhanced Home Theatre (DEHT) Mix is state of the art and has been specifically designed for home theatre systems, creating dynamic and spatially enhanced audio-sensory experience. Bringing movie sound quality to your home, a remarkable difference.
The Lion King DVD comes with two discs that are jam packed with hours of entertainment and fun education.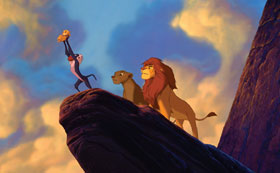 Disc 1
The Lion King Special Edition DVD represents the film's first-ever digital presentation of the film - completely new and enhanced viewing experience.Two version of the film are included: The original theatrical release & special edition with all new song "Morning Report" taken from the stage production.Rare deleted scenes.
All new 3D animation has been created exclusively for the DVD.
Zazu hosts you a fabulous trek through the different realms of the DVD kingdom.
PRIDE ROCK
Two Versions of the Film:
Original theatrical release
Special Edition with all new song "Morning Report" taken from the stage production and integrated into the original film.
GRASSLANDS
The Making of the new song "Morning Report"
The Lion King personality profile game

TREE OF LIFE

All new "Circle of Life" music video - performed by the Disney Channel's "Circle of Stars", including Hillary Duff, Raven Symone, Christy Romano, Anneliese Van Der Pol, Orlando Brown, Tahj Mowry, Kyla Pratt and A.J. Trauth.
Sing along track.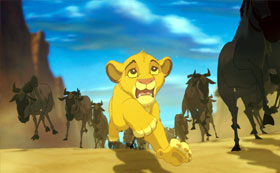 JUNGLE
Timon's grab-a-grub game - Disney's first ever 2-player set top game.
Pumbaa's sound sensations game - all new sound matching game in Dolby Digital 5.1 Surround Sound.

ELEPHANT GRAVEYARD

Deleted & abandoned scenes.
Bug Football
Hakuna Matata
Warthog Rhapsody
Abandoned concept for "Can you feel the love tonight".
Audio commentary.

Disc 2

VIRTUAL SAFARI

Join your outrageous tour guides Timon and Pumbaa for an action-packed blast through the wilds of Africa - Land & Water.

ANIMAL JOURNEY

Learn how real animals inspired the animated Lion King characters - Hosted by Roy Disney. A truly magnificent way to educate the family on animal life by relating to the characters in the story, brilliant and imaginative.

STORY JOURNEY

Learning the fascinating origin and influences behind The Lion King
Story origins
Timeless themes
The story comes to life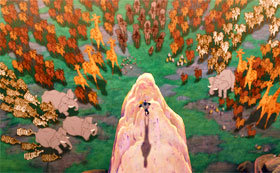 STAGE JOURNEY
Behind the scenes featurette on the hit musical which explores masks, costumes, puppets and more.

FILM JOURNEY

Behind the scenes footage
Character design
Computer animation
Storyboards
African art inspiration

MUSIC JOURNEY

Exclusive interviews with Sir Elton John & Tim Rice
The Lion King music videos
African influence on the music

Plus much much more.

This is a MUST HAVE, and will definitely be a treasure among your collection.
The Lion King DVD will be out February 2004.

For those of you who already have the video and think that is enough, think again. If you want to relive 'The Lion King' you must get it on DVD. The new DEHT (Disney Enhanced Home Theatre) Mix is sensational, creating a dynamic audio that sets a precedence for DVD home entertainment. The fun and spirited addition of new song, "Morning Report", taken form the stage production, fits in beautifully with the orginal film. But best of all are all the extras. Whether for the young or the young at heart, there is an irresistable magic to 'The Lion King'. But come and discover the journey behind the film and the influences that made this film such a memorable one. The music is inspirational, and the story a classic, but there is much to be learned and many more journey's to take with the inbuilt safari game. A timeless classic, add it to your collection today.


Order Now from CD Wow