Lincoln
Cast
: Daniel Day-Lewis, Sally Field, David Strathairn, Joseph Gordon-Levitt, James Spader, Hal Holbrook, Tommy Lee Jones
Director
: Steven Spielberg
Genre
: Biography, Drama, History
Rated
: M
Running Time
: 153 minutes
Synopsis
: Steven Spielberg directs two-time Academy Award® winner Daniel Day-Lewis in Lincoln, a revealing drama that focuses on the 16th President's tumultuous final months in office. In a nation divided by war and the strong winds of change, Lincoln pursues a course of action designed to end the war, unite the country and abolish slavery. With the moral courage and fierce determination to succeed, his choices during this critical moment will change the fate of generations to come.
Release Date
: February 7th, 2013
Website
:
Trailer
Lincoln's Family
Behind the extraordinary political genius and faith in democracy that led Abraham Lincoln to pass the 13th Amendment was a more private, yet equally fascinating, side. For even as he was confronting foes in the Capitol and the battlefield, he also faced dilemmas at home with his powerful but grief-stricken wife and a son determined to join the very war Lincoln sought to end.
To bring to life the major role that the first lady, Mary Todd Lincoln, played in her husband's political and personal life, Steven Spielberg turned to Sally Field, a two-time Oscar® winner for indelible performances in "Norma Rae" and "Places In The Heart." Here, Sally Field takes on a woman believed to have been as vastly complicated as her more famous husband. Born into a wealthy and politically influential Kentucky family, Mary had identified Lincoln's potential as a future presidential candidate from the moment she met him and, after a stormy courtship, she married him at the age of 23. (She once said of Lincoln: "He is to be President of the United States some day; if I had not thought so I never would have married him, for you can see he is not pretty.")
Her husband would be president, yet along with their success, their life together would be rife with tumult, tragedy and controversy. Only one of their four children, all sons, would live to adulthood. Furthermore, as a native of the South, Mary's family and heart would be torn in two by the divisions of the Civil War. Once she became first lady, she was assailed for spending lavishly to refurbish a White House that had fallen into an embarrassing state of disrepair and pilloried for her personal eccentricities. Her agony reached an unbearable peak with her husband's assassination. Along with the death of her youngest son Tad, these events would take Mary into a downward spiral. She was briefly committed to an insane asylum before passing away as a recluse whose faded image obscured a truly extraordinary life.
The task for Sally Field would be to bring Mary out of the realm of myth and make her a real wife and mother in the midst of a very challenging marriage. "Sally Field in many respects had one of the most difficult parts in the movie," says Kathleen Kennedy. "A lot has been written about Mary's distress not only over her lost children but at the incredible sadness of the war. Sally could have done something very predictable with that. Instead, she found an illuminating restraint and complexity. You understand that what she was going through was overwhelming, but also you see how hard she worked to pull herself up by the bootstraps to support her husband and be the nation's first lady."
Sally Field dove into intensive research about Mary, hoping to get beyond the rumours and half-truths. She read numerous books, toured Mary's homes and met with historians and memorabilia collectors. "Everywhere I went, I tried to find pieces of who she was," she says.
The actress came to believe that Mary was criticised so harshly in her day in part because people loved Lincoln so much. "In a way, I think people demonised her because it elevated him," she observes. "He was a noble man, giving of himself completely in a horrible, bloody war, and I think it was a compelling fable that he was married to a shrew. People liked thinking, 'That poor man, look at what he has to put up with,' and there was something to that, but he was no piece of cake, either. Lincoln could be distant and remote. But Mary always believed in his brilliance and she never had any doubt that he was going to change the world. And he did."
As a Southerner, members of Mary's family fought for the Confederacy and some politicians even questioned her loyalties. However, she remained staunchly pro-Union and devoted to her husband's victory on the 13th Amendment. "Most of all, I think Mary was pro-Lincoln," says Sally Field. "She was a very smart woman but in those times there was no place for a woman at any table except the dinner table, so she was his supporter behind the scenes. She was very politically savvy and had been his confidante from the beginning. But I think once they were in the White House, she lost her place a bit with Abe. Now he had Seward to advise him and her feelings of value and importance to him began to diminish. And then Willie's death was such a huge blow to her. Her grief was so enormous. But I think she also held on to a hope of renewal with her husband, which you see in the film."
Sally Field was especially intrigued to have the chance to create the essence of a long and intense marriage, with all its mixed emotions, on screen with Daniel Day-Lewis. Early on, the pair started engaging with one another in a most unusual way: texting back-and-forth in character. "He would send me things like little limericks or notes out of the blue, and we began to build a thread of intimacy," comments Sally Field.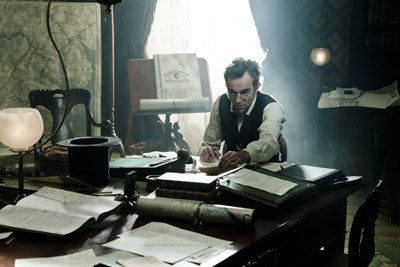 They met only once before filming began, in Richmond, and in lieu of taking him on a carriage ride as Mary often did with Abe, Sally Field and Daniel Day-Lewis went for a stroll, to find that ineffable bond as husband and wife. Though they never formally rehearsed, Field says that from day one on the set, "as far as I was concerned, this was the man that I had been married to for a very long time and was basically driving me crazy."
Daniel Day-Lewis felt similarly. He says: "I think we both trusted completely in the work and in trying to find their relationship. There was never a moment when Sally Field seemed anything other to me than the person I shared my life with during that time."
Sally Field notes that the authenticity of every detail in the film's design and the way Steven Spielberg kept the set as a kind of time capsule without 21st century intrusions further aided this process. "I've never done a film with such amazing production detail," she comments. "It made total sense to stay within that world-and it was the most divine way to work."
She especially loved collaborating with Steven Spielberg. "I've been lucky to work with several very fine directors and Steven Spielberg is as good as it gets," she states. "He's relentless in his vision, but he's also willing to change if he sees something better. He's always looking and thinking and seeing different ways to shoot and offering different ideas to the actors."
Although the film took Sally Field deep into America's past, she says she couldn't stop thinking about its relevance to right now. "It feels incredibly current," the actress observes. "I think the story resonates not just in the U.S., where people have become so entrenched in individual political beliefs, but also in the world at large. The complicated nature of democracy-the difficulty and messiness of it, how hard it is to keep it working-really comes to the fore. It reminds all of us that this noble notion of people governing themselves is something you have to want more than life itself."
The Lincoln marriage was put under further stress by the desire of their oldest son, Robert, to join the Union Army and make his own contribution to the war effort. At 21 and a promising Harvard student, Robert Lincoln didn't have to go war like so many young men, yet he felt compelled to be part of this historic moment. His parents felt otherwise. Knowing the staggering mortality rate and still reeling from the death of their son Willie, both tried to keep him a civilian in their own ways.
Portraying the president's oldest son (and the only Lincoln child to survive to adulthood) is Joseph Gordon-Levitt, known for his roles in "(500) Days of Summer," "Inception," "50/50," "The Dark Knight Rises" and "Looper." He tried to place himself into Bob Lincoln's dilemma. "Being privileged, I think Bob knows he is fortunate-because who wants to fight in this war where so many are dying?" says Joseph Gordon-Levitt. "At the same time, because of his circumstances, he's been taken out of what's happening in the country. And that's tough for him because he also really believes in the cause of this war, believes in the rights of human beings, and that makes him want to fight."
Like Sally Field, Joseph Gordon-Levitt first communicated with Daniel Day-Lewis in a more 21st century manner: via texting. "It was a little bizarre to be texting with someone that I've idolised all my life," he muses. "But it was a delight. He is such a sweet and generous guy with his words. It really meant a lot when he said, 'You're my first choice of who I want to do this.'"
On his first day on the set, Daniel Day-Lewis also sent Joseph Gordon-Levitt a note in something akin to Lincoln's handwriting. "And then I met him as The President just before the cameras started rolling and I loved that it happened that way," says the actor. "It kept the world we were creating intact."
Joseph Gordon-Levitt says that one of his greatest gratifications was bringing out the more fallible side of Lincoln's character, a side many have never seen. "I like that this movie doesn't turn Lincoln into a saint," he says. "What he accomplished in abolishing slavery was a truly great thing; but this movie also shows the compromises he had to make, the things that he had to do that were questionable in order to accomplish that goal. Bob is a good example of that because he really never was able to have much of a relationship with his father. That was a big sacrifice and showed how complicated Lincoln's life was. History is made by human beings and I like that this story portrays Lincoln as a human being with personal flaws and hypocrisies as well as real strengths and virtues."
Joseph Gordon-Levitt felt a similar effect with Sally Field. "We were realistic towards each other, calling each other 'Mom' and 'Son' and things like that. I know that might sound weird to an outsider but when you play things that real, everything becomes more genuine," he summarises.
The Lincolns' youngest son Tad-a fragile, isolated child for whom President Lincoln was said to have had a deep and playful affection-is portrayed by Australian-born actor Gulliver McGrath, who was recently seen in "Dark Shadows" with Johnny Depp. Gulliver was excited by both the humour and emotion of the role. "Tad has some hilarious scenes but also some deep scenes with his father," he says. "You see him bring out the best in his dad: his thoughtfulness and kindness."
Gulliver McGrath worked closely with Steven Spielberg to get inside Tad's world-an unusual one since Tad was allowed to roam the White House at will, often romping through his father's meetings with the nation's best and brightest. "Steven Spielberg really emphasised what a free spirit Tad was and how playful he was with his dad. People always say that Steven Spielberg is really good with children and I completely agree with that. He's been fantastic to me."
He also developed a rapport with Daniel Day-Lewis that would make the father-son bond come alive. "Even when we weren't doing scenes, he'd treat me like a father, giving me hugs and ruffling my hair," Gulliver McGrath says. "With both Daniel Day-Lewis and Sally Field, I felt like I'd travelled back 150 years and was in the same room as the Lincolns-so it was not like saying lines with them; it was something more real and beautiful."
There was another member of the Lincoln family who was not a blood relative but was an essential part of their household fabric: Elizabeth Keckley, the former slave who, in an astonishing journey, became the White House seamstress, a confidante and modiste to Mary Lincoln and also an activist for women, children and freed slaves. Playing her in "Lincoln" is Gloria Reuben, the Canadian actress and singer known for her long-running role on television's "ER."
Gloria Reuben calls the real Keckley "an extraordinary woman." She explains: "She was born into slavery and at the age of 39, ended up buying her own freedom for $1,200. She was highly gifted in the art of dressmaking, which she learned from her mother, and eventually ended up building up her own clientele of high society women and political wives before moving to D.C., where she befriended Mary Todd Lincoln and was hired as her personal seamstress."
As she researched Elizabeth Keckley's remarkable life, Gloria Reuben was fascinated to learn how interwoven she became in the Lincoln family and how close she was to Mary, despite the extreme divergence in their backgrounds. "Elizabeth Keckley, too, had lost her own son in the Union Army and I think she and Mary were able to relate on that deep emotional level of mothers who have lost a child," Gloria Reuben observes. "She became a kind of emotionally calming force in the Lincoln White House."
The chance to work so closely with Sally Field was a special pleasure for Gloria Reuben. "We were good friends right out of the gate," she says. "There was an immediate connection between us and I think the role is a perfect fit for Sally Field, because like Mary, she's so smart, funny and keenly aware of everything around her. She has that fierceness that was in Mary."
One of the most moving scenes of all for Gloria Reuben was the day of passage for the 13th Amendment, which Elizabeth Keckley observes inside the Congressional Chamber. "There was something very profound about filming the passing of the 13th Amendment in the state capital in Richmond, Virginia. It was overwhelming in the best way possible," she recounts.
William H. Seward and Lincoln's Team
Perhaps the most intriguing relationship of many in Abraham Lincoln's political life was that with his secretary of state-who also happened to be his former political adversary, William Henry Seward. William Henry Seward lost the contentious Republican Presidential nomination in 1860 to a rapidly rising Lincoln, and for a time was his bitter foe. However, once he came into the new president's cabinet, William Henry Seward and Lincoln became indispensable allies in the fight to save the Union.
Their sharp minds sometimes clashed but they developed an unassailable respect for each other. Doris Kearns Goodwin explains: "William Henry Seward started out as this huge rival, thinking at the beginning that he would be the president and Lincoln would be his subordinate. But by 1865, he had come to love Lincoln and indeed had become his closest advisor and his great friend."
To portray William Henry Seward with all the complexity of a man who believed he also had the right stuff to be president, the filmmakers chose David Strathairn, one of America's most diverse screen actors, who garnered an Oscar® nomination for playing another iconic historical figure-the newscaster Edward R. Murrow in "Good Night, and Good Luck."
David Strathairn was intrigued by the film's personal POV. "To have a window into Lincoln's soul at this time in history is extraordinary," he says. "I think Steven Spielberg and Tony Kushner reveal the nerve and spine of Lincoln-and you get to see the complex collision of great personality with great purpose. You also see the cost to Lincoln, the dark night he has to traverse, wondering if the ends justify the means."
In his own research, David Strathairn found that William Henry Seward's view of Lincoln was an evolving process-one that started in consternation and ended in affection beyond words. "William Henry Seward was a bit taken aback by the fact that this man who, in his estimation, had no social skills, had become president. But ultimately, Seward came to greatly respect Lincoln," David Strathairn says. "He wrote home once to his wife, 'He is the best of us.' By the end, he held Lincoln's soul in the highest regard."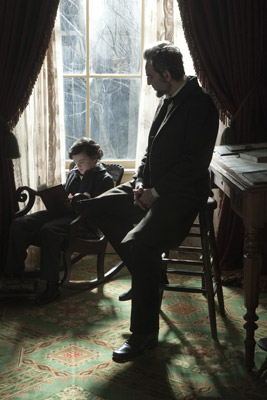 As soon as David Strathairn began working with Daniel Day-Lewis he felt the casting was undeniably fated. "There was no other choice that could have been made," he states. "Daniel Day-Lewis brought a magical, transporting quality to the set and to Lincoln that became the tuning fork we all tuned up to."
He was equally engaged by Steven Spielberg's direction on the film. "Steven Spielberg was very generous, very alive and very attentive to the moment and it felt like we were creating something brand new," David Strathairn comments. "He brought a rigor to honouring the event of the 13th Amendment, yet at the same time he was right in there finding new subtleties in every moment, which was very exciting."
To play Francis Preston Blair, the powerful Southern politician and Republican reformer who was a close, if combative, advisor to Lincoln, Steven Spielberg chose the veteran, Academy Award®-nominated actor Hal Holbrook, who himself has played Lincoln several times, including in a 1970s television series. A history buff who has studied the 1800s from a variety of perspectives, including in his long-running stage role as Mark Twain, Hal Holbrook was drawn immediately to the project.
"It's not just the story of Lincoln's last days, but of a political and moral conflict that relates to the life of our country today," Hal Holbrook says. "The film is so personal, I think audiences will find themselves in the heart and mind and clothing of this extraordinary man."
Hal Holbrook was acutely aware that the 73-year-old Blair was not on the side of history. Blair opposed Lincoln's fight for the 13th Amendment, manoeuvring instead for an immediate peace treaty with the Confederacy. Indeed, with Lincoln's authorisation, in January of 1865, he met in secret with Confederate President Jefferson Davis to see if a speedy end to the war could be obtained.
"Blair was a very powerful, rich and interesting man who became a critical advisor to Lincoln during the war," Hal Holbrook explains. "But Blair was more influenced by Southern attitudes, so he was not for total abolition. He was for something more like a midway point. And when it came time to face up to a fourth spring of massacred young men, I think his only priority was peace. He saw that the war could be ended and he felt that was the most important thing, rather than abolition."
Having played Lincoln himself, Hal Holbrook was fascinated by Daniel Day-Lewis' take on the man: "Watching him create Lincoln was very personal to me," states Hal Holbrook. "I loved studying him, loved watching his face. He is endowed beautifully for the role but he also has the necessary heart."
Another group of men on Lincoln's team made a real, if largely untraceable, contribution to the passage of the 13th Amendment. These were Seward's back-door, glad-handing political operatives-early incarnations of today's lobbyists. In the film, they are represented by the gang of three, played with comic appeal by John Hawkes, James Spader and Tim Blake Nelson.
John Hawkes ("The Sessions"), who portrays Robert W. Latham, notes that the threesome is engaged in the practical muck of politics, something people are very familiar with today. "These guys were working behind the scenes targeting lame duck Democrats and cajoling them into voting for the 13th Amendment," he explains. "I loved the story and even more so, seeing Steven Spielberg so elated to tell it."
James Spader, who plays Nashville lawyer W. N. Bilbo, was drawn to the screenplay. "Tony Kushner managed to condense the Seward Lobby into such an entertaining trio," he notes. "He created a very interesting character in Bilbo, who brings a wonderful kinetic energy into his scenes."
Tim Blake Nelson, who worked with Steven Spielberg in "Minority Report," says he saw a different director on this film. "I think Steven Spielberg suits the way he directs to whatever story he's telling, and with 'Lincoln,' he really emphasised organic interactions between characters. For me, it was like working with two different directors-yet only Steven could embody both."
Steven Spielberg Lincoln Part 1
Steven Spielberg Lincoln Part 2
Steven Spielberg Lincoln Part 3