Life Of Pi
Cast
: Suraj Sharma, Gérard Depardieu, Irrfan Khan, Tabu, Tobey Maguire
Director
: Ang Lee
Rated
: PG
Running Time
: 127 minutes
Genre
: Adventure, Drama
Synopsis
: Director Ang Lee (Brokeback Mountain, Crouching Tiger, Hidden Dragon) creates an all-audience movie event about a young man on a fateful voyage who, after a spectacular disaster, is hurtled into an epic journey of adventure and discovery. He becomes marooned on a lifeboat he must share with the ships only other survivor, a fearsome Bengal tiger with whom he makes an amazing and unexpected connection.
Life Of Pi Release Date
: January 1st, 2013
The Story
Life Of Pi begins and ends in Montreal with a writer who, seeking inspiration happens across the incredible story of Piscine Militor Patel (Pi at 17 years of age is played by Suraj Sharma; the contemporary character is played by Irrfan Khan; and as a youngster in the film's early scenes, by Ayush Tandon). Growing up in Pondicherry, India during the 1970s, Piscine, known to all as Pi, has a rich life. His father (Adil Hussain) owns a zoo, and Pi spends his days among tigers, zebras, hippos, and other exotic creatures. He develops his own theories about faith, belief, and human (and animal) nature - but after Pi attempts to befriend a Bengal tiger named Richard Parker, the young boy learns a harsh lesson from his father about the relationship between human and beast. "The tiger is not your friend!" thunders Mr. Patel at his son. "Animals don't think like we do; people who forget that get themselves killed!" Pi will never overlook that lesson, which impacts his insatiable curiosity about the world and, ultimately, the journey upon which he is hurtled.
The diversity of Pi's world is shaken by sweeping changes occurring in his country, and when Pi is seventeen his father and mother (played by Tabu) decide that the family must emigrate to a better life. The move promises new adventures in a new world, but it also means that Pi must leave behind his first love.
Choosing to relocate to Canada, Pi's parents close their zoo, pack their belongings (including some of the animals from the zoo), and board a Japanese cargo ship, where they encounter a sadistic French chef (Gérard Depardieu). Late in the night, deep at sea, Pi's joy at the onrush of nature turns on a dime to cataclysm. The ship sinks, but Pi miraculously survives. He is cast adrift in the middle of the Pacific Ocean aboard a boat with a most unexpected traveling companion - Richard Parker.
As they embark on their adventure, the ferocious tiger, whose true nature was seared into Pi's memory at his family's zoo, is Pi's mortal enemy. But as they learn to co-exist, Richard Parker becomes Pi's best hope in his quest to find a way home. Their bond is reinforced by another shared experience: both Pi and Richard Parker had little understanding of the real world, and both were raised by the same master - Pi's father. Now, nothing else remains for them of that past, except each other.
The two castaways face unimaginable challenges, including nature's majestic grandeur and fury, which lash their small lifeboat. One particularly monstrous storm becomes a spiritual experience for Pi, leading him to question God's plan for him. "I've lost everything! I surrender! What more do you want?" Pi rails at the sky. But through it all, he never loses hope. Pi finds joy from something as simple as an old survival manual, as well as from the solace of the ocean's beauty: the bioluminescent, rainbow hues of magnificent schools of flying fish; the shimmering blues of the ocean's swells; and a radiant humpback whale that streaks to the surface of the ocean.
And through Mr. Ang Lee's use of 3D, we are there with Pi and Richard Parker, experiencing these extraordinary and visually stunning moments, immersed like never before in an epic movie adventure interwoven with an emotional and spiritual journey.
The film's journey began with Yann Martel's beloved book, one of the biggest publishing events of the past decade. The novel won the prestigious Man Booker Prize, and was a New York Times bestseller for over a year.
Producer Gil Netter, who has had a long and successful relationship with Fox 2000 Pictures, brought the book to the company's president of production, Elizabeth Gabler, who acquired the property for Fox in 2002. Gil Netter was immediately drawn to the story, which he says, "has everything you go to the movies for - and what you can't get anywhere else." Together, Gil Netter and Elizabeth Gabler developed and nurtured the project for several years, confident that the story for which they had such passion would become a major motion picture event.
Most significantly, they waited for the right filmmaker to emerge and embrace the project's formidable challenges and opportunities. As Gil Netter explains: "Ang Lee is an artist with whom I've long aspired to work, and is one of those magical talents who could masterfully take charge of the material."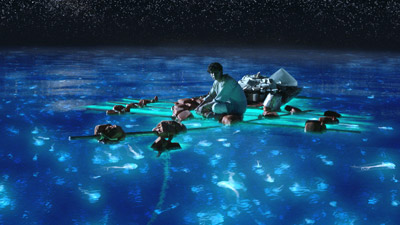 Elizabeth Gabler adds, "The scope of the film is gigantic, and Ang Lee is a visionary who won't even consider taking on a project unless it frightens him and provides the opportunity to break new ground. Like Pi and Richard Parker, Ang Lee's initial fear evolves into triumph over seemingly insurmountable challenges."
Martel, another longtime admirer of Mr. Ang Lee's work, adds, "Ang Lee was the perfect choice because he makes emotionally powerful movies. His projects run the gamut from the small and the intimate to the spectacular. From 'Sense and Sensibility' to 'Brokeback Mountain' to 'Ice Storm' and 'Crouching Tiger, Hidden Dragon,' his work is incredibly varied. And that's what you want with Life Of Pi because it is an intimate drama of a young man who loses his family and has to cope with unimaginable challenges set against a spectacular backdrop. To pull that off cinematically and retain the emotional core is extraordinarily complicated and Ang Lee and his team have the know-how, determination, and the creative chops to pull that off."
Watching his book being translated into film was a heady experience for Martel, who notes that "Life of Pi has been translated into forty-two languages. To see it translated on film as a movie is like the forty-third. The language of cinema is a universal one and to see the story translated that way is a thrill."
David Magee ("Neverland") was tapped for the daunting task of adapting Martel's rich, far-reaching work that married the profound and whimsical with epic adventure and deep introspection. The screenwriter admits that while he read the book for pleasure some time before the assignment, now that he had the gig he wondered "how he could translate it for the screen." The key, he determined, was the idea of simply telling a story about a story. "In the book, Pi is telling a story to the character of The Writer, just as Ang Lee is telling us a story with his film," says David Magee.
"Life Of Pi, on a huge scale, is a fable of faith," adds Mr. Ang Lee. "In many ways, it is about the value of storytelling and the value of sharing stories."
Becoming Pi
The heightened emotional connections presented in Life Of Pi required exceptional performances from its cast, none more so than the neophyte thespian who would take on the titular hero. After an extensive talent search throughout India, during which over 3,000 young men auditioned, Mr. Ang Lee, his casting director Avy Kaufman, and her team chose 17-year-old Suraj Sharma to play Pi Patel. Suraj Sharma is a student who at the time lived with his parents in Delhi, India. (Ironically, Suraj Sharma's parents are mathematicians, and now their son was about to embark on his first film role - as a character named Pi - a mathematical constant and transcendental number.)
Suraj Sharma hadn't even intended to audition for the role; it was his brother who was set to read for the part. In the course of six months, Suraj Sharma made it through four rounds of auditions. He found the process to be a heady one, because until that point Suraj had been living like a normal teenager. "I was really nervous, especially during the final audition," he recalls. "I was actually shaking. I talked to Ang Lee for five minutes and he's got this thing about him: Whoever's around him, somehow you get really calm. So Ang Lee calmed me down, and we did the scene. I wasn't really happy with what I did because still I had this little bit of nervousness. Ang Lee talked to me for ten minutes, and we did the scene again. I don't know what happened, but it was pretty much the best work I had done through all the auditions. Everyone in the room looked really happy."
During this final stage of auditions, Suraj Sharma read an emotional monologue from the script, and his soulfulness, warmth and innate talent won over Mr. Ang Lee and the studio.
"We searched for a young man who had the innocence to capture our attention, the depth of character to break our hearts, and the physicality needed to embody Pi on his journey," says Mr. Ang Lee. "During his audition, Suraj Sharma filled the room with emotion, much of which he conveyed simply through his eyes. His natural ability to believe and stay in the world of the story is a rare treasure.
"Suraj Sharma's investment in the story made us really believe that whatever challenges we faced, the film was really going to happen," adds the director. "When we saw Suraj Sharma, we saw the movie."
To mark the beginning of her son's journey to a new world of acting and studio moviemaking (much like Pi finds himself on an adventure he could never have dreamed of), Suraj Sharma's mother performed a small ceremony, during which she appointed Mr. Ang Lee as her son's guru. Ever humble, Mr. Ang Lee's first thoughts were that he was unworthy of assuming such a formidable responsibility. But the ceremony, he notes, "got to me," and he agreed to strive to be deserving of the honour.
By the end of production, it was Suraj Sharma who became the spiritual leader on-set. Mr. Ang Lee marvels at Suraj Sharma's innocence and efforts, noting, "We are all experienced and perhaps a little jaded. Suraj Sharma reminded us why we want to make movies. Every day was a miracle."
The teen's many new experiences making Life Of Pi included the daunting but necessary task of learning how to swim. Given that Pi spends much of the story on and in water, the aquatic training was paramount. Under Mr. Ang Lee's watchful eye, and through the guidance, hard work and discipline of stunt coordinator Charlie Croughwell and his son, stuntman Cameron Croughwell, Suraj Sharma was transformed into an outstanding swimmer, and learned to do his own stunts with uncommon stamina and drive.
To match Pi's physical transformation, Suraj Sharma had to gain weight and then lose those additional pounds of muscle, and more, in real time and with no hiatus. (Tom Hanks' dramatic weight loss in "Cast Away" was facilitated by a months-long break in that film's production.) Through a stringent program of diet and physical training, the Charlie Croughwells transformed Suraj Sharma from a skinny 150 pounds to a muscular 167 pounds. Then during the course of filming they dramatically reduced his weight to just over 130 pounds, to embody Pi's struggles.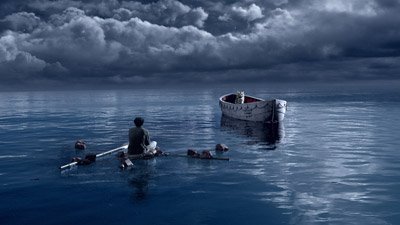 To further evoke Pi's transformative experiences, Suraj Sharma learned ocean survival skills. Steve Callahan was the film's survival and marine consultant. Producer David Womark explains, "Steve Callahan wrote the book, Adrift, about his experience surviving adrift at sea for seventy-seven days. He, together with Ang Lee, created a program that taught Suraj Sharma how to fish, build a sail, and collect fresh water -- so all these elements that you see in the movie are things he had to take on as challenges, and they became part of his performance."
Suraj Sharma spent much of the production in the world's largest self-generating wave tank ever designed and built for a motion picture. Located in Taichung, Taiwan, on the site of a former airport, the tank measured 70 meters long, 30 meters wide and 4 meters deep, with a capacity of 1.7 million gallons, and allowed the filmmakers to generate a range of water textures. For the sinking of the ship Tsimtsum, and a massive "Storm of God" sequence, the tank's water was replaced by CG H20.
"The tank began to feel like my home," says Suraj Sharma, who through his experiences there, learned much about the sea. "As you will see in the film, the ocean has its own moods," he explains. "It can feel like a monster, or it can be a mirror. It's both a killer and a saviour. The ocean is a beautiful thing."
Pi's companion on his oceanic odyssey, Richard Parker, is largely a creation of advanced CG wizardry, overseen by visual effects supervisor Bill Westenhofer ("The Chronicles of Narnia: The Lion, the Witch and the Wardrobe"). The digital magic builds upon the revolutionary character CG work of "Rise of the Planet of the Apes," creating a sentient creature that feels as real as the four actual Royal Bengal Tigers that served as physical and performance references. The visual effects team strove to maintain subtle animal nuances, and avoid anthropomorphising the beast.
Bill Westenhofer credits the hundreds of hours of video the filmmakers took of tigers, with providing invaluable reference for their CG creation. (The animals also contributed some performance work.) Animal trainer Thierry Le Portier ("Gladiator") found three of the four key animals in France and one in Canada. Their names: King, Min, Themus and Jonas. King was cast due to his matching Ang Lee's visualisation of Richard Parker, and thus became the primary physical model for the character.
About the Production
Life Of Pi was filmed primarily on locations in India and Taiwan. The sub-continent made a lasting impression on the entire team. "India's a place where so many things are possible, says Yann Martel, "It's a place of infinite stories. Magical stories, realistic stories. India is a mother lode of stories."
Mr. Ang Lee never considered shooting scenes set in Pi's childhood home of Pondicherry, India - the entire first act - anywhere but the former French colony. "While we were working on the script I scouted and there is really nothing else that compares to French India," Mr. Ang Lee explains. "It's unique and somewhat unfamiliar to the rest of the world. It's like you can just drop a camera anywhere there, turn it on, and the picture will be beautiful."
The production settled into 200,000 square feet of studio and office space near the city's historic Muslim Quarter. The production filmed on 18 locations in and around Pondicherry, and a crew of 600 - almost half of them locals - worked on the opening sequences of the film. Approximately 5,500 local residents were hired as background actors for the magnificent exterior scenes.
The production transformed the town's Botanical Gardens into the fictional Pondicherry Zoo. Production designer David Gropman explains how that came to be: "The first thing Ang Lee wanted to see when he visited Pondicherry was the zoo, as it was described in Yann Martel's book. But there was - and never had been - a zoo in Pondicherry. But there was a botanical garden, built by the French around the turn of the twentieth century, and Ang Lee came up with the idea that the story's zoo was, in fact, the former Pondicherry Botanical Gardens, which Pi's father had discovered and decided to turn into a private zoo. The wonderful thing about the concept is that it led us to add an influence of French architecture and French botanical gardens, mixed with an Indian aesthetic. So with Ang Lee's notes in hand, we created the zoo itself."
The production secured permission to shoot on the grounds of Pondicherry's 1000-year-old Villanur Temple. Two thousand authentically costumed extras worked through the night until sunrise and upwards of 20,000 traditional diya candles were kept lit throughout the night- with every available crewmember on-hand keeping constant vigil with torches. A sequence during which the Patels enjoy a family vacation was captured in Munnar, a small but popular hill station in Kerala on India's southwest coast.
Meanwhile thousands of miles away in Taichung, Taiwan, construction was nearing completion on the world's largest self-generating wave tank built for a motion picture. In addition, and with the generous support on a both a national and local level from Taiwanese officials, Mr. Ang Lee and his production team retrofitted Taichung's Sui Nan airport facility and its airplane hangars into a functional working movie studio. Flags representing the nature of what Mr. Ang Lee calls Life Of Pi's "international cocktail production," flew proudly from high atop of the tank's massive green walls.
The surreal and mysterious island inhabited by a huge clan of meerkats was realised through a combination of a practical location shot deep within a colony of indigenous banyan trees at a Taiwanese botanical reserve, sets designed by production designer David Gropman, and digitally created environments.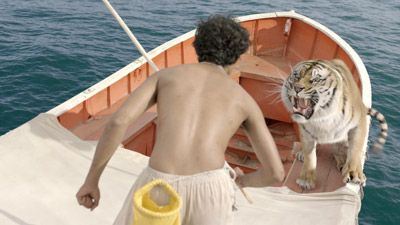 David Gropman notes that the banyan tree location was a critical one, "I was convinced that we would find inspiration for the meerkat island scenes in Taiwan. One of the biggest challenges was the practical locations and the design of the island itself. And I was convinced that we couldn't create the island in a convincing way without some inspiration from Mother Nature. Ang lee knew of a banyan tree reserve hidden within Taiwan's Kenting National Forest and brought us in for a look. The reserve became the inspiration for the look of the mysterious island. The island as well as the banyan tree is one huge holistic organism and, not coincidentally, an indigenous tree typical of India. So the fact that it would be something that Pi would recognise was perfect."
After principal photography wrapped, Mr. Ang Lee began the lengthy post-production period, overseeing the work of editor Tim Squyres, A.C.E., composer Mychael Danna, and the critical visual effects. Meanwhile, the film's young star was preparing for another new chapter in his life's journey - pursuing film studies as a university freshman at Delhi University's St. Stephen's College. But whatever exciting adventures lie ahead for Suraj Sharma, he notes that making Life Of Pi will always be an unforgettable experience. "I can't even say how much I've gained from being in the film. Like Pi, I feel I experienced something remarkable - emotionally, physically, mentally, and spiritually.
"Making Life Of Pi has enabled me to look at things from a different perspective. I'm a lot stronger, and I know that I'm now capable of a lot more than I ever thought possible. This past year has been pretty much everything to me."