Parental Guidance
Cast
: Billy Crystal, Bette Midler, Marisa Tomei, Tom Everett Scott, Bailee Madison
Director
: Andy Fickman
Genre
: Comedy, Drama, Family
Rated
: PG
Running Time
: 105 minutes
Synopsis
: Comedy legends Billy Crystal and Bette Midler play Artie and Diane Decker, who are called in by their daughter (Marisa Tomei) to help care for their three grandkids. When their old-school parenting methods collide with their daughter's new-school ways, the once-orderly household spins out of control.
Review
: When Arite & Diane get a second chance at connecting with their grandchildren, and change their status from 'the other grandparents', it seems Artie can't do anything right. Impulsive and selfish, Artie soon gets himself in hot water with his daughter & wife. But is that what his grandkids really needed....
With some fantastic underlying messages throughout the film, Parental Guidance is a Fantastic Family Friendly Movie, with plenty of old fashioned humour. A must see these Christmas holidays for some family fun.
Rating: ****
Michelle Warmuz
Parental Guidance Release Date
: December 26th, 2012
Parental Guidance
Artie Decker (Billy Crystal), who is accustomed to calling the shots, meets his match when he and his eager-to-please wife Diane (Bette Midler) agree to babysit their three grandkids when their type-A helicopter parents (Marisa Tomei, Tom Everett Scott) go away for work. But when 21st century problems collide with Artie and Diane's old school methods of tough rules, lots of love and old-fashioned games, it's learning to bend - and not holding your ground - that brings a family together.
A comedic and emotionally rich depiction of the clashing parenting styles between the generations, Parental Guidance's subject matter, characters and actors are relatable to all audiences. Youngsters will enjoy the hijinks of the family's trio of children; the film's theme of being caught between your parents and kids will resonate with adults; and Parental Guidance is the first comedy in many years that shows grandparents as active, funny, involved and vital characters - and central to modern family life.
"Parental Guidance combines comedy and pathos in the best way," affirms Billy Crystal, who portrays Artie Decker. "It's what life is about. This film has something for everyone."
In the story, Billy Crystal's Artie and Bette Midler's Diane are "the other grandparents" to their three grandchildren - meaning their son-in-law's parents have a much stronger connection with the kids, which Diane envies and has long sought to correct. But Artie and Diane's infrequent visits to their daughter Alice's (Marisa Tomei) home have relegated them to second-tier status - along with a few photos of the couple hidden on Alice's mantelpiece.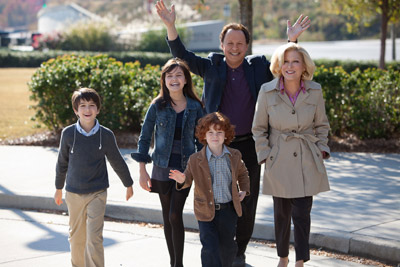 "It's not that Artie and Diane don't love Alice - who is their only child - and her three kids; they just don't understand them," explains Bette Midler. Diane has renewed hope when Alice reluctantly invites her and Artie to babysit the couple's grandkids while Alice and husband Phil (Tom Everett Scott) enjoy some time away from home. For Alice, her invitation is an act of, well, desperation - her in-laws are unavailable so she must turn to Artie and Diane for help. (Alice's misgiving even lead to her breaking out in a rash.) But Diane sees it as a golden opportunity: "Grandparenting is a second chance" to be a part of their lives of their grandchildren and Alice - she tells Artie, who is much less enthused about hanging out with the kids he barely knows.
Artie's mixed feelings about this "second chance" are partly due to his recent professional setbacks. A minor league baseball announcer for over 30 years, Artie has just been fired, losing his dream to work in the major leagues. Still reeling from that disappointment, the last thing he wants is to look after his grandchildren. But Artie will ultimately discover that there's more to life than announcing ball games. "He's been fired from a job he loves, but then finds himself kind of falling in love with his grandkids," says Billy Crystal.
Before getting to that point, Artie undergoes a series of granddad vs. daughter/grandkids comedic misadventures, misunderstandings and mistakes, not to mention daughter Alice's lack of faith in his ability to stick to her myriad rules and regulations. Says Marisa Tomei: "Artie and Diane are like a 'club of two' and haven't cultivated relationships with their grandchildren. They had a great time living their own lives, but forgot to get to know the kids."
Artie has to really step up his grandpa game because Alice is a formidable taskmaster and is nothing less than the motor in her and husband Phil's household. She's the consummate multi-tasker, lives to nurture, and will do whatever it takes - including wheedle, charm, joke - to keep everything running smoothly and stay connected to her kids. "Like many moms, Alice keeps the calendar and cookies," Marisa Tomei says, in a bit of understatement.
Alice's 21st century methods of raising her children are facilitated by the "smart house" technological marvels designed by Phil. Everything in their home is fully automated and interactive, thanks to an artificial intelligence that programs everything from the kids' schedules to what they eat, and it's compatible with the DVR and coffee maker. But for the technologically-challenged Artie, it's more like the menacing HAL 9000 computer of Kubrick's 2001: A Space Odyssey…or worse. "Just give us the launch codes and we're all set," he deadpans, when he sees the smart house program, called "R-Life," in action.
Then there's the formidable task of getting used to being around three children, to whom Artie immediately lays out some of his own ground rules, one of which vetoes the use of any and all affectionate terms for a grandparent. "Don't call me Moop Moop, Bub Bup or Pee Pee," he warns the three youngsters. I'm just Artie."
Moreover, Artie is mystified by each of the kids' eccentricities. Harper (Bailee Madison), 12, is intense, brainy, and an overachiever who's so busy with her burgeoning music career, she has no time to be a kid. She's very tightly wound - almost as much as her mother is. "Harper is uptight and always wants to please her parents," says Bailee Madison. "She's conflicted between the world of her parents and grandparents."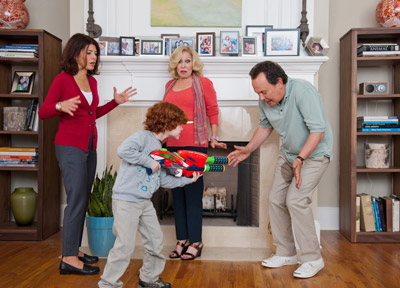 Youngest grandkid Barker (Kyle Harrison Breitkopf), 5, like many children, has an imaginary friend, a kangaroo named Carl. "They say inventing an alter ego is a side of genius," explains Alice, but Artie sees Carl as yet another reason he should dread his new assignment as babysitter.
Middle child Turner (Joshua Rush), 9, is a good kid saddled with a speech impediment that makes him the target of the school bully. Additionally, when Turner plays a little league baseball game, Artie is astonished by the classic game's strange new rules. After Turner seemingly strikes out an opposing batter, Artie is filled with pride and overjoyed - until he learns that the teams no longer keep score, and no one is ever out. "You mean, there's no agony of defeat; just the thrill of a tie!?" a disbelieving Artie exclaims.
The idea for Parental Guidance stems from a real-word experience, when Billy Crystal and his wife Janice found themselves watching their first grandchild for a few days while their daughter and son-in-law were away. "It was a lot of fun," Billy Crystal remembers, "but after a few days I was pretty exhausted. I staggered into the office and said, 'I have an idea for my next movie: Two grandparents babysit for the grandchildren while their kids go away."
"It's a horror story," he adds with a smile.
Like some of Billy Crystal's other beloved films, Parental Guidance represents a key moment in his personal and professional life. "[Billy Crystal's blockbuster comedy about three middle-aged friends taking a western-themed vacation] City Slickers was made when I was turning 40 and having a bit of a crisis," he explains. Before that, [Billy Crystal's romantic comedy with Meg Ryan] When Harry Met Sally, "came during my romantic period and that became our romantic movie. And now Parental Guidance is my grandparent movie."
Joe Syracuse and Lisa Addario, screenwriting partners, husband-and-wife, and parents of two children, say the notion of battling parenting styles between the generations resonated with them. "Once we became parents, we realized that we were not raising them the way our parents raised us," says Lisa Addario. The two writers, like so many of their generation, grew up during a time when children's car seats had yet to be invented, second-hand smoke didn't have a name, and kids rode bikes without helmets. But when our generation had kids, "the word 'parent' became a verb as well as a noun," adds Joe Syracuse. "But when the reality of childrearing set in, we came to see the wisdom in the way our parents did things, and we started to question our generation's nurturing, coddling and overprotecting our kids."
Director Andy Fickman, father to a teenager, says he was drawn to Parental Guidance's universal appeal, noting that "in any country in the world, each generation thinks it has a better way to be a parent." Like Joe Syracuse and Lisa Addario, Andy Fickman makes special note of the differing generational parenting methods. "When I was growing up, I would get a Pop Tart for breakfast. My parents had [famed pediatrician] Dr. [Benjamin] Spock's book to guide them through almost all situations; today, we go to doctors for every conceivable concern. For parents today, it's all about the kids' feelings and emotions, and everything becomes a 'Dr. Phil' episode."
Says Bette Midler of the generational parenting conflicts: "Most people are mortified by the way they were raised and can't wait to raise their own kids differently. I was on the cusp of the old school/new school parenting styles, so I understand the motivations of each."
A big motivation for Bette Midler to join Parental Guidance was the chance to team with Billy Crystal. The two have been friends for nearly 30 years, but this is their first professional collaboration. "Billy Crystal and I have similar tastes in theatre, movies, music and humour, so it was pretty easy for us to play a married couple," says the actress. "We know what each other is going to do, so we mesh in a unique way."
"Bringing together Billy Crystal and Bette Midler was like putting two greats in the ring," says Andy Fickman, who several years ago served as an executive at Bette Midler's production company, All Girl Productions. "We all marvelled at how quickly they found their voices as a couple."
Bringing aboard Marisa Tomei to portray Alice was another big coup for the production. The Oscar-winning actress is known for both her rich dramatic performances and sharp comedic turns, and she employs both aspects in her portrayal of a well-meaning, über-disciplined, New Age mom at odds with her dad's more relaxed and traditional parenting methods. "Working with Marisa Tomei was like having a great dance partner," says Tom Everett Scott, who portrays Alice's husband, Phil. Tom Everett Scott says that Phil has a more easygoing perspective on Artie and Diane babysitting his kids. "Phil doesn't have that history with them that Alice has, of course," says the actor. "He's able to take Artie and Diane's different approach to things, in stride."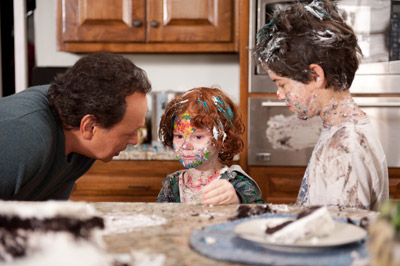 The official start of production on Parental Guidance began in Atlanta, Georgia. The Decker's Fresno home was shot in Alpharetta, Georgia, and Alice and Phil's house is in the suburb of Dunwoody, where filming took place for nearly three weeks. The "smart house" monitors are based in reality, aided by the ubiquity of broadband connections and proliferation of web-enabled smart phones and tablets. However, residential automation is much more prevalent in Japan, which is a couple years ahead of the United States.
A sequence depicting Artie's audition to be an announcer at the X Games was a two-day shoot in Piedmont Park, where a half-pipe was constructed and world-famous skateboarding icon Tony Hawk, along with Mike McGill and Sergie Ventura, wowed cast and crew with their talents. Tony Hawk, playing himself, loses his balance on the half-pipe when young Barker puts into action the old adage, "When you gotta go, you gotta go."
Two days were spent filming at the Cobb Energy Center in Atlanta, where the Deckers and their grandkids watched a classical music concert that featured the DeKalb Symphony Orchestra.
The penultimate sequence in the movie features a cameo by 86-year-old Brooklyn Dodgers pitching ace Ralph Branca in a role as a judge at a middle school music audition. Ralph Branca's appearance will delight savvy baseball fans as they watch an emotional rendering of the famous 1951 baseball radio call of "The Shot Heard Around the World," in which Ralph Branca was a key player.
For longtime baseball fan Billy Crystal, Ralph Branca's appearance was one of many highlights of the film's production. But first and foremost, is his and the entire Parental Guidance team's goal to bring some heartfelt laughs to all audiences, young and older. "When people leave the theatre after watching the film, I hope they say, 'I know those people; in fact, that's us," Billy Crystal says. "Parental Guidance is going to mean something different for grandparents, parents and children. And I think if you're doing that, you're doing something good."