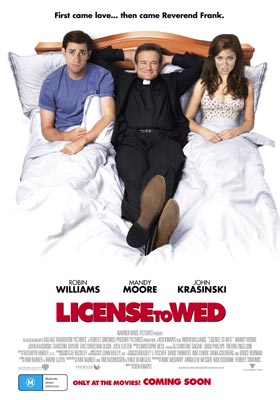 First came love... then came Reverend Frank.
Starring
: Robin Williams, Mandy Moore, John Krasinski, Christine Taylor, Eric Christian Olsen and Josh Flitter
Director
: Ken Kwapis
Rated
: M - Moderate sexual references
Running Time
: 91 minutes
License to Wed follows newly engaged Ben Murphy (John Krasinski) and his fiancee, Sadie Jones (Mandy Moore), in their quest to live happily ever after.
The problem is that Sadie's family church, St. Augustine's, is run by Reverend Frank (Robin Williams), who won't bless Ben and Sadie's union until they pass his patented, 'foolproof' marriage-prep course.
Consisting of outrageous classes, outlandish homework assignments and some outright invasion of privacy, Reverend Frank's rigorous curriculum puts Ben and Sadie's relationship to the test. Forget happily ever after-do they even have what it takes to make it to the altar?
Review: Robin Williams is pure genius, a master and natural comedian, he makes every film a hit.
License to Wed - In Cinemas 2 AugustOfficial Website - www.licensetowedthemovie.com
License to Wed Interview with Mandy Moore -
www.femail.com.au/mandy-moore-license-to-wed-interview.htm
Win Double Pass Movie Tickets to see License to Wed -
www.femail.com.au/comp-license-to-wed-movie-tickets.htm