Liberal Arts
Cast
: Josh Radnor, Elizabeth Olsen, Richard Jenkins, Allison Janney, Zac Efron
Director
: Josh Radnor
Genre
: Comedy, Drama
Running Time
: 97 minutes
Synopsis
: Bookish and newly single Jesse Fisher (Radnor) returns to his alma mater for his favourite professor's retirement dinner. A chance meeting with Zibby (Olsen) - a precocious classical music-loving sophomore - awakens in him long-dormant feelings of possibility and connection.
This film follows a thirty-something guy (Radnor) and a co-ed (Olsen) who spark a connection due to their mutual love of books and music, though their age difference complicates their fledgling relationship.
Release Date
: December 13th, 2012
Director's Statement
College and I got along terrifically well. Maybe too well. My transition into the "real world" absent dorms, seminars, and meal plans was bumpy, to say the least. Four years at Kenyon College flew by; graduation felt less like a celebration than a banishment.
"Liberal Arts" is at once a love letter to a liberal arts education and a recognition of its limits. It posits that books and the academic mind-set can be simultaneously a liberation and a kind of prison, that an over-developed mind paired with a disengaged heart can bring one more anxiety than joy.
Everyone in Liberal Arts - the students, the professors, the 35 year-old alum - is suffering to some extent, wishing circumstances were different. The journey each character takes in the movie is one of acceptance. For Jesse, that acceptance has to do with his past - specifically his college years - and the painful suspicion that his best days are behind him.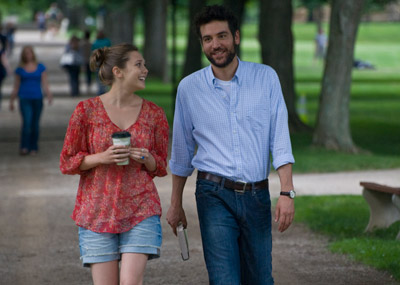 It's easy to get tripped up by our past, to romanticise it out of all proportion. The trouble with nostalgia is that it tends to distort and reduce the present moment; it puts us to sleep. While we obsess over the good old days, the good - and possibly better - new ones roll on by without our noticing.
Still, the past must be dealt with. If we're to step into our lives in a vital and engaged manner, we must both bless our past and bid farewell to it. "Liberal Arts" is, for me, both a blessing and a farewell.
- Josh Radnor