There is no excuse to be a fashion victim now that Arenas hit reality series Project RunwayAustralia, is available from as little as 50c on 3s Mobile TV.
Project Runway Australia struts onto our screens on 8 July, with 12 weeks offashion drama. The show follows hopeful Aussie designers as they battle itout to have their creations showcased on a national stage and become thenext big thing in fashion. Home-grown supermodel Kristy Hinze, along withvarious industry judges will vote off one designer every week.
For $4 a month, a Project Runway pack gives you unlimited access to all Project Runwayepisodes, galleries, video highlights and sneak peeks. Alternatively, pay just $2 per episode,50c per video clip or 50c per gallery viewing.
Find out if your favourite designer is making the cut by checking out Project Runway on thenew Samsung UltraTOUCH, available FREE on the $69 Cap. Text "RUN" to 333 000 formore information.
Theres no excuse to be a fashion victim with commentary and critique available from Leigh Bucchanon at
www.three.com.au/runway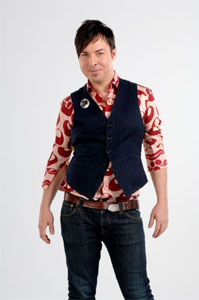 Leigh Buchanan Project Runway
Leigh Buchanan was a runner up in series one of Project Runway Australia which aired last year on Foxtel.
Tell us a little about this season of Project Runway, do you have a favourite?
Leigh Buchanan
: Well, I'm very excited! But my favourite changes from week to week. I choose after each episode, normally it is whoever is fighting the most. There are certain people I only want there for the fashion fighting. It is about the entertainment value at this stage.
Has your friend, who's wedding you missed to be on Project Runway, forgiven you yet?
Leigh Buchanan
: Yes! She has forgiven me, she told me "no, no, you go and be famous darling!" - We used to work together in Dublin and I introduced her to her Italian, now husband, in Ireland. They got married in Italy on his family's vineyard and at his hotel.
What do you think of this year's talent on Project Runway?
Leigh Buchanan
: Who really stands out? That changes from week to week too. I really think that William has a lot of skill; I don't know if I like his design style, it is really hard to see someone's design style on the show until they get to the final three. It is just so hard to actually design when you are put under that pressure- you have to think what can I do really quickly and what has the best outcome? You are stressing the whole time. I think William has a lot of technical ability but I love Ivana, I am so guttered that she got kicked out. I was expecting big things from her, but she got kicked out. I really enjoyed her. I love Yopie, she is really cute, and I loved her little Meerkat impersonation. At the moment I love them because of their personalities. As it gets closer to the final and it gets scary you really see who's got it going on.
Do you still see Julie, Project Runway Australia series one winner?
Leigh Buchanan
: I see Julie all the time! I am making her a jacket- the swing coat I did in the 60's challenge last year, it is her going away outfit- because she is going away to get married in a couple of weeks.
Yes, because Julie also had to postpone her own wedding for Project Runway?
Leigh Buchanan
: Yes! Completely.
Who or what inspired you to want to a designer?
Leigh Buchanan
: Oh gosh! I was making ball gowns out of sheets when I was in pre-school! (laughs) so forever!
What is one tip you would give to someone wanting to become a designer?
Leigh Buchanan
: Well, the best piece of advice I was ever given was 'Don't study fashion, marry rich and go shopping!' But, the thing is you have to follow your passion and follow your dreams- and be really passionate about them.
What is your favourite item in your wardrobe?
Leigh Buchanan
: My Velvet jacket! I think everyone needs a velvet jacket!
Favourite thing about Twitter? And Are you addicted?
Leigh Buchanan
: OH! I am so addicted to Twitter! My favourite thing, I'm not very good at it, I just got a fabulous new 3 phone, I'm not very good with technology but everyday it gets much easier. I think it's just the way my brain works, it is really easy and fabulous but some of my friends are so funny with their tweets. I think the thing is to not think about it- just whatever is in your head- put it out there. The other day I tweeted, well I saw someone wearing socks with crocs! So wrong! I think I put "as if crocs' weren't bad enough, I just saw a guy wearing socks with his crocs". I don't care how comfortable they are! You should sacrifice ALL for fashion!
Arena's hit reality series has also strutted onto the smallest screen thanks to 3 mobile. Fashionistas can catch their favourite Project Runway episodes, weekly designs, highlights and previews 3's mobile TV the day after broadcast - from as little as 50c on 3's Mobile TV. There's no excuse to be a fashion victim with commentary and critique available from 2008 Project Runway finalist Leigh Buchanan at
www.three.com.au/runway