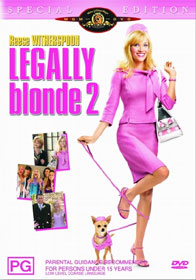 Starring: Reese Witherspoon, Sally Field, Regina King, Jennifer Coolidge, Bruce McGill, Bob Newhart, Luke Wilson
Director: Charles Herman Wurmfeld
Genre: Comedy
Rated: PG
Running time: 96 minutes
Reese Witherspoon is back in Elle Woods' strappy shoes in this outrageous hit comedy with even more highlights than the first. Featuring an all-star cast, including Sally Field, Bob Newhart and Luke Wilson, 'Legally Blonde 2' is a "hugely enjoyable sequel" (TV Guide) that will leave you tickled pink!

When Elle (Witherspoon) discovers that her lovable chihuahua Bruiser's mum is locked in a cruel animal testing facility, she puts aside her budding law career - and her wedding plans - to campaign for animal rights......and respect for blondes everywhere! But can she rescue Bruiser's mum and give politics a makeover before her big wedding day?


Audio Commentary by the Cast
Featurettes:
Blonde Ambition
Pretty in Pink
Stars and Strips
Never!
Hair Apparent
Elle's Anthem


Deleted Scenes:
Original Opening
Elle Prepares to go to Washington
In the Tunnels Beneath Washington
Elle gets into Political Shape
Political Horse Trading
Elle inspires people across the country
The snap cup song
Bloopers
Theatrical Trailer
Welcome to Delta Nu Interactive Quiz
Fun Fact Trivia Track
Photo Gallery

Review:
If you enjoyed the first Legally Blonde, you'll love the sequel, as Elle Woods (Reese Witherspoon) is still naïve but has a degree of savvy which is totally believable. Bright, perky and an endless supply of positive energy, Elle certainly looks like she was having fun.
Her pet Chihuahua, Bruiser, as the main subject matter allows for some unexpected fun and just enough seriousness to try take in the countless costume and hairstyle changes.

Speak up and don't be afraid of your opinion is the message, but can Elle really win over politicians? Just watch her go. If only the real world would succumb to the Elle Woods' out there we would all be chipper and perky.