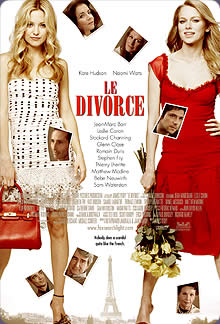 Starring: Kate Hudson, Naomi Watts, Leslie Caron, Stockard Channing, Glenn Close, Romain Duris, Stephen Fry, Samuel Labarthe, Thomas Lennon, Thierry Lhermitte, Daniel Mesguich, Matthew Modine, Bebe Neuwirth, Melvil Poupaud, Natalie Richard, Catherine Samie, Esmée Buchet-Deak, Sam Waterston, Jean-Marc Barr
Director: James Ivory
Running Time: 117 minutes
Category:Comedy, Drama, Romance

When two American sisters become caught up in the intimate intrigue of Paris, cultures and human passions collide - and the result is a comedy of manners and morals, money and marriage, sex and sorority that sheds incdescent light on what is meant to be an American abroad.

Le Divorce follows the journey of Isabel Walker (Kate Hudson), a quintessential young Californian newly arrived in the City of Light to visit her pregnant sister, Roxeanne (Naomi Watts). A darkly romantic poet, Roxy has just been jilted by her scoundrel husband, Charles-Henri de Persand (Melvil Poupaud), and it appears they are headed for "le divorce".

Meanwhile, Isabel leaps into l'amour with a married French diplomat (Thierry Lhermitte) who happens to be the uncle of Roxy's soon to be ex. As scandal ensues, the American idealism and irrepressible spirit of the Walker sisters comes up against the French sophistication and stubborn rationalism of the Persand family. Complicating the two families relations is a painting in Roxy's possession that is discovered to be worth millions of dollars. And then, quite suddenly, a crime of passion disrupts all the scheming and culture clashes - and opens up new possibilities for understanding.

Based on the best selling novel by Diane Johnson, Le Divorce is a new twist on that classic American-in-Paris theme. At a time when French and American cultures have seemingly never been more embattled, Le Divorce reveals the rich complexity of the two cultures - and their compelling different attitudes toward morality, sex, food, fashion, and the very pursuit of life. But at its core, Le Divorce is really about its irrepressible heroine, Isabel Walker, who arrives in Paris to help her sister - only to discover her own desires and viewpoint on the world.

Review:
An intertwined story with some fabulous performances from an all starring cast. Don't underestimate the power of a scarf or handbag, it makes an astonishing statement. A delightful movie, especially for girls nights.