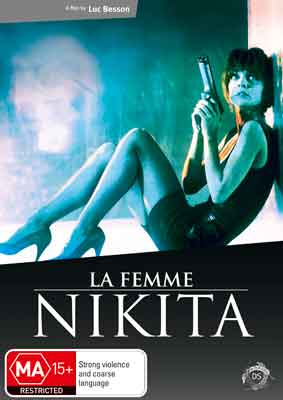 Cast: Anne Parillaud, Jean-Hugues Anglade, Jeanne Moreau, Tchéky Karyo, Jean Reno
Director: Luc Besson
Genre: Action, Drama, Romance
Rated: MA
Running Time: 117 minutes

When drug-addicted teen Nikita (Anne Parillaud) shoots a cop in a robbery gone wrong, her sentence is death. But behind prison walls, she is given a secret ultimatum: harness her penchant for violence, or face her executioner. After three years of martial arts, weapons and etiquette training, Nikita is reborn as Josephine, a sexy, sophisticated assassin, released back into normal society with instructions to build a cover life for her killer job. When she meets Marco (Betty Blue's Jean-Hugues Anglade), it seems the murderous instinct of her teenage years may be behind her, but can she reconcile her new-found feelings with her deadly profession?

Featuring the legendary Jeanne Moreau (Jules et Jim), Tchéky Karyo (The Patriot) and Jean Reno (Ronin, Leon: the Professional) as Victor 'the cleaner', Luc Besson's stylish, high-voltage thriller was a world-wide cult hit on release, and has spawned numerous television and big screen spin-offs.

Special Features:
The Sound of Nikita
Making Of & Production footage
Tchéky Karyo on Luc Besson
Theatrical trailer

La Femme Nikita
RRP: $34.95



Review: When a young drug addict is convicted for the brutal murders of local police, she is recruited into a secret organisation that trains assassins. When Nikita finally makes it out for a birthday treat, her reward is a real life assassination test. Passing the test, she is released as a sleeper and finally finds love and happiness when her past catches up with her. A great action film.