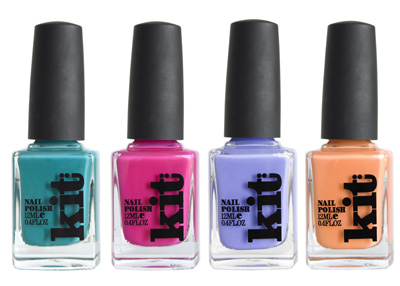 Play up and be bold with kits new Nail Polish trio in harlequin hues. These stylised shades nailwhimsy meets fearless, big time, and feature kits signature nail polish formula (long lasting,super glossy and quick-to-dry).
To perfectly compliment this trio, a fourth stand-out shade will be available exclusively online, ina seriously limited quantity.
The shades:
DIVE IN: Vivid Cornflower
PLAY UP: Creamed Mango
ACT OUT: Vibrant Teal
LET GO (online exclusive): Bold Pink
Kit Cosmetics Harlequin Dreams Nail Polish:
RRP: $15.95
The kit credo: Our formulas must:
(1) deliver big on performance and results;
(2) be full of good stuff but without the usual suspects of the ingredient world; and
(3) be worthy of your time and money.
Its as simple and as difficult as that.
Kit Cosmetics stores nationally. For stockists call 1800 705 800 or visit
www.kitcosmetics.com
.