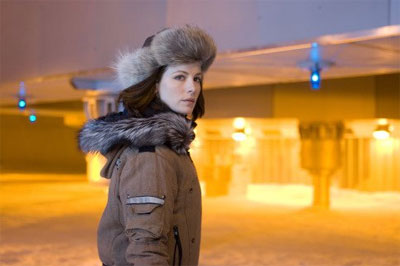 BECKINSALE COMES IN FROM THE COLD
EXCLUSIVE Kate Beckinsale, Snow Angels, Whiteout Interview by Paul Fischer.

Kate Beckinsale has this knack of segueing from big Hollywood movies such as the upcoming Whiteout, to tougher Indie dramas that include Snow Angels and Rowan Woods' Winged Creatures. The still ravishing British actress who calls Los Angeles home these days, says that it's the likes of Whiteout that afford her the acting challenges of smaller fare. "I think one of the things that's a real privilege about having done those kinds of movies is that when there's a question about whether it's going to be able to be financed, a small movie like that, that you are an integral part of that happening, which is really nice," Beckinsale explains from her Beverly Hills hotel room. However, the actress hastily insists, "I'm not a movie snob as I enjoy an action movie as much as the next person. It's just a different set of muscles, and it's not something that I would like to do solely, because my heart belongs in a creative process that is more along the lines of what I've been doing in Snow Angels, Laurel Canyon or Cold Comfort Farm, that I've done before. It's more familiar to me, and I find it easier, actually. But, I have a great time with the other kind of movies especially seeing them where it's such a collaborative effort, because what you're shooting on the day is obviously not what you're seeing at the end of it."

Such a movie that is passionately close to heart is the dark and often melancholy Snow Angels based on the acclaimed novel. Beckinsale and Sam Rockwell star as a couple that have separated are each attempting to pick up the threads of a future when they are dealt a further blow that leads to a dark conclusion. Beckinsale is Annie, now single mother dealing with a secret affair that has major consequences to her already fragile existence. This was a character the actress clearly relished taking on. "I've been doing a press junket all day for the film, and people keep asking, 'What attracted you to the part' and I'm like, 'What? Don't you see?' I mean it's not every day you get such an amazing journey to go on with a character. I thought she was extremely sympathetic, small, difficult, brave and in a terrible situation, so really it was just kind of a no-brainer."

Asked if it was tough to leave such an intensely tough character at the end of the day, the actress says, "It's tough territory to be on, you kind of do mine everything out of yourself, and put yourself in kind of a tough place. But I did have my kid, my husband and in fact, my ex was around a lot, so it was very nice to come home to my people whom I love, get into bed with my kid, snuggle her, and just go, 'Okay, this is real,' " Beckinsale says laughingly. Married to Hollywood director Len Wiseman, she has a daughter, Lily, from her previous marriage to Welsh actor Michael Sheen. The actress drew on her maternalism to play the mother in Snow Angels, she says, "and it's very personal. I feel like there's a lot of my heart in the movie, and a lot of my stuff in there and that's why I feel funny about seeing it with a lot of people." Yet on the other hand, dealing with this character, very much working-class, was not easy. "I think that she's a completely overwhelmed single mother and completely different - much more difficult, impossible circumstances than I've ever been in. On the other hand, I think there's a universal overwhelming sense of responsibility that you have in that situation when you're totally responsible for another human being. Her life is tough, she's responsible for her mother, she has a responsibility for all those things and she's overstressed. I think every single parent has felt overstressed and out of his or her depths, if they're honest, at some point."

It's been a little over a decade since Kate Beckinsale burst onto the scene with Cold Comfort Farm. Her career has exemplified her diverse tastes in cinema, ranging from Whit Stillman's Last Days of Disco, to mainstream Hollywood fare such as Pearl Harbor. Now in a position to pick and choose, Beckinsale says shr 's '"stunned" at how her career has developed. "I mean, I've never had a plan and part of me thinks maybe I should have, but I just kind of adapted to how it all unfolds. If you told me that I'd have had a baby at 24, be married to an American, and living in Los Angeles, I would have laughed, because I was terrified of America. I know when Cold Comfort Farm came out, they sent me all the reviews, the money that it had done, and all these amazing things from America and I just said, 'It's America, so far away. Why is that relevant?' I was very myopic in my little world, in West London then the world opened up, and I like it. It's been amazing. I'm happy that I have the husband I have, and the opportunities that I'm having now." As for balancing this busy career of hers and her equally whirlwind personal life, "it's not the personal life's not been such a whirlwind. We've been married now for three years, and together for at least six, so I'm getting over the shock that he's American," Beckinsale says, laughingly. "I don't understand how anyone has any fun if they're married to someone from their own culture, because we have an amount of ridiculous fun teasing each other. I mean my husband is just lampooned, basically, all the time, by my daughter and I. We gang up on him with our English accents, and make him eat Marmite, and things. The nice thing about being English is that you can always refer back to, 'Yes, but we invented the language. It's called English,' so you always win this argument. It's very, very nice to always be the winner."

While the actress is the most happy in her personal life, her film career is not doing too badly either. She recently wrapped work on Australian director Rowan Woods' Winged Creatures, a drama revolving around a group of strangers who form a unique relationship with each other after surviving a random shooting at a Los Angeles diner. The film co-stars Forest Whitaker and Dakota Fanning. "Rowan was great. I mean, it's a very complex storyline, kind of in the Crash model, with a lot of different characters and there's so many amazing people in the movie, some of whom I've never met, though I've technically worked with them. Rowan was absolutely masterful at keeping all that going, very respectful, and very into performance. It was a really, really nice experience but it was quick. I just felt a bit like I was shot through a cannon." In that film Beckinsale plays "a single mother who witnesses, among a bunch of other people, a murder-suicide at a diner, where a guy comes in and shoots himself and a bunch of other people, and she goes back to her trailer and her baby. It really basically follows a bunch of people's different experiences of a sort of post-traumatic stress state. My character's very isolated and again, she's a single Mom, so she has a little baby, and ends up kind of taking the baby to the doctor a lot."

Then of course there's Whiteout, based on the popular graphic novel set in Antarctica. The attraction was simple. "I love genre movies and it was nice to play someone who was a human for a change. Usually I'm grappling with how to make this realistic when she's been alive for 700 years and all that. And it was actually I thought it was an interesting story and an interesting character." Beckinsale first began promoting Whiteout at last year's Comic Con and remains fully prepared for the craziness that goes into doing a comic book movie. "I feel I'm a bit of an old hand at it now and I think that was my third or fourth Comic-Con, so the first one I went to was a real eye-opener. But I kind of know those people now and have been, actually, one of those people. I like all that stuff. I love Aliens, I love Rocky, I love All About Eve, and I love Au Revoir Les Enfants. I don't have a bias particularly towards one kind of movie."

Beckinsale also wrapped Rod Lurie's Nothing but the Truth, in which she plays a female reporter who faces a possible jail sentence for outing a CIA agent and refusing to reveal her source. "I spent some time at The LA Times with some female reporters, and I spoke to Judith Miller about her experience. We're not making her story, but there are some parallels, and it was really interesting to talk to her. I also spent a bunch of time with Floyd Abraham, as well and did lots of reading, lot of studying. I really researched the hell out of that one and it was an amazingly fulfilling, brilliant experience."

As for now, the busy actress plans on taking a little break "because I've done quite a lot of work and I'm gonna sit back. But my kid's here in school, and I want to be around, do the carpool and make the lunches for a little bit. Then I'll go off and do something else in a few months." The actress hopes to work again in her native England "but I haven't been asked to for ages. It'd be lovely to do a movie in my own accent, in my own country, and have my Marmite sandwiches." As for life in LA, she loves the lifestyle but says the city has its drawbacks. "I can't wander about. I've got a very poor sense of direction, so a lot of the amazing finds that have happened to me have been kind of trying to go somewhere, ending up somewhere else by accident, and finding something great. I never do that in LA, because I probably find the freeway, and a road by accident." And the actress still can't drive in this car-obsessed city, "but the thing is my husband's around, and I have an assistant, so I get places. I don't just get stranded at home, but I wouldn't mind - now that I'm here, and I'm here for a little bit but I would like to actually get that done."