Mirror Mirror
Cast: Julia Roberts, Lilly Collins, Armie Hammer, Mare Winningham, Michael Lerne, Mark Povinelli, Jordan Prentice, Danny Woodburn, Sebastian Saraceno, Ronald Lee Clark, Martin Klebba and Joey Gnoffo
Director: Tarsem Singh
Genre: Adventure, Comedy, Drama
Rated: PG
Running Time: 106 minutes

Synopsis: An evil Queen steals control of a kingdom, and an exiled princess enlists the help of seven resourceful rebels to win back her birthright in a spirited adventure comedy filled with jealousy, romance, and betrayal that will capture the imagination of audiences the world over.

Release Date: March 29th, 2012



About the Production
An innocent young royal, a wicked stepmother, a charming prince and seven little men living in the woods-the elements of Tarsem Singh's latest epic may seem familiar, but audiences will be surprised and delighted by new twists the visionary director has brought to an age-old tale in Mirror Mirror.

According to producer Bernie Goldmann, who collaborated with producer Josh Pate and writer Melisa Wallack to develop the initial concept for Mirror Mirror, they were inspired by a photograph depicting a live model as the fairy-tale heroine. "What we set out to do was to make a live action version of the classic fairy tale, Snow White, that had the feel, the size and the scope of an animated movie. We realised that it's a great story that had never been explored narratively in a live-action movie."

In looking for a director to turn the concept into reality, Bernie Goldmann says Tarsem Singh was the obvious choice. "Tarsem Singh was the perfect filmmaker to direct this film," says Bernie Goldmann. "He knows how to enhance a story with color and light and is very comfortable with the kind of scope we wanted for this movie. There's no one else like him."

For Tarsem Singh, who was finishing up work on the action epic Immortals for Relativity Media, this project was a chance to tackle something he had never done before: a family-friendly movie that combines action, comedy and intrigue with his signature visual splendor. "This was one of the few projects I was interested in doing," says Tarsem Singh. "It's a totally different energy from my other films and I was deeply interested in updating a classic and eternal story."

With Tarsem Singh on board, the script began to take shape as a stunning big-screen spectacle leavened with humor and romance. Tarsem Singh and Bernie Goldmann decided that the best way to start the search for a unique take on the classic tale was by returning to the original story. They discovered a wealth of options. "The story actually has existed for five or six hundred years throughout Europe, in many different countries and different versions," says Bernie Goldmann. "We were able to incorporate what we learned from our research into the concept for our movie."

Tarsem Singh explains: "Going back and looking at the original story was a very important process. There are thousands of different variations that have developed since it was first written. These variations provided us with many inspired ideas that were later used in the film."

For example, in some of the early versions, the dwarfs earn their living as highway robbers. In the words of one of the film's characters, they "steal from the rich-and keep it." "We thought that was an interesting thing to go back to," says Bernie Goldmann. "It gives whole other side to their characters. They've been marginalised by society and this is their revenge.

"In some of the stories, we also discovered a beast of sorts that lived in the woods and we decided to bring that into our story," Bernie Goldmann continues. "Then we also expanded the role of the King and added a mystery surrounding him."

In addition to historical incarnations of the Snow White tale, Tarsem Singh plumbed his own considerable imagination for inspiration. "I knew right away that the bulk of this narrative was going to center on the relationship between the Queen, Snow White and the Prince," he says.

Bernie Goldmann is confident the film will resonate with audiences of all ages and would like to see it take its place beside other big screen adaptations of classic tales. "Hopefully, this is a movie that will play for years as a perennial family favorite and redefine the story of Snow White."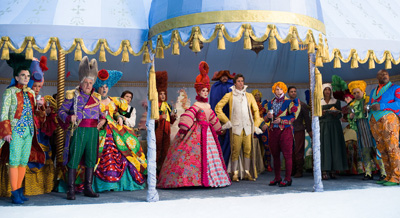 Finding the Fairest
As Tarsem Singh and Bernie Goldmann refined the story of Mirror Mirror, a character that traditionally lurks in the background began to assert herself front and center as a villain with complex motivations. "In the time-honored version of the story, the Queen's motivation is vanity," says Tarsem Singh. "In our film, it's more about power. She wants to control the kingdom and her beauty is the means to that end."

Crafty, vain and utterly amoral, the Queen could easily have become a stock villainess, but Tarsem Singh had a more subtle idea, and made a casting choice that defied conventional wisdom. To play the epitome of evil, he wanted an actress who represents exactly the opposite to most moviegoers. "I saw the Queen as someone who is wicked, dark and malicious but also irresistibly charming," says the director. "Julia Roberts is so intensely charismatic that she was able to do that fairly easily."

Julia Roberts puts her trademark magnetism to use as an unscrupulous enchantress with designs on a wealthy and handsome younger man and unbounded animosity toward her orphaned ward. "She was our first and only choice for this role," says Bernie Goldmann. "Her laugh and smile have made her an icon. Here, those same attributes become an aspect of her evil side. It's fun to see her image turned upside down."

Playing against type, Julia Roberts brings a new dimension to the role. "Who better to play the evil queen than America's Sweetheart?" says producer Kevin Misher. "To ask someone with a larger-than-life persona like Julia Roberts to personify one of the classic villainesses in fairy-tale history was a great opportunity for something fresh and innovative."

Already familiar with Tarsem Singh's work, Julia Roberts was instantly intrigued. "His movies are so visual and original and interesting," she says. "I always wondered, how does that work? His fearlessness brought an incredible sense of integrity to the film, which allowed all of the actors to fully realise these characters. The Grimm story is a few pages long and the Disney film, which has nothing to do with our movie, allows for only limited interpretations of the characters. Tarsem Singh tells the story on a far larger level."

Julia Roberts says the multidimensional aspect of her character was another incentive to take on the role. "There' a dual personality component that was really intriguing," the Oscar-winning actress explains. We see the Queen as she appears in everyday life and then, of course, as the reflection of the Queen in the mirror. The Mirror Queen is calmer and more collected. She possesses the power and confidence that the Queen herself struggles to maintain."

But at its heart, the film remains a coming-of-age story of a young woman who faces many challenges. As Julia Roberts puts it, "The Queen is just the conflict. Lily Collins is impressive as Snow White. She looks exactly like you want Snow White to look. I was completely enchanted by her, because she's a very young girl and already a pro. She was such a good sport because my character was so awful and vicious to her and she was always very sweet to me."

Lily Collins, who has already made an impression on film audiences with her work in The Blind Side and Abducted watched with awe as Julia Roberts transformed herself. "Julia Roberts has that smile that everyone loves so much, but here she uses it in such a sinister, creepy way. Snow, being young and innocent, doesn't realise the true evil nature of the Queen. At the beginning, she very much has the upper hand, but at the very end Snow uses her own words against her. It was very, very bizarre being mean to Julia Roberts."

The filmmakers mounted a major casting search for an actress who would embody Snow White's innocence and determination, spending a month auditioning roughly 300 young women before discovering Lily Collins. "The second she came in everybody knew Lily Collins was our Snow White," says Kevin Misher. "She was cast on April 1 and when her agent called her 24 hours after she had read, she thought it was an April Fool's joke. It's so hard to find a contemporary actress who embodies the grace of Audrey Hepburn and the class of Elizabeth Taylor and seems untouched by contemporary vices. Lily Collins seemed to embody the classic goodness that the character of needed."

Bernie Goldmann concurs: "Snow White is loved by nature and loves nature. As outwardly beautiful as she is, she is driven inner beauty. Young girls today are so sophisticated that at 21 they seem like they're 35. But Lily Collins seems so young and innocent. She projects genuineness, not only on the screen, but in real life as well, and that's really what we were looking for."

This telling of the story updates the character, according to Lily Collins. "And I love the idea that we've modernised Snow White. She starts out as the familiar fairy-tale princess that everyone grew up knowing, wide eyed and naïve. She's been locked up in her tower, unaware of what's going on outside, but she goes on to become a girl who fights for what she believes in. Once she embraces everything she is, Snow is able to open herself up to the world and grow into a young woman."

Lily Collins believes the character has universal appeal. "I think every young girl and adult woman has a little bit of Snow in her," she says. "We tried to do that with humor. It's a comedic adventure for the whole family."

Snow White's suitor, Prince Alcott, has also been taken out of the realm of stock fairy-tale character and transformed into a more contemporary hero. Played by Armie Hammer, the Prince is an essential figure in the conflict between Snow White, who asks him for help in regaining her throne, and her stepmother, who is plotting to marry the handsome young man by any means possible. "There are very few actors who can comport themselves with a sense of dignity and royalty, as well as the fun and sometimes silliness that the movie requires," says Kevin Misher. "Armie Hammer walks that line with a gravitas and a lack of self-awareness that is refreshing. He's somebody who I think men will embrace as a guy they can relate to and women will fall in love with. That really is the definition of a movie star."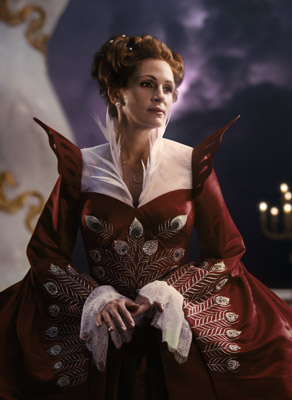 Armie Hammer, who stands six-foot-five and is classically good-looking, was made for the role, says Bernie Goldmann. "If there was a Prince of America, it would be Armie. He's a very handsome guy with a very stately quality, but in this movie we see a whole other side to him. He's so accessible and charming and funny. Everybody on set felt like he was their best friend."

Julia Roberts agrees Armie Hammer was perfectly cast. "First, he is just a lovely young man," she says. "But we had a lot of very long scenes together and he was very prepared, and really funny in this part. He brings a great humor and earnestness to it. You just want to see more and more of him."

The chance to work with Julia Roberts was a huge attraction to the role for Armie Hammer. "She brings all of Julia Roberts to it, which is fantastic. It was so impressive to watch her work, because she is so in control of her instrument. Every movement, every gesture, was so precise. Audiences will see some of Julia Roberts that hasn't really been shown before."

Initially, Armie Hammer admits to some skepticism about playing "Prince Charming." "It sounded so saccharine," he says. "But I discussed my hesitations with Tarsem Singh and he assured me that I would help create the character. He said he wanted to make a movie about finding courage, finding love, and finding your place in this world, infused with great humor and great acting. His enthusiasm for the project was infectious. He brings an unceasing effervescence to set, always putting a thousand percent into everything. You can't help but be pumped up when you're on set with him."

Armie Hammer found a character who is searching for purpose in much the same way Snow White is. "The Prince has all these tools," he says. "Like any good prince, he's been trained to fight and trained to dance. He knows his history, sciences and mathematics. He understands the world-but only on paper. He doesn't know how it really works, so he sets out seeking adventure and finds a ton of it. He finds more than he can actually handle at first."

Departing from the original tale, the filmmakers added a crucial character to the Queen's court: Brighton, her faithful but bumbling servant. "Brighton fills the role of the huntsman from the old stories," says Bernie Goldmann. "It's a very complex part. He's the person who decides whether Snow lives or dies, but he is also the Queen's sidekick. As we looked at different actors against Julia Robert, that started to really define what the movie would be."

Tony® and Emmy® Award-winning actor Nathan Lane plays Brighton, turning the role into a comedic tour de force. "Nathan Lane also helped influence so many of the other performances in the movie," says Bernie Goldmann. "He's a wonderfully skilled comic actor and so generous. He was really present for the characters he interacts with."

As the Queen's long-suffering and much-abused servant, Brighton tries his best to please her, says Nathan Lane. "But he's a constant disappointment to her. It's a bit like what I imagine being Faye Dunaway's assistant is like. But fortunately, comedy ensues."

Nathan Lane gives his reasons for accepting the role with characteristic brio. "I said yes to the part because of the outfit," he says. "It was the opportunity to look like the late Shirley Booth that compelled me to play Brighton."

Actually, he says, he jumped at the chance to work with Julia Roberts. The pair met doing a benefit for Paul Newman's Hole in the Wall Gang Camp several years earlier. "I just thought we would have fun together," says Nathan Lane. "The character is kind of like the one she played in My Best Friend's Wedding, only much meaner. She's not a nice person, but villains are always the best parts. If you're going to play the evil Queen, part of the fun is playing someone who doesn't seem to have a conscience. And she looks fabulous in those stunning costumes."

The relationship between Nathan Lane and Julia Roberts became one of the comedic centerpieces of the movie. "Together they created a sense of playfulness within the evil they are plotting," says Kevin Misher. "They are the villains for the adults, but also the comic foil for the kids. The part was originally conceived as a fairly small character, but with an actor of Nathan Lane's talents, it became a star turn."

After being abandoned in the woods by Brighton, Snow White finds herself surrounded by a bickering band of outlaws, none of whom stands as high as her chin. Tarsem Singh has reinvented the familiar roster of hi-ho-ing miners as a quarrelsome gang of bandits who have turned to crime after being forced to flee their comfortable lives in the village. "The Queen, who's interested in outer beauty, has exiled them because they don't fit her physical ideal," says Bernie Goldmann. "That detail adds to the narrative by contributing emotional depth to the characters and making them relatable."

For his reinterpretation of the iconic Dwarfs, Tarsem Singh found seven extraordinary actors. "We were incredibly lucky in casting this film and these actors are no exception," he notes. "The level of energy and creativity they've brought to this story has been phenomenal."

Rather than rely on the familiar band of animated figures for inspiration, the filmmakers allowed each of the actors to define an original character. "We hired the actors first and then developed the characters around their personalities," explains Bernie Goldmann. "The actors all participated in a workshop process that helped define the characters. Each of them needed to contribute something special in terms of helping Snow White to grow into the woman she must become."

With that in mind, the characters of Butcher, Grimm, Half-Pint, Napoleon, Wolf, Chuckles, and Grub (Martin Klebba, Danny Woodburn, Mark Povinelli, Jordan Prentice, Sebastian Saraceno, Ronald Lee Clark and Joe Gnoffo respectively) began to take shape. As Klebba explains, "I'm called Butcher because I was the main butcher in town. Half-Pint owned the local pub. Grimm was a teacher. Each of them comes from a different part of their former society. Their only connection is that they've all been cast out because of their height."

Ronald Lee Clark adds, "After being banished from the Kingdom, the seven of us become a family. We quarrel all the time but we're able to keep things together because we know how much we need each other."

Alone in the world, Snow White has to depend on the seven men to teach her how to make her way. As she gets acquainted with her unlikely mentors, the audience learns about their unique attributes. "We each train her to do something different-how to fight with a sword, how to wrestle, how to fight dirty and how to think on her feet. Most importantly, we teach her to believe in herself," says Danny Woodburn.

Lily Collins worked closely with them all, developing a camaraderie not unlike the onscreen one between Snow and the Dwarfs. She says, "Martin Klebba, Danny Woodburn, Mark Povinelli, Jordan Prentice, Sebastian Saraceno, Ronald Lee Clark and Joe Gnoffo are phenomenal. They've created these memorable characters that fit so perfectly into a group despite being so different from one another."

Rounding out a distinguished cast are Oscar-nominee Mare Winningham as Baker Margaret, Snow's confidante at the palace, Oscar-nominee Michael Lerner as the Baron, whose clumsy romantic overtures send the Queen into paroxysms of rage, SAG Award-winner Sean Bean as the King, Snow's benevolent but ill-fated father, and up-and-coming young British actor Robert Emms as Charles Renbock, the Prince's faithful valet and reluctant traveling companion.

Tarsem Singh was overjoyed with the efforts of the supporting actors that help populate the fantasy world he created, explaining, "You always want great actors in your film. The hope is to make a movie that stands the test of time and a fabulous supporting cast is what makes that possible."

The quality of the cast is a testament to Tarsem Singh's talent and imagination, according to Julia Roberts. "Everyone contributed an incredible interpretation of their characters," she says. "I think it's because all of us were eager to be here for Tarsem Singh and be part of the magical place he invented."

Building a Magical Realm
It will come as no surprise to anyone who has seen director Tarsem Singh's earlier work that Mirror Mirror is an extraordinary visual feast. Built on massive sound stages in Montreal, the settings include a haunting snowbound forest, a rustic and richly detailed cabin inside a hollow tree, a gloriously over-the top Great Hall for the Queen's elaborate and expensive fetes and a seemingly infinite palace bedroom in which to hatch her nefarious schemes. Complementing the fantastical locations are the film's sumptuous costumes, hair and makeup, which leapfrog from century to century, incorporating both authentic historical detail and complete fantasy.

As executive producer Kevin Misher says, "Tarsem Singh brings a blend of poetry, magic and visual flare to every film he works on. He incorporates a vast spectrum of influences from Eastern architecture to Western culture and everything in between."

Production design was at the core of the film from the very beginning of the creative process, according to Tarsem Singh. "When conceptualising Mirror Mirror, I remembered a Russian film I'd seen called Ivan's Childhood. There's a romantic scene in that movie that takes place in a silver birch forest. I immediately thought that if I could have a similar set designed it could define the tone of this film."

Tarsem Singh explains his passion for visual detail this way, "Physically constructing an alternate reality is a beautiful experience. I want to create the world that the characters live in, so that the actors have a better understanding of how they should be portrayed. It was a real joy creating the world that these characters live in."

Production designer Tom Foden, cinematographer Brendan Galvin and costume designer Eiko Ishioka have all collaborated with Tarsem Singh on three earlier films. This longstanding artistic partnership was a keystone in the success of the production design, says Bernie Goldmann. "Tom Foden and Tarsem Singh have developed a way of working together to really define the look of the movie. Tom Foden provided us with a great foundation for both the magic and the emotion we envisioned. He's an incredible designer who helped us build characters with his work.

"Watching the sets take shape over time blew me away," he continues. "I was always aware that I might never see a set like that again. It was really old fashioned moviemaking and it felt like we were making a Warner Bros.' movie from the '30s or '40s. The level of detail and craftsmanship was unbelievable. It's over-the-top opulent."

Rather than depend on special effects to create the vast universe of Mirror Mirror, the filmmakers opted for practical sets whenever possible. "We certainly use green screen and wonderful visual effects in the film," says Tarsem Singh. "However, I also wanted to make the actors' surroundings as visceral and real as possible. That's why the sets had to be oversized."

The production design was unlike any Julia Roberts had seen before. "The sets are sensational," she marvels. "The Magical Cottage, where the Queen meets with her alter ego, is beautiful and the Great Hall, where we did a lot of the party scenes, is mind-blowing. When you see the space filled up with all these people dressed in wild outfits, it's really something. They don't make many movies like this anymore."

Armie Hammer, too, says the sets were bigger and bolder than he could ever have imagined. "The Queen's bedroom was bigger than most amphitheaters," he says. "The whole atmosphere is so grand that you are able to suspend your disbelief. The scale is so enormous that it's almost difficult to comprehend. People are going to walk into this film and see something truly unique."

The equally sublime costumes, ranging from the Queen's outrageous golden and blood red gowns to Snow White's pastel court gowns and her spare and sculptural battle gear, were created by the late Eiko Ishioka in what was to be her last film. The Oscar-winning costume designer worked with Tarsem Singh on four films before her death in January of 2012. "The relationship between Tarsem Singh and Eiko Ishioka was spiritually special and the work they did together speaks to that connection," says Kevin Misher. "I think her work on this film is a testament to her artistry in general and to their relationship in particular. It is a lovely gift she leaves for us to remember how special she was."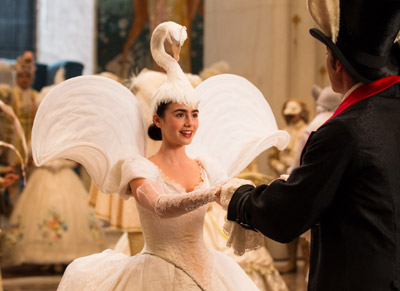 Eiko Ishioka, who earned an Oscar for the spectacular costumes in Francis Ford Coppola's Dracula, was also a respected visual artist whose work is the permanent collection of the Museum of Modern Art in New York City. "She was an incredible artist," says Tarsem Singh. "She didn't just design pieces of clothing, she created works of art."

Her elaborate and imaginative designs combine pageantry and personality, drawing on influences from the 16th to 19th centuries to create something entirely new. "Eiko Ishioka was all about spectacle," says Bernie Goldmann. "But, like Tom Foden and Brendan Galvin, everything she did was also about building character. She was a genius at the visual, but she was also an amazing help in building Snow White's and the Prince's characters. The actors had an arc not only emotionally, but also physically."

Impressively, her sensational designs were not limited to the gowns and suits worn by the film's stars. Eiko Ishioka also designed the over 300 costumes that are worn by the film's extras. Almost all were handmade. Armie Hammer says that all that effort is part of what makes the film so special. "The costumes really set the tone for the entire movie. Eiko Ishioka did a wonderful job creating something that seems so operatic and over the top, yet at the same time completely believable."

Makeup and hairstyles designed for the film by hair and make-up artist Felicity Bowring add to the hyperbolic opulence of the costumes. "Everything stems from Eiko Ishioka's designs," says Felicity Bowring. "It was delicious to work with her vibrant colors. Imagine people wearing vivid red, yellow, orange, green, hot pink and silver all in the same scene. For a costume ball, we created about ten face-painted animal masks for the guests instead of having the usual masks that go onto people's faces. And the hair had to go with the proportions of the costumes. When a dress has a bustle that sits three feet out from the body, a wig has to offset that and be tall enough so that it too looks extraordinary."

A Battle Royal
Against the backdrop of this meticulously imagined world, a gleefully physical adventure unfolds as a sheltered princess learns to adapt to life outside the palace walls. From her woodland hosts, Snow White begins to learn to stand up for herself in stirring action sequences. As always, Tarsem Singh was concerned with authenticity. "I wanted actual physical fighting with real weapons and real aggression," says Tarsem Singh. "But more than anything, I wanted the actors to actually take part in the adventurous parts of this film."

The film's stars underwent months of intensive training for grueling action scenes involving swordplay, acrobatics, high-speed horseback riding and more. "It was five days a week, almost six hours a day of sword fighting," says Armie Hammer. "And I had the blisters and the calluses to prove it. I learned how to do a back flip with a sword in my hand, and a front flip with a sword in my hand, and a side flip and a vortex flip-all things that I never knew how to do before. I was always excited to see what we were going to be doing next. My favorite thing was riding the horses right on the soundstage at a full gallop."

Lily Collins adds, "There was a lot of fight training in this film. We did sword fighting and fencing and wrestling and acrobatics and then physical training. We worked out in the gym, we ran, we lifted weights. It was really intense."

Fight coordinator Jean Frenette taught the actors the basics of combat, step by arduous step. "There's a progression to it," he says. "It's like boot camp in the beginning. The process of repetition helps the actors build up their confidence and skill level over time. We want them to treat it seriously but we don't want them to over-train and burn out. It's a lot like preparing an athlete for a competition."

Stunt coordinator Marc Desourdy adds, "Lily Collins and Armie Hammer were fantastic. They're so coordinated and so talented. They learn very quickly. Lily Collins was very keen on doing all of her own stunts. We put her to work doing flips and acrobatics. And we did the same with Armie Hammer. When you see them close-up, sword fighting, it's all them."

In the end, the work paid off in action sequences that appear effortless, says Bernie Goldmann. "Watching them on film, it's easy to forget all the work that went into it. Lily Collins and Armie Hammer rehearsed and trained, and rehearsed and trained. They put in the time so that when we shot these sequences, they came out perfectly."

One of Tarsem Singh's cunning innovations resulted in a series of action scenes that require complex preparation and physical daring. Since the Dwarfs had been thrown out of the village because of their size, he thought, they might likely become fixated on their height. Trying to compensate for their stature, Mirror Mirror's little men commit their robberies on stilts. Desourdy tracked down a group of daredevil stilt walkers in Toulouse, France, to train the actors to fight on stilts.

"They were amazing," he says. "They taught our guys to walk, run and jump with stilts. The stunts that are performed on the stilts are absolutely sensational and unlike anything you've seen before. The audience is in for a treat."

The film's spectacular climax is a royal ball to celebrate the marriage of Snow White and her Prince. Tarsem Singh wanted to heighten the festive atmosphere with a dazzling musical number done in classic Bollywood style. He selected Nina Hart's late '60s pop song "Love." "I had the song in mind from the beginning, but they kept telling me I wouldn't be able to get the rights," says the director. "Finally, right before we started shooting, it worked out. When I heard that Lily Collins could sing, I had her record a version of the song for us. She was fantastic. We knew we had to incorporate her vocals into a big dance sequence."

Choreographer Paul Becker came in during preproduction to design the number, which involves the entire cast as well as over 200 extras. "It starts almost without warning," he says. "Lily Collins suddenly breaks into song and dance and everyone else seems to be wondering what she is up to. But then slowly the Dwarfs join in and then everyone starts to dance. It's just a big party."

Paul Becker designed the dance to resemble one of Hollywood's unforgettable Busby Berkeley production numbers, with overhead shots capturing the swirling patterns of dancers below. According to Lilly Collins, "It was a great time. It felt like a huge music video with hundreds of people dancing around me. We really let loose. I never in a million years thought I would be able to do a number like that. It was just amazing."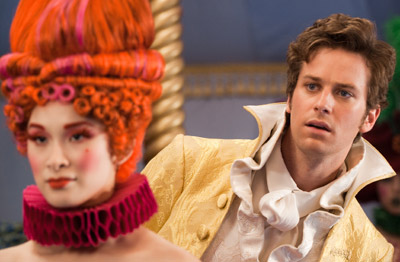 The net effect of Tarsem Singh's brilliant leaps of imagination is to transport both the film's stars and the audience into a sparkling world of fantasy. As Lilly Collins says, "Everyone loves a good fairy tale. They create a space where you can laugh, where you can be scared, and where you can simply be amazed. Ours is a multi-generational story and that's what a fairy tale is supposed to be, something that everyone can enjoy."

Julia Roberts agrees, adding, "I think the audience is going to get lost in this film. I would love for them to just sit back and be transported somewhere else for two hours."

Tarsem Singh's greatest hope is that the audience will be the ones to reap the rewards of the cast and crew's meticulous efforts. "My primary goal with this film is to create a family movie that people will have a lot of fun seeing," he says. "It's been a great honor getting to creatively reinterpret this classic story, which has meant so much to so many generations. I really hope the audience enjoys what we've created."