Jessica Chastain Miss Sloane
Cast: Jessica Chastain, Gugu Mbatha-Raw, John Lithgow
Director: John Madden
Genre: Drama, War
Rated: M
Running Time: 132 minutes

Synopsis:
A cutthroat lobbyist on the verge of personal and professional burnout pushes legal and ethical boundaries to ensure the passage of a controversial law in Miss Sloane, a riveting political thriller from Academy Award®-nominated director John Madden. Pulling back the curtain on the secretive and powerful lobbying industry, Miss Sloane reveals how Capitol Hill games are played " and won.
Brilliant, self-assured and utterly unscrupulous, Elizabeth Sloane (Jessica Chastain) is one of the most powerful forces behind the scenes in Washington. The star player at an old-school lobbying firm headed by George Dupont (Sam Waterston), Miss Sloane will do whatever it takes for her clients " even if that means bending the rules. But when the head of the powerful gun lobby calls on her to help convince women to oppose a bill that will impose new regulations on the sale of firearms, she turns him down flat and instead joins a scrappy boutique firm representing the backers of the law. Alongside the firm's CEO (Mark Strong) and a group of young up-and-comers, Miss Sloane schemes, maneuvers and manipulates her way to what could be a stunning victory, but her zeal for winning threatens both her career and the people she cares about. Compromised, vulnerable and under investigation by the Senate, Elizabeth Sloane may finally have met her match.

Miss Sloane
Release Date: March 2nd, 2017



About The Production
A taut and twisting tale of a Washington powerbroker obsessed with victory, the Miss Sloane screenplay took filmmaker John Madden by surprise with its richly detailed portrait of an industry that remains shrouded in mystery. 'While having a sense of the job description, I didn't know exactly what a lobbyist did, which I imagine is true of a lot of people," says John Madden, acclaimed director of such diverse films as Mrs. Brown, The Debt and Academy Award winner Shakespeare in Love. 'The script was intelligent, unexpected and very satisfying. It is set in a world where everything is strategy. The natural language of the characters is irony and indirection, which makes for an extremely clever " and very funny and surprising " film. The greatest weapon the script has is that it never lands exactly where you think it's going to."

Elite communications professionals, lobbyists make their living by influencing the decision-makers of the world, including the most powerful lawmakers in America. Mysterious, secretive and fantastically powerful, even the origins of the term lobbyists is unclear, although some say it was coined by President Ulysses S. Grant to refer to special-interest representatives waiting to buttonhole him in the lobby of the Willard Hotel.

'The film defies a single description," says John Madden. 'It is at once a political drama, an unpredictable and constantly surprising thriller, an exposé of a little-examined, and even less well-understood mechanism of the political process, and above all, a riveting study of an extraordinary and obsessive character, defined as much by her intelligence and skills as by her gender. And most unexpected of all is its portrait of the emotional life of a heroine who would refuse to countenance that she even has one."

'The film is about a seemingly unattainable political objective," John Madden continues. 'It is an issue which has stubbornly refused to respond to legal challenge. It looks at the many tactics lobbyists use to influence people. Trying to overcome the insurmountable obstacles is the ride of the film, and it's driven by Elizabeth Sloane. She takes no prisoners and employs tactics that might raise eyebrows. She rarely ever stops to rest. She is an utter obsessive, and obsessives are a very interesting breed to watch on film."

John Madden was perhaps most surprised by screenwriter Jonathan Perera. A U.K.- educated attorney who left his practice to try his hand at writing, Jonathan Perera had never penned a screenplay before or even spent much time in the U.S. 'I'd expected a cocky, knowing, Santa Monica-dwelling film nerd," says the director. 'He's nothing like that. He is very literate about film, but incredibly open, smart and direct, without the attitude that might go with such a precocious debut."

Jonathan Perera was living in South Korea, teaching English at an elementary school, when he started preparing to write his first script. Instead of enrolling in film school, he read as many scripts as he could get hold of. 'I'd read the first 60 pages of a script. And then I'd go to work and think about how I would end it. In the evening, I'd read the latter sixty pages of the script and see how I did."

An interview he heard on BBC News gave him the kernel of an idea that he needed to get started. 'It was a man named Jack Abramoff," he remembers. 'He was a lobbyist who had been sent to prison for some kind of wrongdoing. I didn't know too much about the lobbying industry, but I knew that it could be a great basis for a film. I felt we hadn't really seen an exploration of the influence peddling and power brokering that goes on behind the scenes in Washington."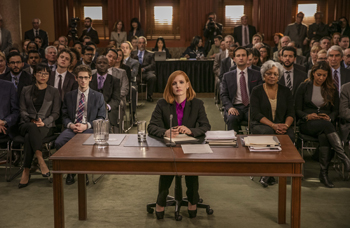 Miss Sloane takes the audience inside the soundproof conference rooms of a multi-billion-dollar industry that traditionally keeps a low public profile. 'I was interested to explore how they bring their power to bear," says Jonathan Perera. 'It's kind of an intersection between politics and espionage. They hew as close to the edge of the law as possible to put pressure on the representatives. And they don't always manage to stay within the law. I wanted to push a lobbyist to the legal limit and see where it took the story."

Jonathan Perera managed to get his script in front of Ben Browning, co-president of Production and Acquisitions at FilmNation Entertainment. 'I got sent a script by a writer I didn't know," Ben Browning recalls. 'It was the first thing he'd ever written and it was great. The movie got made in the course of just over a year. In my experience, that never happens in Hollywood."

Ben Browning was impressed by the power of the writing and the originality of the storytelling. 'It is a gripping drama from the very beginning, a script that you finish in one sitting," he explains. 'It has elements of thriller, drama and politics, but more than anything else, it's a great character piece. It's an entertaining, fast-paced look at one of the lesser-known aspects of politics with a spectacular female leading role. And it's not a female role that's defined by anything conventionally female. She isn't a wife; she isn't a mother. Miss Sloane could have been a man, but making her a woman in a man's world makes this character feel so much richer."

John Madden and Jonathan Perera spent several weeks together in London researching the political and procedural underpinnings of the story before Jonathan Perera began reworking it. 'It was already a very strong script," says John Madden. 'It just needed to be deepened and fleshed out. Jonathan Perera and I are both literate in American political procedure, but not experts. We didn't want to begin exploring things creatively without knowing that we were on solid ground with the facts."

From their very first discussion, Jonathan Perera was impressed by John Madden's keen grasp of the story. 'It's very complicated to unpack," he explains. 'There are lots of storylines, lots of threads, lots of layers going on, but John Madden understood it completely. More than anything else, he knew what was going on inside the characters' heads. A large part of rewriting the movie was sitting with him and talking about how the characters should develop over the course of the story. In the first draft of the script, Elizabeth was always two steps ahead of everyone and never particularly vulnerable. Developing some of her relationships further gave us a lot more colours to work with."

The film's central character, Elizabeth Sloane, is a high-powered lobbyist working at a well-established white-shoe firm. 'She's what you might call a dark-arts lobbyist, meaning she will use ethically questionable methods to achieve her clients' goals," says Jonathan Perera. 'We meet her at a point in her life when she's on the verge of a meltdown. She turns down a lucrative offer to quash a controversial piece of legislation and instead goes to work for the opposition."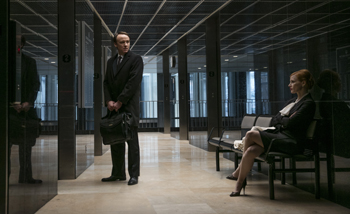 The piece of legislation in question is the fictional Heaton-Harris Bill, a bipartisan bill proposing stricter gun control legislation. 'But the issue of gun legislation isn't itself the film's subject," says producer Kris Thykier. 'This is an engrossing film set in the world of government affairs and lobbying. Jonathan Perera placed an emotive issue at the heart of it, but it could perhaps have been one of a number of others. The whip crack of the dialogue and the humour underneath it refresh our notions of the genre, creating something both accessible and entertaining. Elizabeth Sloane's pursuit of her goal at any cost and her ability to play with people's lives are riveting to watch."

When the film opens, a Senate hearing examining Liz Sloane's ethics is underway. As the committee questions her and the other witnesses, the action flashes back to the circumstances that have brought her there. 'The real challenge was to make a movie that's so verbal," says John Madden. 'The talk is smart and really fast, which made the script an exhilarating read. But a story about a bunch of people talking has to earn its keep as a piece of cinema, and we looked for ways to transcend that."

With his cinematographer, Sebastian Blenkov, John Madden developed a cinematic approach to this most verbal of pieces. The story's momentum and immediacy were the touchstones of this approach, which unfolds in a free-flowing rhythm of shooting that allowed several ideas and narrative strands to co-exist. This was further played out in the editorial strategy, where Alexander Berner externalized Elizabeth's patterns of thought, constantly juxtaposing and reordering cause and effect. As John Madden puts it, 'The story develops in bursts of headlong, adrenalized energy, interrupted by stasis and silence, when the void underneath the character's obsession opens up and threatens to engulf her."

Ben Browning had faith that John Madden would keep the action moving and the atmosphere dynamic. 'John Madden is simply an excellent filmmaker," he says. 'I put him in a category with Ang Lee or Stephen Frears. He's defined by the fact that he makes good films, period. You can't necessarily draw lines of continuity between his works, other than that he's clearly attracted to great drama, he brings forth incredible performances and his films have texture and a sense of place."

'The film will transport audiences into a world that perhaps they thought they knew, but that is so much more complex than they ever dreamed," says Kris Thykier. 'You're going to be drawn in by this charismatic, compelling, often dark character and the sheer satisfaction of a tale well told."

'The story is meant to be an exciting ride that keeps audiences on the edges of their seats," says Jonathan Perera. 'Movies about politics don't have to be stuffy," he adds. 'The audience won't feel lectured or talked down to. They will be second-guessing where this is going and be upended just as the characters are. Entertainment can also be intellectually engaging, it can spark a debate, but that's not the sole objective here. The objective is to send the audience on a rollercoaster ride with an extraordinary heroine."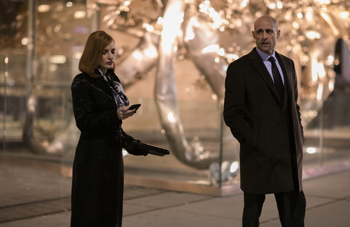 Miss Sloane Will See You Now

With an outstanding screenplay and an acclaimed director, the filmmakers had little difficulty attracting a stellar ensemble to populate the world of Miss Sloane. 'This was a fantastic film to cast," says John Madden. 'It's the kind of muscular, robust language that actors can't wait to speak out loud. As soon as they read the script, people wanted to do it."

In the central role of Elizabeth Sloane, the filmmakers cast two-time Academy Award nominee Jessica Chastain. A hard-charging maverick who plays fast and loose with the rules, Miss Sloane's sole interest is winning for her clients, whoever they may be. A lone wolf to the core, she's always a step ahead of the opposition, and sometimes even her own team. But Miss Sloane is beginning to recognise the price of her workaholic lifestyle.

'Jessica Chastain is one of the best actresses of her generation," says Ben Browning. 'She has already created a gallery of indelible characters. She's lightning fast with dialogue, very quick on her feet and always thinking. That was essential to this part, because Miss Sloane is the puppet-master throughout the film."

John Madden and Jessica Chastain worked together on the 2010 thriller The Debt, when the actress's film career was just beginning. He sent this script to her soon after reading it. 'The part just fit her so perfectly," he says. 'I have known her since before she became -Jessica Chastain' and recognised her as a diamond in the rough. I was hugely impressed by her then, and as I read this script I couldn't get the idea of her in the part out of my mind."

Jessica Chastain had long harbored a wish to team up with John Madden again. 'He's so generous on set," she says. 'Even if someone comes in for one day, John Madden does anything he can to make that person feel a part of the team. That's why people like Christine Baranski and Jake Lacy came in for just a short time. Each day I saw the actors I would be working with and knew I was going to be in the best hands, because John Madden had orchestrated the whole thing."

Elizabeth Sloane is a one-of-a-kind character, the actress realised. 'She's incredibly intelligent and ambitious and compulsive in her desire to win, but she's also really vulnerable. It was a beautiful character to embark on. The script has such intelligence. It never talks down to the audience. It explains what's going on simply and beautifully."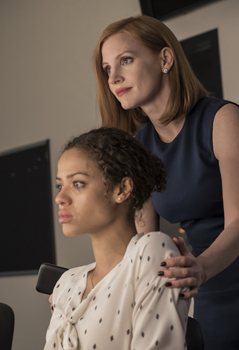 But it was the thriller aspects of the story that most impressed Jessica Chastain. 'You're watching an incredible story about a woman who risks everything to win," says the actress. 'There are twists all over the movie. Just when you think you know what's going on, there's a big surprise. I like movies that keep you guessing."

After years of representing corporate interests at an established blue-chip lobbying firm, Elizabeth Sloane shocks her colleagues by jumping ship for a more ideologically driven outfit. That firm " Peterson Wyatt " is antithetical to everything Liz has based her career on. 'She sees them as granola-eating, Birkenstock-wearing hippies who don't really understand what it takes to get anything done," Jessica Chastain says. 'Her background is about supporting free enterprise, without thinking about the consequences. She doesn't fit in well there, although truthfully, Liz is a rebel at both firms. She doesn't really work well with others."

But it's not a sudden shift in political perspective or a pang of conscience that motivates her to join the smaller firm, says Jessica Chastain, it's the apparent impossibility of the task that attracts her. 'Liz Sloane is addicted to winning. The bigger the risk, the bigger the win. That's what entices her. The gun lobby donates heavily to political campaigns and politicians care about keeping their seats. So they have a good deal of leverage in Congress, which makes them a formidable opponent for her. The real issue we are addressing here is what is rotten in our system, what doesn't work in American politics and why change is so difficult."

Jessica Chastain promises viewers they are in for a fast-paced, compelling and unexpected two hours. 'There's a lot more mystery than you are used to seeing in political dramas. You won't quite know what Liz's motivations are or what she intends to do, because she has so many tricks up her sleeve, and that makes for a thrilling ride."

Mark Strong plays Sloane's new boss, Rodolfo Schmidt, whose approach to their mutual cause could not be more different from hers. The highly principled and brilliant CEO of a boutique DC lobbying outfit, he fights hard to win for his clients, but never crosses the line, legally or ethically. Hiring Liz is a calculated risk for him, but he truly believes she might be the only person who could win the fight for the Heaton-Harris Bill. Though he begins to regret his decision as Elizabeth's methods grow more extreme, he retains both a respect for and a fascination with her.

'This is a role people might not expect to see Mark Strong in," says John Madden. 'He is Elizabeth's new employer, her moral conscience, and, to some extent, her antagonist. In the U.K., Mark has a reputation as an actor's actor. Everyone who has worked with him has massive admiration for him. In the movie world, I think he has been occasionally pigeonholed and certainly undervalued, so it's great to cast him in a role that has a completely different feel about it.

As the formidable counterbalance to Elizabeth, he brings an indispensable humanity. "

Jessica Chastain, who previously worked with Mark Strong in Zero Dark Thirty, says 'Mark is intelligent and thoughtful about the choices he makes. Unlike Liz, Rodolfo really does care about how other people perceive him and how they're affected by his actions. The differences between the two of them make for really interesting scenes. She is like a bull in a china shop and he's trying to control the bull."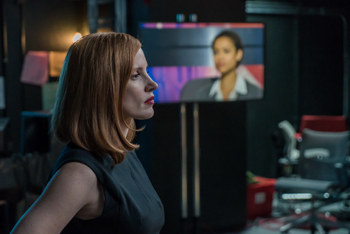 The script was unlike anything Mark Strong had read before. 'It ticked all the boxes for me," he says. 'It's a page-turner. It gave me a real sense of the world that these people all live in. The fast pace of the dialogue is a technical challenge for an actor. In life, we talk very quickly. Our thoughts tumble over one another. We interrupt each other and still understand exactly what is being said. To read a script that seems to replicate the way people talk in an industry where fast thinking and instant decisions are absolutely vital was exciting."

The strength of the ensemble was another draw for the actor. 'It's such a quality cast," he says. 'Jessica Chastain brings authority and believability to her character. Lobbyists are very capable and wickedly functional people. Liz is also almost out of control. Rodolfo is there as a moral marker in order to show how far she has veered off course."

John Madden recruited a pair of celebrated veteran actors, Sam Waterston and John Lithgow, for two other crucial roles in the film.

As George Dupont, head of government affairs at Cole, Kravitz & Waterman, Waterston represents the establishment lobbying industry. A senior partner, he is most concerned with reeling in blue-chip clients and increasing the bottom line. Elizabeth Sloane's loose-cannon style irritates him, but her profitability is unmatched. When her cavalier treatment of a potentially huge new client infuriates him, it opens the door for her exit.

'John Madden is no slouch and neither is Jessica Chastain, so what's not to like?" says Waterston. 'The script was so compelling to read. I never saw what was coming next. I know a little bit about this world, which is part of what made me want to do to the movie in the first place. There are people like this, really ambitious people who are attracted by the big magnets of power, like Washington. They work themselves to the edge of collapse, and they're perfectionists. Jessica Chastain captures all of that."

Once Jessica Chastain's protector, George Dupont becomes her worst enemy. 'My character very much wants to represent the gun lobby," Waterston explains. 'When she refuses to cooperate, he hauls her on the carpet. Her response is to leave the company and join the other side. The client wants to destroy her, so George Dupont gives it his best shot, which makes him a pretty rotten guy. What follows is extremely intense."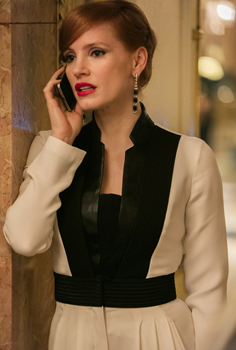 Lithgow plays Senator Sperling, a long-serving Democratic legislator and highly regarded good ol' boy. His reputation as a critic of corruption in politics and the lobbying industry makes him popular with the electorate and the media, but like all elected politicians, vulnerable to the delicate demands of remaining in office. Sperling chairs the Senate committee investigating Miss Sloane.

Lithgow and John Madden had worked together on stage three decades earlier. 'So I was inclined to say yes before I even read the script," says the twice Academy Award-nominated actor. 'And then it turned out to be one of those really fun reads " beautifully written and plotted, with incredible characters. My part gets better and better as it goes along."

He says he assumed the screenplay had been written by an acclaimed and experienced scriptwriter when he first read it. 'Then I learned that it's Jonathan's first screenplay. He came out of nowhere. This is a man who'd never even been to Washington, D.C. and it's packed with authentic detail. And the masterful way in which the story unfolds is a real pleasure. Bit by bit, you think you've got it. Then it turns out that there are still some surprises coming."

The film also reunited Lithgow and Waterston after many years. 'John and I were in -Hamlet' together about a century and a half ago," says Waterston. 'We've known each other a long, long time. During the shoot, we worked late into the night and the past just came right back. That was almost as much fun as the on-camera stuff."

The younger actors were delighted to be treated to Waterston and Lithgow's war stories. 'Just listening to John and Sam talk about their early days in theater was incredible," says Jessica Chastain. 'I'd almost fall over from laughing about all these things that had happened in the past in the theater world and that was wonderful for me."

Miss Sloane's motley support team of junior lobbyists (known on set as the Ragamuffins) is an incredibly close and loyal group who take their inspiration from their boss. Sloane forms a particularly close bond with one young woman, Esme Manucharian. Played by Gugu Mbatha-Raw, Esme Manucharian is a poised, well-informed associate lobbyist at Peterson Wyatt. Gun safety is her signature issue. Esme Manucharian becomes Elizabeth's new protégée, but her role as the unwilling face of the campaign for the Heaton-Harris Bill drives a wedge between them.

'To be able to do work that is topical and also provocative is the best for me," Gugu Mbatha-Raw says. 'This takes you straight into a world that hasn't really been explored. These are very smart people who show their intelligence through humour and competition. It is always a battle of wits with them. One of the things the movie explores is the cost of living in such a ruthless and ambition-driven environment."

Esme Manucharian is what some would call a conviction lobbyist, someone who selects her clients based on her core beliefs. 'That's what separates her from Miss Sloane," says Gugu Mbatha-Raw. 'Esme Manucharian also really wants to win, but it's because she is invested in making change."

This brings her into conflict with Liz, whose objectives she cannot easily discern, and she begins to feel herself manipulated. 'You could argue that it is for the greater good, but that's the whole moral dilemma of the film," says Gugu Mbatha-Raw. 'At what cost will you achieve your goal? If winning is all, but you alienate the people who care about you in the process, is it worth it?"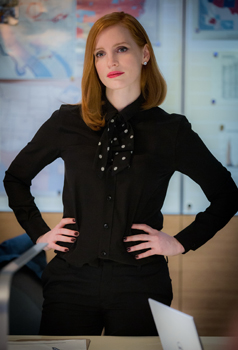 Jessica Chastain was impressed by the younger actress's thoughtfulness, sensitivity and openness. 'It is really interesting to see those energies together," she says. 'Gugu Mbatha Raw brings a kind of vulnerability that really rocks Liz. For the first time, she is forced to confront another person's feelings. I think in many ways Esme is the heart of the film."

For actress Alison Pill, the fact that, like her, many of the film's cast members honed their craft on stage was a big plus. 'There are so many great theater actors in the movie," she says. 'Coming from a theater background, the text is always foremost for me. If the words are good, you're already halfway there. When you have people like Sam Waterston, Michael Stuhlbarg and Mark Strong, plus this level of dialogue, it makes for an elevated discussion."

Alison Pill plays Jane Molloy, a junior associate who was Elizabeth Sloane's protégée at Cole, Kravitz & Waterman. When Sloane leaves the firm, Jane has almost paid off her college loans and is considering a career change. She's unnerved by the morally ambiguous world of lobbying, and uncomfortable with Liz's apparent disregard for conventional ethical standards. When Liz invites her to join the team at Peterson Wyatt, Jane shocks everyone by declining the offer.

'She's just not happy with what she's doing," says Alison Pill. 'Perhaps it's because Liz is not the best boss. She's very demanding and thinks nothing of calling people at three in the morning. Jane knows a lot of Liz's secrets and that makes for a love-hate relationship between the two of them. Her refusal to go with Liz is seen as a real betrayal."

In addition to Gugu Mbatha-Raw and Alison Pill, the filmmakers cast a number of rising young talents to play the Ragamuffins, including Al Mukadam, Douglas Smith, Grace Lynn Kung, Lucy Owen, Meghann Fahy and Noah Robbins.

'We are a team of junior lobbyists who follow in Liz's wake," says Smith, who plays Sloane's indispensable right hand, Alex. 'We believe everything she says wholeheartedly and we want to please her at all costs."

Clara, played by Fahy, is one of the young lobbyists at Peterson Wyatt who greets her at her new firm. 'The team is young, committed and energetic," says the actress. 'I think it is refreshing and exciting to watch all of these young people come together under the titanic presence that is Elizabeth Sloane."

When her former boss, George Dupont, turns on Sloane, he unleashes his colleagues to try to bring her down: bloodless apparatchik R.M. Dutton, played by Raoul Bhaneja, and Pat Connors, a highly effective street fighter of a lobbyist who's not afraid to get his hands dirty. Connors has worked his way up to a partnership in Cole, Kravitz & Waterman, operating alongside Elizabeth for years, but her defection to Peterson Wyatt stuns him.

Michael Stuhlbarg, who plays Connors, has turned in an extraordinary series of performances over just the past few years in prestigious films including the title role in the Coen brothers' A Serious Man, as Hollywood legend Edward G. Robinson in Trumbo, and a not very professional hit man in Seven Psychopaths. 'He is a fantastically surprising actor, who burrows deep inside whatever he's doing," says John Madden. 'He never gives you what you might have expected or anticipated. It's very exciting."

Connors toes the company line and has been richly rewarded for it, but he's always painfully aware that he is not quite in Liz Sloane's league. 'He's probably a little jealous of how talented she is," says Michael Stuhlbarg. 'He's also very accomplished and at the top of his profession, but I think he probably just has to work harder. As smart as he is, she always seems to outthink him."

Michael Stuhlbarg gives kudos to the film's casting team for pulling together the stellar ensemble. 'They were able to find not just talented artists, but people who sparkle," the actor says. 'Everyone has an original take on who these characters are and you can see why they were cast. The energy just bounces back and forth beautifully. It was inspiring."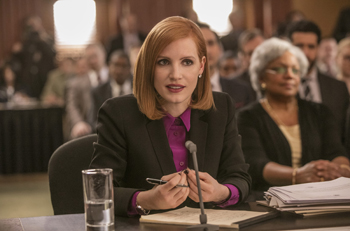 David Wilson Barnes plays Posner, the straight-arrow in-house attorney at Peterson Wyatt. 'He's another brilliant actor from whom we'll be hearing much, much more," says John Madden. 'He fights an initial aversion to develop a complicated relationship with Elizabeth Sloane while dealing with some of the attacks that are coming her way."

'Posner is like a microcosm of the experience of the film itself," observes David Wilson-Barnes. 'He comes in with one opinion, and he leaves with a deeper understanding of Sloane whom he comes to respect, but whom he would happily have dumped in the trash."

'Girls" star Jake Lacey snagged the fascinating role of male escort Robert Forde. A loner with little respect for authority, Forde develops an unusual connection with Sloane, but their relationship will cause her some embarrassment down the line. 'Every actor in his age group wanted to play the role," says John Madden. 'Once I'd seen Jake, I couldn't really consider anybody else for it. He's a very exciting presence."

Lacey says he looks at three things when considering a project " script, director and cast. 'This has all of them and they are pretty remarkable. It is the story of a group of people led by this extraordinary woman working toward a common goal and how they get there. It's not a soapbox; it's a riveting human drama, which is far more thrilling than having someone just tell you what to think."

Behind The Scenes on K Street

Knowing that Miss Sloane was likely to attract controversy, director John Madden believed the film's success would depend on the accuracy with which it presented the lobbying world. 'So we did whatever we could to make sure the facts are correct," he says. 'We identified a lobbying firm called the Glover Park Group, seasoned Washington insiders who have advised other filmmakers. They helped us see that a few of our ideas were out of date, because lobbying " and the ethical issues governing good practice " has had to change post-Jack Abramoff."

Adam Blickstein of the Glover Park Group, a leading strategic communications and government affairs firm, put together a team to advise John Madden and Jonathan Perera as they worked on the screenplay. 'Miss Sloane is an exemplary political thriller," says Adam Blickstein. 'While a lot of movies call themselves political thrillers, they tend to give a superficial view of politics. This drills down to how politics is made. They get into the sausage-making process and it's not always pretty. It's an intricate process that most people don't understand. I think audiences will enjoy this well-informed, in-depth look."

Adam Blickstein's team helped to shape the story with the filmmakers and educated the cast about the role of the lobbyist. 'We had very long conversations with the actors," recalls Adam Blickstein. 'They wanted to discuss their parts and what their career trajectory would be. It was interesting to walk them through it, and it showed how much thought they were giving to building their characters."

The lobbyist vouches for the authenticity of the film's portrait of his industry. 'Miss Sloane captures the various intricacies and facets of D.C., whether it's something happening on Capitol Hill legislatively or behind the scenes in a corporate boardroom," says Adam Blickstein. 'That process is structured, campaigned and strategic, and it usually changes the next day. The movie shows the uncertainty, agility and strategic underpinnings of D.C. in a way few films ever have."

Both Jessica Chastain and Gugu Mbatha-Raw did intensive research to prepare for their roles. 'I went to D.C. and I met with 11 lobbyists, mostly women," says Jessica Chastain. 'I wanted to know what they struggle with and how they became a success in that environment. I talked to them about their families and their personal lives. We discussed what it really takes to get a bill passed and the different ways you would go about it. I learned what grass roots and grass tops were and how the various strategies of running a campaign work."

The experience of being able to meet with real-life lobbyists and soak up the Washington atmosphere was invaluable, says Gugu Mbatha-Raw. 'I met with a couple of lobbying firms including the Glover Park Group. I wanted to understand how you would get into this line of work."

The actors playing Miss Sloane's team at Peterson Wyatt took part in a 'lobbying boot camp" led by Susan Brophy, a managing director at Glover Park. Brophy has worked at the White House, at the U.S. Embassy in Portugal and was the head of corporate affairs for Time Warner.

'Susan spent a full day walking the actors through her background," says Thykier. 'She explained how each of those individual characters might have gotten to Cole, Kravitz & Waterman or Peterson Wyatt. We wanted to make sure that everyone who was involved in the film also understood this world. How does it work? What is the relationship between lobbyists and the Hill? What is the relationship between congressmen and senators? How do bills get passed?"

Madden was acutely aware of the cinematic challenge the film represented, and chose to work with the Danish cinematographer, Sebastian Blenkov. 'He's got a wonderful sense of dynamics, a brilliant compositional eye, and an ability to get really close " physically and figuratively " to the action and the actors," says Madden. 'He often works hand-held, uses the minimum of intervention in terms of lighting equipment, and senses the wavelength of the story with enormous accuracy. And actors respond to him with complete trust. The film has a beautiful physical look, and an unforced modernity."

Sebastian Blenkov's work was a tremendous inspiration to John Madden's second collaboration with the editor, Alex Berner, with whom he worked on The Debt, also starring Jessica Chastain. 'Alex Berner's approach is both disciplined and wonderfully loose and instinctive," John Madden says. 'He was completely attentive to undercurrents of meaning and emotion. We developed a particular style with this movie, using often disorienting and quite bold transitions of time and space, which seemed to reinforce the sense in the film that nothing is quite what it seems, and delivering the audience to a place they didn't expect."

John Madden was just as exacting in making sure the film, which was shot in Toronto, created an accurate physical portrait of Washington, D.C. Production designer Matthew Davies and his team twice traveled to the capitol to research locations that they would then recreate in Canada. 'Washington is an elegant, very well-appointed city that is home to a lot of very important power brokers," says Davies. 'It seems to have the latest high-end hybrid vehicles. The subway system is almost futuristic. Capitol Hill is beautifully maintained and all the buildings of white marble are immaculate. We wanted to portray the affluence and gentility of Washington, D.C. political life.

'John Madden really wanted to capture the character detail and the authenticity of K Street political lobbying firms, as well as the appeal of a career in lobbying," continues Davies. 'He saw both the optimism of people trying to effect real change and the behind-closed-doors negotiations that characterize the seamier side of American politics. John is an exquisite storyteller, and he had interesting suggestions that reinforced his themes and ideas."

One of the first things Davies noticed, he says, was the premium placed on space, particularly in prestigious locations. 'The view from your window is more important than the square footage of your office," he notes. 'A view of the White House or Capitol Hill or any landmark is very prestigious. At these old-school firms, everything is finished to an exquisitely high standard. Cole, Kravitz & Waterman is a very staid, traditional environment. It is somewhat understated, but beautifully put together with refined details and a luxurious palette of materials that create a strong, confident impression to outsiders."

On the other hand, Peterson Wyatt is a newer, smaller boutique firm. 'It is more organic in terms of how its spaces are used," the designer says. 'It seems like a friendlier, more relaxed environment than Cole, Kravitz & Waterman. Attention is placed on the collaborative spirit of the office environment."

Davies and his team also recreated a Senate hearing room at the University of Toronto. 'The hearing rooms share similar wood veneers, similar lighting and are built around the same time. Consistency had to be maintained with the original."

In keeping with the quest for accuracy, costume designer Georgina Yarhi created a highly personalized wardrobe for each of the actors. 'She's pitch perfect in terms of how she creates tone for every character, as well as being a first-rate collaborator," says Davies. After discussions with the director, the production designer and Jessica Chastain, Georgina Yarhi began to select a core look for Elizabeth Sloane. 'She is a top lobbyist in Washington, where someone like her can make a seven-figure salary," says Georgina Yarhi. 'So she makes a lot of money, but she would never go shopping. She hires a stylist. Twice a year someone pulls a selection of designer clothes from the racks, she tries them on and then she doesn't have to think about it. Her clothing is not about beauty or aesthetics, it's about putting on a suit of armor to face the world."

Accordingly, the clothing Miss Sloane wears emphasises power and prestige over allure. 'A woman like Liz would never have any overt sexuality in her clothing, no deep plunging necklines or short skirts," points out Georgina Yarhi. 'There's an awful lot of black. And when we did use colours, they were very strong, like magenta, bottle green or fuchsia. There's nothing overly feminine or whimsical."

Georgina Yarhi and Jessica Chastain worked with a stylist at the luxury women's department of Toronto's top department store. 'We went to The Room at Hudson's Bay and had a personal shopper bring in things that fit our specifications, just as Elizabeth Sloane would," says the costume designer. 'Jessica Chastain knew exactly what she wanted her character to wear. We chose very exclusive brands like Piaget watches, Yves St. Laurent and Victoria Beckham suits and dresses, and top-of-the-line shoes. The shoes were very important. When a woman puts on a five- or six-inch heel, the way she carries herself changes and Jessica Chastain handled that brilliantly."

The designer studied the carefully coded caste system of Washington, D.C. and discovered a strict sartorial hierarchy that helped define the characters visually. 'Cole, Kravitz & Waterman is an old-school, establishment firm, while Peterson Wyatt is a young boutique company," she observes. 'At the establishment company, all the men are in conservative, expensive clothing. There aren't a lot of wild ties or statement clothes. It's all somber suits, white shirts, with maybe a subtle stripe. When you get to the second company, everybody is a tad more relaxed but nobody goes to work casually dressed. At Peterson Wyatt, there are 10 younger lobbyists. They wouldn't be able to afford to shop where Elizabeth Sloane shops. The women would shop at places like Ann Taylor. The men might go to J. Crew and if they can afford it, Brooks Brothers. Rodolfo, the owner of the boutique firm, has a few suits, but he could be a little less formal, so we went to blazers and really well-cut dark jeans."

The final collaboration in the film was between John Madden and the film's composer, Max Richter. 'I was a great admirer of Max Richter's work," John Madden says. 'He's a serious and prolific composer in his own right, equally at home in huge conceptual compositions, like opera and ballet, who also finds time to bring his unique talents to film scoring. Miss Sloane is not a straightforward proposition in terms of music, challenging the composer to find a way in to the very particular heartbeat of the central character. Max's unique way with minimalist orchestral composition with an electronic vocabulary was a brilliant inhabiting of an odd space, harnessing the addictive drive of Elizabeth's restless mind, and the accumulating emotional pressure of her gradual descent into the void. It's a beautiful and powerful score."

The end result of all of these efforts is a thrilling and believable character drama about a woman on the edge confronting her love of winning, her ambition and her place in the world, according to Kris Thykier. 'It follows her journey as she tries to pass a bill through the Senate and what it does to her personal life and the people around her. Will the bill pass? Will she be taken down? How the story comes together in the end is unbelievably satisfying and it's so much fun to get there."


Miss Sloane
Release Date: March 2nd, 2017