Lisa Hollinshead Recycled Romance Interview
According to a poll conducted by Twentieth Century Fox, 65% of people have tried to get back together with an ex-partner with 15% believing it was the best thing ever! The results have shown that like Ally Darling, played by Anna Faris, in the romantic comedy What's Your Number? Aussies are keen to give relationships another go, in the hope of finding the 'one'. What's Your Number? is a fresh and funny tale about dating, relationships and ex-boyfriends.
Even if a relationship is dead and buried, it seems Australians are still reluctant to sever all ties. Just 32% of people surveyed deleted an ex on Facebook after they split up with 60% of people stating they use social media sites like Facebook, to keep a track on what their ex is up to.
For Aussies who are still hoping to rekindle romance with an ex, Anna Faris has a few words of wisdom. "Just because you dumped him once, it doesn't mean he belongs in the dump. Men are like grass clippings, paper bags, chicken bones and old cars… They can be useful again!"
Interview with Lisa Hollinshead
Question:
Can you talk about your attempts to get back in touch with an ex?
Lisa Hollinshead
: Yes, I have actually. When I was single I would always try and keep the 'flame alive', I always try and keep the line of communication open because I don't like to sabotage relationships or fall out with people because life is too short. I would say more often than not, when I would reopen the lines of communication, it would be after a few glasses of wine and I wouldn't have thought it through!
Question:
Are you friends, on social media platforms, with some of your exs?
Lisa Hollinshead
: Yes, I am still friends with my exs on Facebook because I like to keep things friendly after a break-up, obviously that depends on what the reason as to why we don't work out was. The majority of my exs are still on my Facebook and I do find myself, every now and again, having a little look on their page to see what they're up to.
Question:
Do you think it's becoming increasingly common for Australians to return to old relationships to find the 'one'?
Lisa Hollinshead
: Yes, in Sydney I definitely see a trend of women returning to old relationships to find the 'one'. I think this is because there are so many more women than there are men, in Sydney and when women find a nice guy who treats them well, and when they a man-drought for a while, they are more likely to pick up the phone and try and reignite that fire with someone that they know quite well rather than jump back onto the dating bandwagon and have potluck! Definitely more so whilst I've been in Sydney I've noticed people going back to exs as opposed to when I lived in the UK.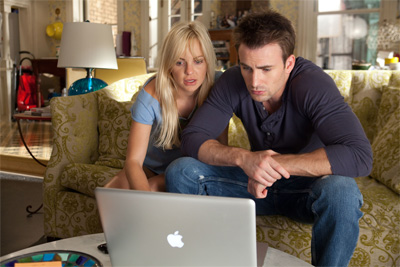 Question:
Do you believe in serendipity? In terms of fate leading you back to an ex?
Lisa Hollinshead
: Definitely! I am a massive believer in fate in every walk of life and in particular with relationships; I think that it is a case of 'what will be, will be' and I have realised that more so, recently. If you're meant to be with someone, fate will lead you that way. It is funny but the guy I went on the date with, for the article titled
A date with an ex - Oh my!
, I bump into him everywhere whether it is the beach on a Sunday or at the bar at Tropfest, he is the guy that I literally bump into everywhere and he moved back to New Zealand and that's why we split up in the first place. When he moved back to Sydney I worked in St Leonards at Ogilvy House number 72 and he worked at number 100 (laughing); so random.
Question:
What did you think of the film, What's Your Number?
Lisa Hollinshead
: I really enjoyed the film, I don't necessarily agree with the philosophy behind What's Your Number? that once you've reached 20 partners, that is your mark. I believe it is determined by your life experience and what's going on in your own particular life to how many partners you've had. I did love the idea that she thought she'd already met her soul mate. What's Your Number is a great film, one to watch with the girls.
Question:
Tell us about Dating 101:
Lisa Hollinshead
: I was single for four years and previously I had been with a guy for six years from the age of 16 to 22 years old and after we split up I moved to Australia from Manchester at the age of 23. After my first year in Sydney I had so many ridiculous dating stories about guys that I had met and crazy things that had happened on the date; I was always the person that was telling the dating stories at dinner parties. I work in PR and a friend said to me "You've got a talent for writing; you should definitely write your stories down because they're quite funny". It started as a blog that was between me and my inner circle of friends where I was writing about my dates and then my friends were forwarding the blog onto their friends and it started that way!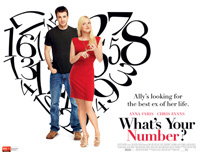 What's Your Number? DVDCast
: Anna Faris, Chris Evans, Zachary Quinto, Andy Samberg, Ari Graynor, Martin Freeman
Director
: Mark Mylod
Genre
: Comedy, Romance
Rated
: MA
In What's Your Number? marketing executive Ally Darling (Anna Faris) begins to panic after reading a magazine article which insists that if a woman has slept with 20 people or more, they have already missed Mr. Right. With the help of her hunky new neighbour (Chris Evans) Ally starts tracking down all her exes, hoping to find her real true love, while she helps him escape his latest fling. Hilarious adventures ensue as Ally goes on her wild search for the best 'ex' of her life, only to find what she is looking for has been right in front of her all along.
Featuring hysterical supporting performances from Chris Pratt (Moneyball, Parks and Recreation), Joel McHale (The Soup, Community) and Andy Samberg (Saturday Night Live, Hot Rod), What's Your Number? is based on the book '20 Times a Lady' by Karen Bosnak. It's also packed with laugh-out-loud bonus material including deleted scenes and gag reel, plus an even raunchier extended cut of the film not seen in cinemas!br>
Special Features
:
All-new extended cut
Deleted scenes (additional deleted scenes on Blu-ray)
Gag Reel
Interview by Brooke Hunter
Buy Now from Fishpond