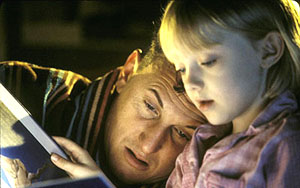 Starring:
Sean Penn, Michelle Pfeiffer, Dianne Wiest, Dakota Fanning, Laura Dern
Directed by:
Jessie Nelson
Produced by:
Jessie Nelson, Edward Zwick, Marshall Herskovitz, Richard Solomon
Written by:
Jessie Nelson, Kristine Johnson, Brenda Wachel
Synopsis:
Sam Dawson (Sean Penn) is a mentally-challenged father raising his daughter Lucy (Dakota Fanning) with the help of an extraordinary group of friends. As Lucy turns seven and begins to intellectually surpass her father, their close bond is threatened when their situation comes to the attention of a social worker who wants Lucy placed in foster care. Faced with a seemingly unwinnable case, Sam vows to fight the legal system and forms an unlikely alliance with Rita Harrison (Michelle Pfeiffer), a high-powered, self-absorbed attorney who takes his case pro bona as a challenge from her colleagues. Together they struggle to convince the system that Sam deserves to get his daughter back and, in the process, fuse a bond that results in a unique testament to the power of unconditional love.