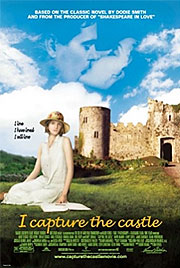 Released: July 10 2003
Cast: Romola Garai, Rose Byrne, Henry Thomas, Marc Blucas, Bill Nighy, Tara Fitzgerald, Sinead Cusack, Henry Cavill
Director: Tim Fywell
Genre: Drama/Romance
Rated: PG
Running Time: 113 Minutes
I love, I have loved, I will love.
Synopsis:
I capture the castle follows 17-year-old Cassandra Mortmain (Romola Garai), and the fortunes of her eccentric family, struggling to survive in a decaying English castle. Her father (Bill Nighy) is desperate to repeat the spectacular success of his first novel, but hasn't written a word for 12 years; her exquisite sister Rose (Rose Byrne) can only rail against their fate, and their bohemian step-mother Topaz (Tara Fitzgerald) is a nudist and no help at all. Salvation comes in the form of their US American landlord Simon Cotton (Henry Thomas) and his brother Neil (Mark Blucas). Although initially repelled by Simon, Rose is determined to make him fall in love with her and succeeds. A wedding is arranged and Cassandra is left on the sidelines as everyone around her is drawn into a maelstrom of interconnected relationships. But events spiral out of control, and before the summer ends she will experience frustrated desire, first love, and a broken heart.
My Verdict:
What a lovely film is I capture the castle. It is very reminiscent of many BBC productions and has that genuine feel of romanticism about it without being too overdone. It is set in the 1930's, and based on the novel by Dodie Smith which was published in 1948.The cast are all superb and all seem comfortable in their roles. The film is told through Cassandra's eyes (Romola Garai) and she narrates the story as she is writing a journal, starting with her first impressions of the castle as a child and continues as she enters her late teens. She has that English rose appearance and seems plain compared to her sister, Rose (Rose Byrne), yet she has an attitude towards life that is beyond her years. She is simply wonderful to watch.
The supporting cast are all equally wonderful. Bill Nighy as the eccentric father is so full of wretchedness that it is hard not to feel sorry for him. He has tried so hard to maintain his values and ideals albeit without an income. His second wife, Topaz (Tara Fitzgerald) is a real bohemian and delights in stripping off her clothes and baring herself to the elements to keep in touch with herself. She is a struggling artist herself and is constantly trying to maintain some dignity in all the family's lives. Rose is the beautiful daughter who is desperate to be free of poverty and is prepared to marry for money not love. She believes that material possessions will be her salvation.
There has to be a love triangle somewhere and in this case it is more of a convoluted triangle as there are a few extra players. The two American brothers, Simon and Neil, arrive and are delighted to find the Mortmain family as tenants in their castle which they have inherited. They do not care for England but soon change their minds as their lives become affected by the relationships that are slowly building between them and the Mortmains. At first they see the Mortmain family as too strange, but slowly begin to see another side to their idiosyncrasies. It soon becomes a tangled web of relationships based on lies.
I capture the castle is so gorgeous, which is a nice change from so many heavy modern day tales. It was nice to be able to sit back and enjoy a plain yet complex movie that didn't need to rely on special effects. It is a movie about love and finding and losing love, which is something that most of us would be able to relate to. It was a very pleasant way to spend two hours and become one of the players in the castle.
-
Christina Bruce