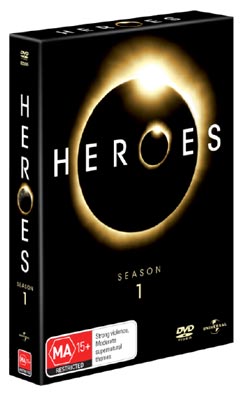 Mohinder Suresh (Sendhil Ramamurthy), a genetics professor from Chennai, picks up his late fathers research and makes an astonishing discovery -a seemingly random group of people around the world are developing astonishing super powers. From a drug-addicted artist (Santiago Cabrera), who paints the future and an ambitious politician (Adrian Pasdar) who can fly, to a New York cop who hears other peoples thoughts (Greg Grunberg) and a Japanese computer programmer (Masi Oka) who can distort the space time continuum, these new Heroes seem to have a shared destiny.

Creator Tim Kring ('Crossing Jordan') fashions a complex new world full of hidden clues, breathtaking plot twists and suspense-filled conundrums for an exhilaratingly fresh story about average people who are confronting the existence of inexplicable super powers. Also starring Milo Ventimiglia, Hayden Panettiere, Ali Larter, Noah Gray-Cabey, Leonard Roberts, Tawny Cypress and Jack Colman, Heroes: Season 1 is packed with special bonuses that take viewers deeper into this rich and riveting series. Relive the excitement or discover it for the first time with Heroes: Season 1 on DVD and HD DVD.

SUPERHUMAN EXTRAS

Heroes: Season 1 reveals some of the shows hidden secrets with interviews, mini documentaries and extensive profiles, including:


Unaired Pilot: The Tim Kring Cut with Audio Commentary - A full 73 uninterrupted minutes of the original, unaired, extended pilot episode, as Heroes creator Tim Kring first envisioned it, with a character never seen.


The Making of Heroes - From concept to pop culture phenomenon, a behind-the-scenes look at the hottest new series on television


Special Effects - The secrets behind the eye-popping visuals that give the Heroes their amazing powers.


The Stunts - A back stage look at the shows hair-raising stunts.


Mind Reader - Matt Parkmans mind reading abilities reveal your inner Hero with a series of simple tests.


Profile of Artist Tim Sale -A look at the Eisner Award-winning comic book artist (Spiderman, Batman, Daredevil) behind much of the Manga-influenced artwork used in the show.


The Score -Go behind the scenes with Wendy Melvin and Lisa Coleman (of Princes The Revolution) as they create their ASCAP Award-winning musical score.


50 Deleted and Extended Scenes

Seven-Disc Set Featuring the Never-Before-Aired
73-Minute Premiere Episode.
Ordinary people with extraordinary abilities link a group of complete strangers that may determine the future of the world when Heroes: Season 1 comes to DVD and HD DVD from Universal Studios Home Entertainment.

The most acclaimed and addictive new series of the 2006-2007 television season, Heroes: Season 1, which was created by Tim Kring ('Providence,' 'Crossing Jordan'), features an extraordinary ensemble cast that includes
Sendhil Ramamurthy (Blind Guy Driving),
Milo Ventimiglia ('Gilmore Girls'),
Adrian Pasdar ('Judging Amy'),
Hayden Panettiere (Bring It On: All Or Nothing),
Ali Larter (Final Destination),
Noah Gray-Cabey, ('My Wife & Kids'),
Leonard Roberts ('Smallville),
Santiago Cabrera ('Empire'),
Tawny Cypress (NBCs 'Third Watch'),
Greg Grunberg ('Alias'),
Masi Oka, (NBC's 'Scrubs'),
Jack Colman ('Dynasty'),
James Kyson Lee (NBCs 'Las Vegas'),
Zachary 'Quinto ('24'),
Ashley Crow (NBCs 'American Dreams'),
Cristine Rose (NBCs 'Friends'),
Jimmy Jean-Louis (Monster-in-Law),
Eric Roberts ('Less than Perfect') and
Malcolm McDowall ('Entourage').

Electrifying intrigue, compelling mythology and soaring imagination make the NBC epic drama the must see event of the year. Praised for its "propulsive, surprisingly and emotionally charged storytelling" by Entertainment Weekly, Heroes nabbed the Peoples Choice Award for Favorite New Drama Series and a Golden Globe® nomination for Best Drama Series of 2007, even before completing its first season. Heroes is televisions number-one new show of the 2006-2007 season.
Source: Nielsen Research Media

"Heroes is one of those rare television series with such broad popular and critical appeal that it has become an instant cultural phenomenon," said Craig Kornblau, President of Universal Studios Home Entertainment and Universal Studios Digital Platforms. "With the extraordinary array of compelling bonus content offered on both the DVD and HD DVD respectively, this title, which has already generated tremendous anticipation among consumers, is well poised to be one of the greatest, must-have DVDs of the year."

The seven-disc DVD set is packed with revealing bonus features, including five featurettes, over 50 deleted scenes plus the 73-minute Tim Kring cut of the original series premiere that has never aired on television and much more.

RRP: $89.95
Discs: 7