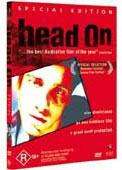 Actors: Paul Capsis, Alex Dimitriades, Damien Fotiou, Eugenia Fragos, Julian Garner, Elena Mandalis, Tony Nikolakopoulos
Director: Ana Kokkinos
Genre: Drama
Rating: R 18+
Running Time: 104 minutes

Twentieth Century Fox Home Entertainment announces the release of the groundbreaking, controversial Australian contemporary classic - Head On - available to own on DVD for the first time.

Ari is nineteen years old, a little confused and very pissed off. He jams all his energy and defiance, pain and joy into one high velocity night of dancing, sex and drugs. He is running Head On into his own kind of freedom.

This critically-acclaimed, controversial film deals with the issues of sex, drugs, youth culture and multicultural Australia Head On. This is the film that broke the mould and portrayed Australian inner city living in a very different light.

Available for the first time on DVD and packaged in a collectable limited edition slipcase, this Special Edition boasts some fantastic features including the featurette: "Head On: Six Years On," which shows the cast and crew reunited six years after the initial release of the film to watch and discuss it together on the brand new 16x9 Digitally Enhanced master. There's also an exclusive Paul Capsis music video - "Jealous Guy" as well as the theatrical trailer, photo gallery and more.

Special Features:
Head On: Six Years On - Behind The Scenes Reunion.
Paul Capsis Music Video 'Jealous Guy'. Cast & Crew Filmographies
Photo Gallery
Theatrical Trailer

"the best Australian film of the year" Lawrie Zion

"A brilliant and yet confronting cinema experience - an exhilarating piece of filmmaking that once again makes you excited about seeing another terrific Australian film" 4 Stars Margaret Pomeranz, The Movie Show, SBS TV