Happy Feet Two
Voice Cast
: Elijah Wood, Robin Williams, Hank Azaria, Alecia Moore (P!nk), Brad Pitt, Matt Damon, Sofia Vergara, Common, Hugo Weaving, Magda Szubanski, Anthony LaPaglia, Richard Carter
Director
: George Miller
Genre
: Family, Animation, Drama, Comedy
Rated
: G
Synopsis
: The sequel to 'Happy Feet', the Academy Award®-winning animated smash hit, Happy Feet Two returns audiences to the magnificent landscape of Antarctica in superb 3D. Mumble, The Master of Tap, has a problem because his tiny son, Erik, is choreo-phobic. Reluctant to dance, Erik runs away and encounters The Mighty Sven a penguin who can fly! Mumble has no hope of competing with this charismatic new role model.
But things get worse when the world is shaken by powerful forces.
Erik learns of his father's guts and grit as Mumble brings together the penguin nations and all manner of fabulous creatures from tiny Krill to giant Elephant Seals to put things right.
Release Date
: December 26, 2011
Website
:
www.happyfeet2movie.com.au
About the Production
"It's part of the job of life to find out who you are and what you've got"
Continuing the Adventures of Happy Feet
In 2006, a movie came along that not only delighted audiences, but had them tapping their toes and singing heartsongs. Happy Feet was an unqualified global hit that appealed to critics and audiences of all ages. The film went on to earn numerous awards, culminating in the Academy Award® for Best Animated Feature. It also fueled greater efforts for environmental and wildlife conservation and even entered the modern lexicon, with happy feet becoming a synonym for tap dancing, its star Mumble's particular talent.
George Miller explains, "I often say that these stories are for the adult in the child and the child in the adult. I think one of the reasons why Happy Feet resonated is that it had a kind of nourishment to it, with the time-honored ideas of being true to yourself, being brave and trying to treat the world and yourself with respect."
The idea for the story of Happy Feet Two actually began even as George Miller and his team were putting the finishing touches on the first film.
"When you work on a film like that for so long, you actually fall in love with the characters. They became a part of your family," the filmmaker continues. "As you're thinking about them, new stories arise, which is what led to Happy Feet Two. It was surprisingly easy to go back there, and so much fun hanging out with them once again."
But George Miller, who directed, produced, and also co-wrote the film with writers Gary Eck, Warren Coleman and Paul Livingston, aimed to do much more than simply return to Antarctica with Mumble, Gloria and the other penguins. He explains, "I think what a storyteller wants from every film is to have the audience somehow experience something that they can relate to, so that they can see their own lives through it. I think this new film, which is about family and community, gives them the opportunity to be able to do that through the characters of the penguins."
In the new film, George Miller wanted to imbue even more physical comedy and action, while staying true to the spirit of the first movie. Happy Feet Two has all the singing and dancing and beautiful Antarctic landscape, but there are new characters of every dimension, from the largest scale to very tiny creatures," he says. In fact, the tiniest of the film's creatures are voiced by two of today's biggest stars: Brad Pitt and Matt Damon as Will and Bill The Krill.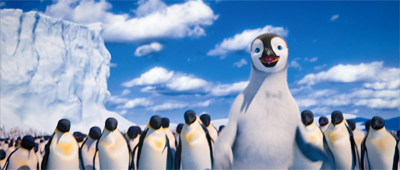 Producer Bill Miller elaborates, "We had to reacquaint the audiences with the characters they know and love from the first film, but we needed to take those characters and the audience somewhere different. And we had to raise the bar with the music and dance."
As the story opens, the vocally challenged but choreographically gifted Mumble, once again voiced by Elijah Wood, and the golden-throated Gloria, voiced by Alecia Moore (P!nk), are parents. Mumble's own difficult adolescence, however, did not prepare him to be the ideal dad. His son is a fluffy fledgling named Erik, who seems disinterested in dancing, while the rest of the Emperor nation is movin' and groovin'. But when Mumble encourages him to try tripping the light fantastic, Erik simply trips over his own feet… landing him head first in the snow and the object of derision. Erik hides in shame, and Mumble's attempts to reassure his self-doubting son only make matters worse.
George Miller observes, "Mumble is now a parent, and the tables have turned on him. Now he has the problem of being a father with a child who doesn't completely conform to the way Mumble thinks his son should be! And he truly wants to connect with his son. We all think when we become parents that somehow, we'll know how to do better than our parents did. And, of course, we often make the same mistakes, because there's no real instruction manual about how to be a good parent. And that's what I speculated in the story would happen with Mumble."
Producer Doug Mitchell comments, "One of the themes in the film is clearly about the relationship between father and son. Mumble, like all parents, struggles with the intent to offer unconditional love and support, he wants the best for Erik, but he also may need to let go a little and let his son find his identity for himself."
But the filmmakers ratcheted up the stakes: Mumble not only has to find his way through fatherhood, he ultimately must find a way to save the entire Emperor community, pitting penguin against nature. Violent shifts in the glacial landscape are threatening the Emperors' very survival, and it falls to Mumble to rally creatures both great and small, to save them.
"If you want it, you must will it. If you will it, it will be yours.
SvenTM. All rights reserved, copyright me."
Voices of the Flock, returning and new
When Happy Feet Two begins, "It's party time", says George Miller, "and at the center of everything are Mumble and Gloria. Gloria is singing, Mumble is dancing, and everyone is inspired by the rhythm and chemistry between the two."
Mumble has grown up to be a respected leader within the Emperor penguin community. Elijah Wood returns to the role of the masterful tap-dancing penguin, whose unique talents have captured the hearts of so many. "I knew that George would never do a sequel unless it was something that he felt was true to the original story and that there was another compelling story to tell."
In fact, the same things that attracted the actor to the original film have been reprised in the sequel. "There are beautiful environmental themes throughout, pointing to the change that is occurring in our world now, and how it's affecting our precious animals," Elijah Wood continues. "George Miller handles it so well, just as he did in the first film. It's woven into the piece in an organic way, along with the themes of love and identity. I think it's especially good for young people to see a film like this and recognise that it's ultimately the things that differentiate us from others that are our strongest defining characteristics. Those are qualities to be celebrated, not ashamed of."
If Mumble is the undisputed dance champ of Emperor Land, his mate Gloria is the undeniable diva. For the role of this powerhouse songstress, the filmmakers turned to Alecia Moore, also known as triple Grammy-winning recording artist P!nk. "P!nk was a natural for the role, and has been really superb," says director George Miller. "She had sung in the opening of the first movie and wanted to be involved again because she's compassionate and a great animal lover. So for this one, in addition to voicing Gloria, she wrote the wonderful lullaby called Bridge of Light, with Billy Mann."
No stranger to a recording booth, Alecia Moore was nonetheless a little nervous about making her voice acting debut. Watching other cast members helped to change that. She recounts, "I got to watch Brad Pitt and Matt Damon not only record some of their dialogue, but they also had to sing. They just went for it, and I thought, Wow, I really have nothing to fear in there."
Producer Doug Mitchell says, "When it came to Alecia Moore's turn to record, of course, she totally nailed it. She's a great professional and a lovely person. Her song, Bridge of Light, is wonderful and touches on one of the great themes in the movie."
Another of Mumble's companions returns in the sequel: his best friend Ramon, the talkative Adelie penguin, who has been drawn to Emperor Land because he finds the senoritas altas alluring. Too bad they find him alarming.
Robin Williams again voices Ramon. "He is basically still the same incurable romantic. He still loves las chicas, but he has not found the bird of his dreams. And yet, he still has an image that he is a gift to all females, that they want him in the worst way. The Adelies all are very, very machismo; so though he is small, he is fierce."
According to co-screenwriter Gary Eck, "Robin Williams just brought so much to the table. He came up with these lines, and we sit there and you say, That's great! We'll use that! Sure, we spent eight months coming up with that line, but you just made it even better in two seconds. So, thank you!" he laughs.
No matter how macho he is, a penguin can only take so much rejection from the opposite sex. Realising he'll have no luck with the Emperor ladies, Ramon journeys back to Adelie Land, where he finds that things have changed. Not only is the 'New Adelie Land' full of many different species of penguin, the place is more colorful-with patches of green peeking through the snow. And so is Lovelace, the guru Rockhopper Penguin who now sports a crazy rainbow sweater.
Lovelace is also voiced again by the multi-talented Robin Williams, who points out, "Lovelace was rescued from an oil slick. A penguin loses buoyancy in a slick, so he was scrubbed up by humans, who the penguins refer to as 'the aliens'. But after being cleaned up, penguins lose some of the warmth of their feathers, so there are folks who knit little sweaters for rescued penguins. They can't swim in them, but until they're ready for release, they wear them. Lovelace's is striped; he looks like a tiny colorful Rasta penguin."
While Lovelace appears to occupy 'center stage' in Adelie Land, he is actually now more the warmup guy than the headliner, having brought a new star to the Adelie community. Robin Williams says, "Lovelace is now a kind of Foghorn Leghorn/Barry White preacher, and he's there to testify. Because it's Sven Time!"
George Miller explains, "Lovelace points up to the top of a tall iceberg and there, backlit by the sun with this beautiful sky, is a penguin unlike any we've ever seen before. He walks over to the edge of this massive tower, and the huge crowd cheers. Calling out, 'Up, up, uppity up!' he jumps…and he flies! He's a flying penguin with a huge red beak and golden hair on the back of his head. He just looks magnificent."
Hank Azaria, who is the voice of Sven, remembers how much he enjoyed the original film. "I knew nothing about the movie before I saw it. I couldn't believe I could be so moved by these computer-animated penguins who were singing and dancing, but that's what happened. That's the main reason I really wanted to be part of this."
Lovelace and Sven were thrown together when they were both rescued by the 'aliens' on a scientific research ship. When Sven suddenly and unexpectedly flees their rescuers, Lovelace leads him to the all-new Adelie Land. There, Sven's belief in self-empowerment, known as SvenTHINKTM is given credibility by his unique ability to conquer the sky. Being seen as a penguin who can fly has gained him the adulation of the penguin masses who seek to follow his wondrous ways. The Mighty Sven has won the hearts and minds of the Adelies and all the other species who have gathered there: Chinstrap, Magellanic, Rockhopper and Fairy penguins.
Sven's exotic accent signals to the other penguins that he's from unknown lands. As Hank Azaria tells it, "He has this funny honking laugh. Any role I take, whether it's animation or on camera, I start with the voice. George Miller and I talked specifics on the accent and the register, and then form just followed function. Sven is smooth…smooth-y, as he would say. He's having a lot of fun being revered. He was the ugly duckling where he came from, and he's worshipped here. He'd fit right into Hollywood, I think."
Perhaps more jealous than skeptical, Ramon is at first, a non-believer. That is until SvenTHINK leads Ramon to his ideal mate: a caliente alpha-Adelie chica named Carmen. A statuesque Hank Adelie beauty, Carmen has no shortage of suitors, so is quick to dismiss the advances of the love-struck Ramon.
George Miller cast Sofia Vergara as Carmen. Mitchell, a fellow native of Colombia, comments, "Sofia Vergara is a great ambassador for Colombia. It's a very beautiful country, and the people have a great passion for life, and I think Sofia reflects all of that."
Sofia Vergara offers, "They showed me what Carmen looked like, and I thought, You know, if I were a penguin, that's what I'd probably look like. I love her swagger, and she's very choosy. She has a flock of men always around her, but she's waiting for that special guy who'll make a grand romantic gesture and just sweep her away. Until then, she's just like, No thank you; just move along, Senõr."
Whenever possible, George Miller eschewed individual recording sessions in favor of groups who could interact with each other around the mic, and Robin Williams enjoyed the opportunity to work with Sofia Vergara. "She's kind and so sexy. To have her there was a gift, and it's not hard to think…'Imagine you're in love with this penguin. Okay. I'm ready. Let's go, let's do this. Do you mind if we get close? Too close? Oh, sorry.' But she was so much fun to work with."
When Ramon returns to Adelie Land it is not alone, he inadvertently becomes the unwilling guardian of three small tag-alongs, including Mumble and Gloria's son Erik. Feeling humiliated by his failure to dance, little Erik runs away by following his uncle Ramon, together with his best friends, Atticus and Boadicea. Called Bo, the last of the trio is a gymnastically gifted young penguin and the daughter of Emperor Land's elementary school teacher, Ms. Viola, voiced by the returning Magda Szubanski. The hippest one of the young runaways is young Atticus, the son of Seymour, who is played by rapper/actor Common in his animated feature film voice-acting debut.
"I never thought I'd get to play the role of a dancing, singing, rapping penguin," Common attests. "I watched the first movie, and it moved me, so to be able to be a part of that legacy was really exciting."
The actor says George Miller described Seymour as "the cool dad with a hip-hop swing, which I knew I could totally accomplish." In fact, in the recording booth, he worked just as hard as if he'd been in front of the camera. "Pretty much every day I would come out of there with my shirt soaking wet from sweating, because I was expending a lot of physical energy getting into the character."
The perky Benjamin Lil P-Nut Flores, Jr., whom producers spotted in an appearance on Ellen: The Ellen DeGeneres Show, was cast as Seymour's son, Atticus. George Miller recalls, "He had so much swag, as I say, and the little guy could freestyle the rap. But there was also something very professional and very centered in that kid."
The then-seven-year-old performer came to the role slightly disappointed, however, thinking at first he was going to get to dress up as a penguin. But once it was explained to him that a costume was unnecessary, he cut loose and found the experience totally cool. "I had a really good time using my imagination while I was doing the movie. It was like I was really a penguin out there, having this adventure," Benjamin Lil P-Nut Flores says.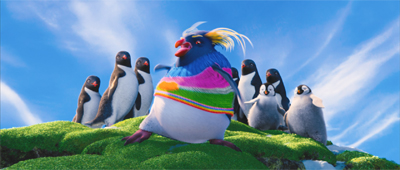 Atticus, who loves eating as much as rapping, is much more vocal than his shy little pal Erik. George Miller expands, "Erik rarely speaks up, so his best friends, Atticus and Bo, end up doing most of the talking for him."
Like her mother, Ms. Viola, Bo is a consummate yodeler, but also excels at parkour or free-running, using snow drifts and moguls to move quickly and effortlessly over the icy Antarctic landscape.
For these baby penguin roles of Erik and Bo, George Miller sought authenticity in his casting by slotting equally young performers in the parts. In order to keep the recording sessions fun and productive, George Miller and casting maven Kristy Carlson worked closely with the children at the microphone to carefully draw out and shape the performances from the youthful talent.
Producer Bill Miller describes them as "these tiny little people; like Ava Acres, who plays Erik, and Meibh Campbell, who plays Bo, who would come into the studio and be dwarfed by the mic stands and headphones around them. But there was nothing diminutive about their acting skills. Each one of these kids was able to express their wonderful ability to be in the moment, to become penguins and still be themselves."
Between these recording sessions, scratch tracks were laid down by the uniquely gifted voice of EG Daily to enable the the story reel and production to progress and evolve. In fact, the talented vocalist also provides Erik's singing voice in the final film.
To round out the cast, back from the original Happy Feet are Ramon's fast-quipping Adelie Amigos, voiced by Carlos Alazraqui, Lombardo Boyar, Jeff Garcia and Johnny Sanchez III. Hugo Weaving reprises the voice of Noah, the head elder of the Emperor Penguins. Hugo Weaving quips, "I've played a lot of different kinds of characters, assassins, villains, a Transformer, a drag queen, but it is rare that I get to play anything that comes near being cute. That's a character challenge for me, and one of the reasons I came back to work for Mr. George Miller."
"Will. We are Krill. We are meant to look the same."
"Not me Bill, there is only one of me in all the world. I am oe in a krillion."
From Tiny Krill to Huge Predators: A Wealth of Species
One of the film's biggest adventures is undertaken by its smallest characters. "It's the journey of two tiny krill, Will and Bill," George Miller says. "They live in a great biomass of billions and billions of krill that move with the tides…they're the bottom and the basis of the food chain. Every animal up the chain relies on krill. And in the middle of these indistinguishable billions are Bill and Will, played by Matt Damon and Brad Pitt. Will decides that he feels he's different from everyone else around him and he ventures outside the swarm. Will wants to evolve higher up the food chain. Bill, on the other hand, is terrified. He just wants to stay and continue to behave exactly like all the other krill."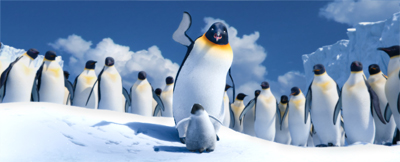 Co-screenwriter Gary Eck expands, "There are a lot of parallels between Will's story and Erik's story in this film. They both set out on a journey; thanks to Sven, Erik thinks he can learn to fly, and Will, just out of his own desire to break away, wants to become a predator. They're both quite delusional ideas, and it's not until the end of the story that they realise the truth. Even though they're miles apart, one lives down in the ocean and the other lives up on ice, their stories are very similar."
George Miller was happy to have the opportunity to pair Matt Damon and Brad Pitt in the recording studio to capture both their irrepressible banter…and their singing. "They were really very free, working off each other, because they know each other so well. Matt Damon can sing, and Brad Pitt made it really clear upfront he couldn't. But Brad Pitt just said, 'This is a no-shame zone; I'm just going to go out there and give it a go,' and he did remarkably well. His singing is in the movie."
Matt Damon admits, "The singing was a bit of a surprise. It was fun to just go for it and say, 'What the hell?' It's definitely not my strong suit, but I figured, you gotta go loud or go home."
It was lucky for the filmmakers that both Brad Pitt and Matt Damon were available to record together in the same studio. And both actors agree they were fortunate to have a filmmaker like George Miller to guide them. Matt Damon observes, "There is a contagious fearlessness that comes from George Miller. You see a guy who loves the project that much and you realise that what made the first movie great is that spirit. Brad Pitt and I were doing stuff we've never done in any kind of movie, animated or not. We left there thinking, 'Now that was cool!'"
George Miller offers, "We wanted different levels of humor in the film, you have the wild, flamboyant Robin Williams type of humor, which can go anywhere. We wanted the krill to have a different tone to their humor. One of the writers, Paul Livingston, is particularly good at that."
"I've been on the other side of the mic," Paul Livingston recounts, "as the voice of a cantankerous rooster in Babe and a hot-headed chef in the sequel. It was also my privilege to be involved in the initial writing workshop for the first Happy Feet, and in the early brainstorming sessions for the sequel, which led to the development of the two krill characters, who were placed under my care. As the characters took on their own momentum within the story, it became a case of melding the tiny mission of the krill with the major storyline."
Doug Mitchell adds, "We learned later on that Brad Pitt's and Matt Damon's kids are fans of the first film, and I think it is safe to say that they had a lot to do with them taking the roles."
One should never undervalue the contribution of the small. Filmmakers learned that lesson, as Bill Miller comments, "Do not underestimate the power of children to pester their parents to act in a film. Matt Damon told us he hadn't even cracked open the screenplay to Happy Feet Two before his daughter said, 'Dad, you're doing it.' Matt Damon really had no choice."
The story moves seamlessly from krill to something a bit larger. Having tracked down the runaways Erik, Bo and Atticus in Adelie Land, Mumble is leading them back home when the Emperor penguins cross paths with a massive elephant seal, named Bryan, a.k.a. the Beachmaster, voiced by Richard Carter. George Miller likens this scene to the well-known tale of Robin Hood, who tries to cross over a log in the forest but is blocked by Little John. Here the penguins are prevented from passing across a precarious ice-bridge by Bryan, who declares, 'The Beachmaster backs up for nobody.' Turns out, this humongous creature's stubbornness comes partly from his need to protect his own two seal pups who are behind him, obscured by his huge bulk.…both dads are looking out for their own. Their encounter will have far-reaching implications that neither could anticipate, reminiscent of another ancient fable, Aesop's Androcles and the Lion.
There are other polar predators present and accounted for, including a fierce leopard seal, who obligingly gives chase to Mumble when Mumble devises a plan to rescue the fallen Beachmaster. Also back are flocks of the large, vicious brown Skua birds who, given the chance, swoop down ruthlessly upon any baby penguin left unattended. Their two avian ringleaders are voiced by Anthony LaPaglia and Danny Mann, reprising their parts from the first film.
In addition to working again with George Miller, the returning actors relished the luxury of recording their roles in a group, as they did on the original Happy Feet. Elijah Wood found the process of the sessions particularly rewarding. He elaborates, "The beautiful thing about this film is we actually recorded everyone in the same room. Many of us went to Sydney where the majority of the recording was done. It was a real advantage to go there as a group, and I think it was more transporting for us. Away from our homes, all together, it made us feel united, creatively. George Miller and his team were constantly working on the writing. And so there was this really wonderful feeling of playing with the text and working these scenes out, seeing where they would go. It was exciting."
Co-writer Warren Coleman says, "For the writers, the process was very similar to the way we worked on Happy Feet. It was very much a spirited give-and-take free-for-all. We often worked by sketching out dialogue and ideas as we acted them out, then wrote down what worked best. The upshot was that by the time the script pages went into the recording studio, the words had already been in the mouths of writers and actors, and were voice-ready."
The thing I recognised long ago," George Miller underscores, "is that really fine actors are collaborative. How they engage with one another is the most important thing. The best actors, to me, are more interested in the interplay than in their own individual work. Quite often, someone, Robin Williams or Hank Azaria, or any one of them, would get in there and start feeding lines to the other actors, and give them something to work with. That was inspiring to see. So having them all together was really important and proved that it was worth all the trouble to get them in the same room. Technically, it was a little bit difficult for the sound guys, but the gain was so much more…we got something extra special in the end."
"Let's Dance, Let's Shout!"
Setting the Groove with Music and Moves
As in the first Happy Feet, performances were expressed from head-to-toe. The film again boasts some of today's best dance talents, led by Savion Glover, who George Miller calls "arguably the best tap dancer in the world." Savion Glover returned to provide Mumble with his signature moves. The film also enlisted choreographer Wade Robson, who was tasked with creating the explosive opening number, with its mixture of styles and legions of hoofers. Dein Perry was asked to inject his signature percussive tap, popularised in Tap Dogs, his worldwide hit stage show into the feet of the multitudes of differing species, and Kate Wormald, continued and expanded her work as a principal dramatic and dance motion-capture performer in the original film, this time choreographing and helping coalesce the resulting performances.
George Miller asserts, "In the first film, I wanted people to feel they could dance in the aisles. Now, I want people to leave the theater with this intense feeling of what it is to dance to actually think about what it means to be connected to other people, your friends, your family, your community at large. As the story unfolds, this idea of unity of purpose becomes very clear and is ultimately played out in a very, very spectacular way."
An army of computer artists worked to translate the choreography expressed on the motion-capture stage into the animation. Animation director Rob Coleman explains, "We have to modify the choreography, because the penguins have very short legs and the dancers, of course, have normal human legs, knees become an issue. So the range of motion on a penguin is much smaller than what you get from a human. We have a great team of people who translated the movements into penguin actions."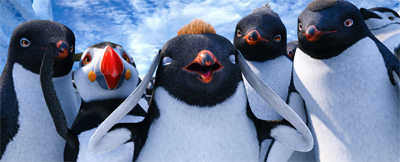 Tap-master Savion Glover left his penguin concerns to the animators. "With the technology being advanced as it is, it was really up to those technical heads to do the penguin thing. I was just able to relax and be myself, versus trying to dance like a penguin. These guys have continued to work on the animation techniques, it's amazing to see. Many years ago, my first time on the set of Happy Feet, I was kind of restricted in some of my movements. This time around, I didn't get any notes about anything like that. They have been working overtime to make the tech side work, and it's really a great thing."
Not only has the art of animation advanced, so has the dance knowledge of audiences, with the ever-growing global popularity of television programs centered around competitive dancing. George Miller notes, "Because of these shows now, the audiences out there are very sophisticated in their knowledge of dance and the different styles and fusions of style. And that is what we really built into our work. It's not just the old-style thing, basic cute sequences with dancing penguin, I don't think audiences are impressed with that anymore. We're really pushing it, raising the bar."
So insistent was the filmmaker on upping the dance wow factor that animators worked on tweaking the already-existing penguin rigging, the articulated inner-skeletons that determine style of movement and range of motion for each animated creature.
Despite these adjustments, Dein Perry was initially skeptical that his industrial approach to dance would translate to penguins. "We like to stomp the ground really hard, but you have to watch the height of the jumps and how high you raise the legs, because on a penguin, the legs will disappear into the penguins' bellies."
Opening sequence choreographer Wade Robson collaborated with the animators to ensure that none of his carefully crafted moves were lost in translation. As Wade Robson explains, "Penguins not only have short legs, they don't have shoulders, and a lot of my stuff happens in that range. So keeping within the level of suspension of disbelief, we raised the tops of the fins just a bit when they're brought above the shoulder. We went back and forth for a while with the animators, developing new rigs for the penguins for this type of dance, which is rooted in hip-hop. It's percussive, it's sharp, it's playful, funky and fluid, somewhat in a James Brown mold."
Choreographer Kate Wormald picks up, "The opening dance sequence is very much a kind of now piece. You can tell with all the music choices, we've really tried to funk it up' as much as we could. The later sequence in Adelie Land has a little more choreography coming out of character. And then the finale, this huge tap number with nearly every creature dancing together, has that heavy, gritty tap-stomp element to it."
The big finale has more in motion than just feet. "When we first put it on paper, I was a little worried we couldn't make it work," says George Miller. "The set is moving…the ice is moving…the snow is moving, and the characters are all moving. It's very dynamic, and we've got all of the different sizes of characters, from the teeny weenie ones to the huge ones. We created an opportunity for ourselves to do something really special, and I'm thrilled with how it all came together," beams the director.
Such a mammoth undertaking was not doable even a few years back, but the leaps in animation capabilities have greatly expanded possibilities. Co-director and digital cinematographer David Peers offers, "We're doing things on this film that were impossible on the first one. We've got these massive dance numbers with tens of thousands of characters, and we're able to interactively work on them, adjust how the choreography works on the set, the timing of the music, alter the positions of some of the characters, all of this in real time."
And what are these thousands upon thousands of creatures dancing to? Says producer Bill Miller, "When it came to choosing the songs for the film, we went through many, many options, always looking for pieces that would progress the story. What we came up with was a strange confection of different genres, from opera to ballads, rap and R&B classics, and in all of this, we were able to tell the story using these song elements."
George Miller adds, "Musically, the philosophy of the movie is to take classic songs, classic styles, and reinterpret them into the contemporary form. Virtually everyone is doing a kind of meshing of styles. We have opera, we have yodeling, we have rap and hip-hop rhythms, dance music, contemporary pop, all fused together."
George Miller once again turned to composer John Powell to construct the musical soundscape of Happy Feet Two. The director says, "I work with John Powell like I do actors. He's someone I can sit with and say, 'Oh, this needs to feel a little more like this.' And he actually performs, composes and adjusts his composition in front of me, almost perfectly."
The composer illustrates the process: "We understand songs, because we've heard them so many times. They land in our ears, in the same format and same structures, over and over again, all through our lives. So we know exactly how they should feel and, if you do something odd with them, it feels wrong, and everybody knows it. So you have to be careful with how you handle known songs. Sometimes, I take risks with them, to try and make them work for George Miller and for the film. But, in the end, we always try to respect the songs, and to find the ones that we can twist just that little bit into what we need."
Choreographer Wade Robson expands, "We wanted to open up with a celebration about unity, and reintroduce the characters amidst this massive party of dance and music, which, thanks to Mumble, has become a way of life for them."
The opening sequence includes the grooves of Rhythm Nation with Shake Your Body (Down to the Ground), Mama Said Knock You Out, SexyBack, Ain't Nobody (Does It Better) and Do Your Thing. Other musical gems that appear in Bill Miller and John Powell's treasure chest are tunes by 80s mega-acts, rock anthems, dance tracks, the theme to the classic western television series Rawhide, and even a heartbreaking aria based on E Lucevan Le Stelle, from Puccini's opera Tosca.
To illustrate the multi-cultural assembly and collaboration of penguins and other fellow Antarctic creatures, the tunes are far from straightforward in their orchestration, rhythms are tinged with musical flavorings from around the world, but, interjects John Powell, never so the listener should catch too much-the whole idea is to blend them all together.
"Stay close. Stay warm."
"Come on everyone…huddle up."
3D Animation: Characters and their Environments
George Miller emphasises, "I think one of the reasons the original Happy Feet worked so well was that it differentiated itself by its look. We went for photo reality as much as we could, as much as the technology and our skills allowed us to do at the time. We based everything on the natural history of Antarctica: the behavior of the penguins; the way that the ice forms; the way the winds and the clouds happen. It had a kind of authenticity to it. But also, it was the beauty of Antarctica. Even though it all looks like just ice and snow, there is incredible richness, the formations of the icebergs, the shades of the water, the colors of the light with the low sun, the beautiful auroras that cross the night sky."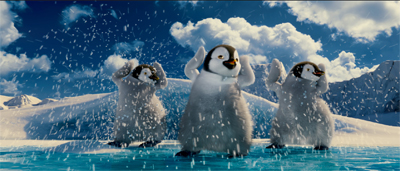 Producer Bill Miller offers, "We could now refine a lot of the techniques learned on the first film and, using the core team that made the film, we were able to take Happy Feet Two into new, advanced areas, increasing the level of photorealism."
Co-director/cinematographer Peers says, "As a cinematic experience, this film takes place across a massive range of amazing environments that we haven't seen before, along with the scale of what goes on in Emperor Land. It's a mix of a love story, an adventure and a disaster movie…with singing and dancing. It's just epic."
Animation director Rob Coleman also thinks it has to do more with evolution of the animators themselves than just the technology. "Yes, it's a big improvement over where we were five years ago. The software has gotten better, but also, the smarts-the people who are working through this are coming up with some great techniques and tools. With things like the rendering, the feathers and fur, the eyes, the snow, all of that is a marked improvement. And that's thanks to the many people in the R&D, software and the IT departments. They sat with us in the early days and we spec-ed out our needs. For instance, I used a review tool that allows me to see my team's animation cut in with the lensing, the lighting and the effects work. I used that daily to work with George Miller, and that was a great piece of integration technology that was put together specifically for this film."
Because authenticity of the environment was paramount, dedicated teams of artists were tasked with executing the look of specific facets of the Antarctic continent. These artists became polar specialists by researching and studying such things as the behavior of snow and ice, which could be translated into surfacing and lighting techniques. Says George Miller, "Even what might seem trivial, stuff you see in the background, the way snow behaves, the way wind influences the snow, the way water moves, the way the sky is lit, are things that we took carefully from nature. We all learned a lot."
And this visit to Antarctica is three-dimensional, as producer Doug Mitchell explains, "The quality of the images is exponentially better this time around, and 3D is a large part of that. Now, the technology and the people onboard are so accomplished that you can't help but become a part of this world. It's spellbinding.
For stereo supervisor Jason Fairley, there was one overriding dictum: "At the beginning, we were given some goal posts to work with. But with George Miller, it's all about story, so the most important thing about the use of 3D on this project was that it enhance and progress story. The 3D work was never allowed to distract, but always deployed to help the audience experience what was happening in the moment. Hundreds of people worked very hard to make the film as emotional, interesting, exciting and immersive as possible, so the stereoscopic dimension was simply used to intensify the viewer's experience of that engaging story."
The 3D tool was also useful when it came to the multitudes of creatures that waddle, swim, dance and/or float across the landscape. George Miller says, "There's a scene with a family of beautiful, incredibly iridescent jellyfish, and as they move, it's like some weird, strange, ethereal dance. The icicles dripping with water, in beautiful t