Giuseppe Tornatore The Best Offer Interview
Cast: Geoffrey Rush, Jim Sturgess, Sylvia Hoeks, Donald Sutherland
Director: Giuseppe Tornatore
Genre: Crime, Drama, Romance
Running Time: 124 minutes

Synopsis: Tornatore's long-awaited English language film debut, The Best Offer stars MIFF Patron and Oscar, BAFTA and Golden Globe winner Geoffrey Rush, Donald Sutherland, Sylvia Hoeks and Jim Sturgess (One Day, Across the Universe), and opens nationally in cinemas August 29 with Transmission Films.

Already both a critical and phenomenal box office success in its native Italy, The Best Offer was the biggest winner at the 2013 David Di Donatello awards (Italian Oscars) in June, where it walked away with 5 awards including Best Film and Best Director, and has grossed a staggering $11.5 million dollars at the Italian Box Office. Shot on location in Italy and Prague, The Best Offer marks another collaboration between Tornatore and the legendary Italian composer Ennio Morricone who scored the film.

A dramatic mystery set in the high-stakes world of European art auctions, The Best Offer stars Geoffrey Rush as Virgil Oldman, a solitary, cultured man whose reluctance to engage with others, especially women, is matched only by the dogged obsessiveness with which he practices his profession as a high-end antiques dealer. One day Virgil receives a phone call from a mysterious young heiress, Claire (Sylvia Hoeks), who asks him to evaluate some family works of art. It will be the beginning of a relationship that will change his life forever…

The Best Offer
Release Date: August 29th, 2013



Interview to Giuseppe Tornatore
About the film

Giuseppe Tornatore: The plot of the movie has a very simple narrative pattern.

It's a love story that fallows the thriller weaving without being a thriller: there are no murders, no killed people, no police, no investigators.

The protagonist is an accomplished and highly esteemed auctioneer, an art connoisseur with a very complex personality.

He is called by a young woman who entrusts him with the sale of the furniture and the paintings of her ancient villa.

It will slowly come a very complex relationship that will bring our character to a total overturn of his personality, his way of relating to life, to the world and to other people.

The film originates from two completely different ideas of two different stories: the first is a very old one, something I had in my mind since more than twenty years, the other one was more recent, dating back just a few years.

They were two stories arousing both my curiosity, but at the same time, they didn't convince me as much as to let them become movies.

Until one day, for fun, I tried to combine the two ideas and I found the solution I was looking for. It was then that the story began to stand on its own.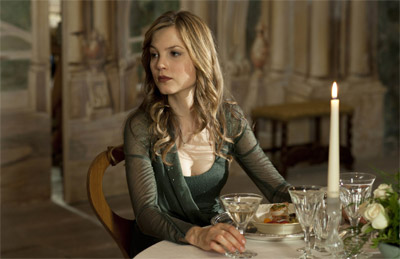 About the cast

Giuseppe Tornatore: I found Jim Sturgess and Sylvia Hoeks the way I always do when I put together the cast of a movie. I did several auditions, I considered various solutions and when I met them I realised that Jim was the Robert I needed and Sylvia was the Claire I needed. Geoffrey Rush was one of the actors who immediately came to my mind, I thought of someone like him right away. He's an actor I have been following for many years. At the very beginning I was afraid he was too young for the role. Later as I looked for more recent images of his, I found some photos taken during an awards ceremony, I believe, where he had his head shaved. I was very impressed, as my character needed to have something very particular in his hair.

When I went to see Geoffrey at his home in Melbourne, in my suitcase I brought the character of Virgil Oldman. I already knew everything about the character, so I didn't go there to make it up, I did go there as a tailor who has tacked a dress and wants his client to try it on, and then he makes some sewing adjustments like shortening the sleeves, doing some chalk marks and so on.

In this case, I gauged the necessary changes with him. We studied the script literally wordfor-word. So he was not only an actor but also, within the limits of his character, a scriptwriter. He sometimes asked me clarifications about a word or a dialogue, or some reaction that might seem unclear or unreasonable to him and this helped me to reaffirm all those concepts which already were in the script.

It gave me the opportunity to double check what already seemed right to me and it was an important experience. Four days just the two of us closed up with this character, reading and reading it again, sometimes even practicing the way he had to walk, to wear gloves or take them off… It was a very important work that made all the other things mush easier.


About the digital format

Giuseppe Tornatore: I felt comfortable with digital format even though my love for the film remains the same. On the other side, I started to feel that sooner or later I had to accept the use of digital format. The old dear system of film development no longer gives the results we were able to achieve in the past, because laboratories begin now to be less accurate than before, and because skilled printers no longer exist. So this disaffection and disuse of the tool inevitably leads to search for quality elsewhere.

I was not sure whether to make this transition now or for the next movie, but at some point I thought "Why keep waiting?". So I decided, and I do not regret it. But the idea that very soon nobody will be able to mount the 35 mm on a projector makes me sad. As the film is desappearing, it would be fair to train professionals now in order to preserve the technique for the future.


About the producers

Giuseppe Tornatore: I am usually gained by the love and the interest I perceive in a producer who asks me to make a movie together. In this case, I was impressed by the young Arturo Paglia's determination. His 'courtship", lasted a long time. I felt he was sincere. I like his enthusiasm a lot. I agreed to make the film with him for all these reasons and it was a very interesting experience.


The Best Offer
Release Date: August 29th, 2013