George Clooney and Matt Damon The Monuments Men
Cast: George Clooney, Matt Damon, Bill Murray, John Goodman, Cate Blanchett
Director: George Clooney
Genre: Action, Biography, Drama
Rated: M
Running Time: 118 minutes

Synopsis: Based on the true story of the greatest treasure hunt in history, The Monuments Men focuses on an unlikely World War II platoon, tasked by FDR with going into Germany to rescue artistic masterpieces from Nazi thieves and returning them to their rightful owners. It would be an impossible mission: with the art trapped behind enemy lines, and with the German army under orders to destroy everything as the Reich fell, how could these guys – seven museum directors, curators, and art historians, all more familiar with Michelangelo than the M-1 – possibly hope to succeed? But as the Monuments Men, as they were called, found themselves in a race against time to avoid the destruction of 1000 years of culture, they would risk their lives to protect and defend mankind's greatest achievements.

The Monuments Men
Release Date: March 13th, 2014
About The Film
'The story of the Monuments Men is one that really very few people know," says George Clooney, who returns to the director's chair for the story of a small group of artists, art historians, architects, and museum curators who would lead the rescue of 1000 years of civilization during World War II in his new film, The Monuments Men. 'Artists, art dealers, architects – these were men that were far beyond the age that they were going to be drafted into a war or volunteer. But they took on this adventure, because they had this belief that culture can be destroyed. If they'd failed, it could have meant the loss of six million pieces of art. They weren't going to let that happen – and the truth of the matter is, they pulled it off."
The chance to make a World War II movie was extremely attractive to George Clooney and his writing and producing partner, Grant Heslov. 'There's a certain romance around these movies – The Great Escape, The Dirty Dozen, The Guns of Navarone, The Bridge on the River Kwai," says George Clooney. 'In those movies, you fell in love with the characters and the actors as much as the story. And we thought The Monuments Men was a great chance to cast interesting contemporary actors together for our version of that kind of movie – it's a fun and entertaining way to do it."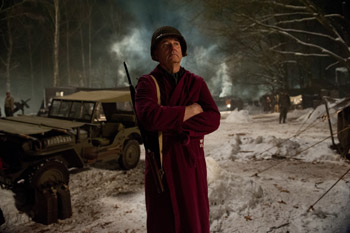 Part of the drama of the film is that all of the Monuments Men are so unsuited to serving as soldiers in wartime. 'Wars are fought by 18-year-olds," says George Clooney. 'Once you get to the John Goodmans and the Bob Balabans and the George Clooneys, you know – these guys are not getting drafted." Grant Heslov adds: 'They did it because it was clear that they were the only people who could do it."
'Actually, we never really fully thought of this as a war film – it was a heist film," says George Clooney. 'And then, the first day, we got to the set, and everybody put on their uniforms and helmets."
George Clooney was inspired to tackle The Monuments Men as a feature film not only because of its exciting and dramatic subject matter, but because it marked a sharp, decisive break from his most recent film, The Ides of March. 'We were very proud of that film, but it was contemporary, and very small – and also cynical," says Grant Heslov.
'We've made some cynical films, but in general, we really aren't cynical people," George Clooney continues. 'We wanted to do a movie that wasn't cynical, a movie that was straightforward, old-fashioned, and had a positive forward movement to it."
In their search for material, Grant Heslov mentioned that he had recently read the book The Monuments Men by Robert M. Edsel with Bret Witter, and brought the subject matter to George Clooney. Here was a chance to tell an optimistic story on an epic scale – a true story with huge stakes.
'I was living in Florence, walking across the Pontevecchio Bridge – the only bridge that wasn't destroyed by the Nazis as they fled in 1944 – and I wondered, this was the greatest conflict in history…how were all of these cultural treasures saved, and who saved them?" Robert Edsel asks. 'I wanted to find out the answer."
The answer was the Monuments, Fine Arts and Archives group, which would go to the front lines and, for the first time, try to save the treasures that could be saved. 'Culture was at risk," says George Clooney. 'You see it time and time again. You saw it in Iraq – the museums weren't protected, and you saw how much of their culture was lost because of that."
'Even today, people are still trying to get back the art that was looted from their families by the Nazis," Grant Heslov says, noting that just recently, a treasure trove of looted art was discovered in a Munich apartment – 1,500 works worth $1.5 billion, paintings by Matisse, Picasso, Dix, and other artists that had been thought to be lost.
'I think what that goes to show is that this is not a story that ended in 1945 – the search for missing art goes on today," Grant Heslov continues. 'There are still thousands of works that are still lost. There are paintings that are hanging in people's homes or hidden in plain sight on the walls of museums. Can you imagine if all of that had just been destroyed? It would have been a catastrophe."
'This story opens up the Second World War in a way that gives you a different perspective on it," says Cate Blanchett, who plays a key role as Claire Simone, a woman who holds the key to the secret location of thousands of priceless pieces of stolen art. 'These men were spurred on by a higher ideal. So many of the works that we take for granted in the great museums of the world were returned by this band of men – it was a near impossible task. Absurd, in a way: non military men going to the front lines and asking generals to stop bombing a certain church or area to save a window, or a sculpture or mural – you wonder how they were able to save anything at all. It's an extraordinary, selfless thing that they did, done to preserve history."
Though the Monuments Men had the support of FDR and General Eisenhower, they did face a challenge in embedding themselves in the field. 'Eisenhower was very keen on the idea – he wanted to make sure that there was something left when the war was over – and the war was going to be over very soon," says George Clooney. 'It was something he came to, after Allied bombing destroyed an ancient abbey that really didn't need to be destroyed. So it was important not just to protect the art from the Nazis, but from the Allies' own exploits as they pushed toward the end of the war. The Allies were blowing everything up, so they had this realisation that culture can be destroyed – not just by the Germans, but by us."
Robert Edsel says that many museum directors in the US had concerns about the art and cultural treasures that could be lost in the war, but that they were working at cross purposes – each director with his own plan – rather than in concert. 'George Stout – who would later become the unofficial leader of the Monuments Men – made some efforts, but he gave up on it – he figured no one was going to approve the idea of a bunch of middle aged art historians, architects, and artists running around with combat soldiers." But then Roosevelt approved the idea – and not a moment too soon. 'In August 1943, the Allies nearly destroyed The Last Supper inadvertently," Edsel continues. 'I think that set off the alarm bells and accelerated getting the monuments officers into the field."
Robert Edsel says that one might expect that soldiers fighting a war would not be receptive to being told what they could and could not blow up – but it's just the opposite. 'Much to their surprise – and we found this in their letters home, over and over again – there was only mild resistance at the beginning, and that quickly gave way to soldiers asking, -How are we doing? Have we saved any churches? Have we found any paintings?' The military started getting pretty engaged."
The Monuments Men were also working against a ticking clock. As the Allies closed in on Berlin, Hitler was unwilling to accept unconditional surrender – and if he couldn't have Germany, no one else would either. 'It became known as the -Nero Decree,' George Clooney explains. 'Hitler said, -If I die, destroy everything' – bridges, railroad tracks, communications equipment – and that was taken to mean the art, too. Everything."
About The Characters

George Clooney and Grant Heslov note that while the film is based on the true story of the Monuments Men, they did take some liberties with the characters for dramatic purposes. Though many of the characters are inspired by real Monuments Men, George Clooney and Grant Heslov have invented characters for the film. 'For the film, we wanted some of the characters to be flawed – we felt it would help the audience empathise with them as we tell the story," George Clooney explains. 'But it's not really fair to take a great man's real name and then give him a flaw he didn't have in real life." Grant Heslov adds: 'I think our characters end up looking pretty heroic in the film, and if our movie inspires people do their own reading and find out that the real men were even more heroic, I'm okay with that."
More importantly, even if the characters are invented, their story is real. 'We invented a few mundane scenes, just to help the story along, but the things in the movie that you'd think are so ridiculous and strange, -well, there's no way that those actually happened' – those are the things that actually happened," says George Clooney.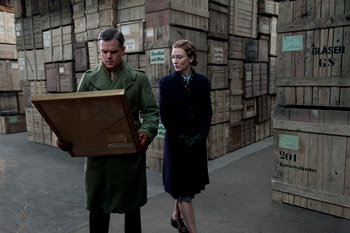 For the film, George Clooney and Grant Heslov were able to attract a top tier of actors, including Matt Damon, Bill Murray, John Goodman, Jean Dujardin, Bob Balaban, Hugh Bonneville, and Cate Blanchett.
One might think it would be difficult to balance so many different huge stars in a single film – but George Clooney says that it's just the opposite. 'All of these guys are usually in movies where they have to carry the whole movie, but they're all so comfortable with their own personas that they don't need to own all the scenes they're in," he says. 'There was a huge generosity of spirit in all the actors – they were willing to come and play, because they were all enjoying each other's company."
'This ensemble is just off the charts," says Matt Damon. 'Every day, I came to work with different, fun people who I really admire and whose work I follow carefully. I said to George Clooney early on, -I'm just going to smell the roses, because this is as good as it gets.' When you're doing something with a director that you have complete faith in, with a great script and a top-notch cast, it just doesn't feel like working."
George Clooney heads the cast in the role of Frank Stokes, a leading art historian. 'He's working at The Fogg Museum – Harvard's oldest art museum – working in art restoration when the story begins," George Clooney explains. 'He's already been to war – World War I – and has seen what can happen, especially as wars end. He's a natural leader."
What's it like for George Clooney to direct himself in a lead role? 'It's one of the things you learn in acting class – director-proof is what we call it. I don't pay attention to a single note I give myself," George Clooney jokes.
The inspiration for George Clooney's character was art historian George Stout. 'In real life, he was a very scrappy guy. He could do anything – like fix cars and radios." The head of the conservation department at the Fogg, and later the director of the Worcester Art Museum and the Isabella Stewart Gardner Museum in Boston, Stout was on the front lines during the war, helping to rescue cultural treasures in Caen, Maastricht, and Aachen, as well as Nazi art repositories in Siegen, Heilbronn, Cologne, Merkers, and Altaussee.
Matt Damon (James Granger) marks his sixth collaboration with George Clooney, but his first major role with George Clooney in the director's seat (Matt Damon had a small part in Confessions of a Dangerous Mind).
'I literally knew nothing about this story, which is why I was so surprised to find out it was real," Matt Damon says. 'It's a terrific story. Ultimately, this is a movie about people who are willing to sacrifice everything to save what is the very best of us, of humanity. To go after that art and try to rescue it, to save it, to protect it and preserve it… Art is the soul of society, it represents the very best things that we have achieved. To destroy that is to obliterate something irreplaceable."
The James Granger character is inspired by James Rorimer, who later became director of New York's Metropolitan Museum of Art. Granger's relationship with Claire Simone (Cate Blanchett) was inspired by Rorimer's interaction with Rose Valland, an employee of the Jeu de Paume gallery in Paris.
In the film, the character of Claire Simone holds the key to the location of many thousands of pieces of looted art – and that location is a piece of information she guards closely. 'She's thinking, -Why should I tell you where the art is? You'll just take it,'" says Matt Damon. 'To her, it's all about protecting the art. Granger has to earn her trust – he has to convince her that by keeping it a secret, she's not protecting the art, she's actually endangering it. By the end of it, she realises that they are kindred spirits."
Matt Damon was also gratified by the chance to work more closely with George Clooney as a director. 'George Clooney cuts in the camera, which very few directors do," Matt Damon explains. 'You're not shooting and shooting and shooting to cover scenes – he's already made the decision on how he's going to edit the scene, so he only shoots the necessary pieces. That helps keep everyone focused – any time the camera is rolling, there's a high probability that the shot is going to be in the final movie."
Bill Murray was excited to join The Monuments Men from the minute George Clooney first told him about the project. 'It was about two years before we started shooting – and I went, -Oh God, that sounds so good. I'd really love to be in that movie,'" Bill Murray says. 'I really liked the story, chasing down stolen art in World War II. It has everything. It's an action movie, but it's also about good guys on the hunt in the name of something beautiful and wonderful. I just thought it'd be great."
Just getting Bill Murray onto the project was an adventure in itself. 'We knew Bill Murray could knock this out of the park, but he can be a very hard man to track down," says Grant Heslov. 'George Clooney had the special number that you have to call – you leave a message and wait… but Bill called right back and just said, -Where and when do you need me?'"
In officially offering Bill Murray the part, George Clooney told Bill Murray that he'd be teamed up for most of the film with Bob Balaban. 'George Clooney put us together and said to me, -Do you think you can give Bob Balaban a hard time?' I thought for just a second and said, -Yeah, I think I can do that,'" Bill Murray remembers. 'Bob Balaban is a great stooge, a great straight man – it was great working with him. We were like Mutt and Jeff – it was just fun to be with him."
Bill Murray and Bob Balaban had worked together a number of films – in Cradle Will Rock, Moonrise Kingdom, and the upcoming Grand Budapest Hotel – but never so closely as in The Monuments Men. 'We wanted two people who were opposites, who would just irritate each other – without overdoing it," says George Clooney. 'Bill Murray's so good at playing that guy who finds a scab and keeps picking at it – he's so good opposite Bob Balaban."
'Obviously, Bill Murray brings humor, but even stronger is the emotional component," Grant Heslov says. 'Also, he's bigger than a lot of the other guys – especially Bob Balaban – so he's physically intimidating. When he smiles, he's the dangerous guy in the room."
Bill Murray's role, Richard Campbell, is an architect. 'He's recruited for the Monuments Men because a lot of what they're going to do – saving and reconstructing – involves figuring out how to preserve buildings and monuments," Bill Murray explains. 'Sometimes they'll have to prevent the destruction and sometimes they'll have to figure out how to save something that's been damaged. They need a broad group of artistic types, including fellas who are able to work in a third dimension in real, practical, physical reality."
Bill Murray notes that it's easy to go to the Louvre or the Met and take it for granted that their most prized masterpieces are still part of the collection. The film captures a period when that was in doubt – the ways that a world of art wouldn't be here today if not for the Monuments Men. 'You wouldn't be able to see it in churches or museums – it would be gone," he says. 'Lives ended too soon, but the art lives on. The people fought for it in the same way they fought for freedom. The people who fought to save this art have allowed the art to live on."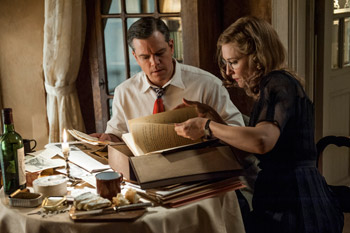 Bill Murray's character is inspired by several real Monuments Men, including architect Robert Posey. While embedded with Patton's Third Army during the war, Robert Posey discovered the salt mine at Altaussee, where the Nazis had stashed the Ghent Altarpiece, the Bruges Madonna, Vermeer's The Astronomer, and thousands of other works of art. For his contributions, Posey was awarded the Legion of Honor from France and the Order of Leopold from Belgium.
John Goodman says that his character, Walter Garfield, represents the people, men and women, who were stuck on the home front but eager to help the war effort in any way they could. 'My character is way over the hill as far as combat goes, but he's doing what he can," says John Goodman. 'He leaps at the chance to get over there and help. It's something that he does for passion and for love, to try to protect what he could."
For John Goodman himself, the chance to join the film was a dream come true. 'I always wanted to do a World War II movie and a buddy movie and a mystery – and for my role, this has all of those elements rolled into one," he says. 'I get to put on a World War II uniform and helmet and carry a gun? Neat-o! This movie is everything I wanted to do since I was five."
For the buddy movie aspect, The Monuments Men re-teams John Goodman with his co-star from The Artist, Jean Dujardin. 'Jean Dujardin is an incredible talent," John Goodman says. 'He's extremely funny, he's a great-looking guy, he's very agile – he's sharp and easy to work with. And since I worked with him in The Artist, he's learned to speak English, which is great because I'm still too lazy to learn French. Now we can communicate."
The film is also a re-teaming of John Goodman with George Clooney and Grant Heslov. 'John Goodman and I worked together on the first season of -Roseanne,' and then on O Brother and Argo – we've been in the same circles for years," says George Clooney. 'The only question I had was whether he was up for such a big, physical movie – he has a bad knee. He said he'd be fine, and he was more than fine. He did what he always does – he makes every movie he's in better."
'I think what we're doing is honoring the incredible struggles that my father's generation endured, first through the Depression and then a war," says John Goodman. 'They did the right thing and they did it for the right reason; they did it constantly and they did it well. In this film, in a small way, I'm trying to honor the previous generation."
John Goodman's character is inspired by the real-life Monuments Man Walker Hancock, a renowned sculptor. Hancock was a native of St. Louis, as is John Goodman. 'Oddly enough, when my mother and I would take the bus to downtown St. Louis to go shopping, we'd pass one of his sculptures, the Soldiers' Memorial," John Goodman says. 'It just put me in touch with the character. It's a small connection, but a happy coincidence."
'These men and women lived their life for art," John Goodman concludes. 'They were artists and art caretakers who were willing to risk all for the art they loved. I would like to think a lot of us would be willing to risk our lives to protect history and protect a culture – in this case Western culture but all cultures. It is the best of us. It defines us on a certain level."
Goodman's character, Walter Garfield, is paired with Jean Claude Clermont, portrayed by Oscar®-winning actor Jean Dujardin, a re-teaming of John Goodman and Jean Dujardin from The Artist.
'They don't talk much to each other, Garfield and Clermont," Jean Dujardin says. 'They don't need to talk to each other. They have a mission to accomplish. But, we have some very funny scenes together, and thanks to George Clooney's talent as director, he manages to put some irony in scenes and very intense scenes as well."
'Jean Claude Clermont is a French Jew who is an art dealer in Marseilles," Jean Dujardin explains. 'He escapes and takes refuge in London with his family. He is recruited by the American army for his artistic knowledge. He's not a soldier, but it's really important for him to take part in the war. He's really proud to be a member of the Monuments Men."
'Jean Dujardin won the Academy Award® in the same year that I was up for The Descendants," George Clooney notes. 'I just wanted to get him in this movie and kill him. Actually, I suggested killing him in the very first scene, but Grant Heslov thought we should wait a while, so I waited…. Actually, Jean Dujardin is one of my favorite people that I've ever worked with. I wish we spoke each other's language better, because it would be even more fun to be around him – he is deeply funny and so talented. Even with the language barrier, he loses nothing in personality. He's charming, sort of a rogue."
'He's the French George Clooney," says Grant Heslov.
'George Clooney really trusts his actors," says Jean Dujardin. 'He's not a director who tells you what to do; he just gives you some ideas. He's very flexible and everybody really wants to give him their best. He'll come slowly towards you and say, -I may be wrong, but maybe you could try one like this,' or -Why don't we try to say it in a French way?'"
Still, Jean Dujardin says that it was the chance to do things in the American way that was especially attracted him to the project. 'I got to do a different kind of acting – the French way of acting is often a bit more private, while the American way is very exciting, very playful. I was always criticised in France for being too expressive, so it's very freeing, very liberating for me."
'Downton Abbey's" Hugh Bonneville plays Donald Jeffries, a flawed man seeking a second chance. 'When the characters are introduced, you see them in their natural habitats, so to speak," Hugh Bonneville explains. 'Donald's happens to be a pub. We come to learn that he has made mistakes in life, has been unreliable and George Clooney's character gives him a second chance to re-embrace his first love, which is art."
'Jeffries is a flawed man," Hugh Bonneville continues. 'As the story progresses, he comes to terms with the errors he's made, moved by the art he loves. When he finally finds the Bruges Madonna he takes a moment to write a letter home, to his father, reflecting on his own life and its shortcomings. It's the stunning work of Michelangelo right there in front of him that inspires him to seek absolution from his father for the mistakes he's made – especially the mistake of looking for answers at the bottom of a bottle."
'From the minute that we started thinking that Hugh Bonneville would be good for the role, we immediately started writing the part for him – it really focused us, especially as we were writing the scene with the letter," says George Clooney. 'The funny thing is, we were on a set – the set where we first introduce the character – and there was a quiet room upstairs. We found him a microphone and he read the letter – we knew it would be in voiceover. He just nailed it, first take. And that's the piece we used in the final film – we didn't re-do it, we didn't loop it again. It's just so good – he's extraordinarily talented."
Hugh Bonneville is an award-winning actor, an alumnus of the Royal National Theatre, and has appeared on stage and in films with big stars several times; however, he admits to being slightly star-struck by the cast in The Monuments Men.
'I didn't sleep the night before my first day of shooting," Hugh Bonneville says. 'The call sheet read, -George Clooney, Matt Damon, Bob Balaban, John Goodman, Bill Murray, Jean Dujardin, Dimitri (Leonidas) and me.' I was awestruck on that first day. But like all actors – and these are particularly fine actors – they speak a similar acting language; you soon share a working shorthand. They're wonderful characters, both on and of screen. It was a privilege. I kept pinching myself."
Bob Balaban takes on the role of Preston Savitz. 'Savitz is an intellectual, an art historian and a theatrical impresario," Bob Balaban says.
Heslov does not mince words: 'He's a dandy," he says. 'This is not a guy who you would expect to find in a war. All of the guys are fish out of water, but Bob's character is a whale out of water. It's that juxtaposition against Bill Murray's character that I think is so funny."
'George Clooney is very focused. Very prepared. And very calm. He knows what he wants, and he's a great communicator," says Bob Balaban. 'He maintains his sense of humor under pressure. He pays attention to detail. He has great taste and he makes it a pleasure to come to work in the morning. What more could you want in a director?
George Clooney and Grant Heslov had both known Bob Balaban socially, and were just beginning to consider actors for The Monuments Men when their paths crossed. 'We had just finished the screenplay for The Monuments Men and we were at an event to support Argo, and Bob Balaban was there," says Grant Heslov. 'That night, we were talking about it, and we thought he'd be great for Savitz. We called him up, and he was in."
Preston Savitz is inspired by Monuments Man Lincoln Kirstein, an American impresario, art connoisseur, author, and a major cultural figure in New York who co-founded the New York City Ballet.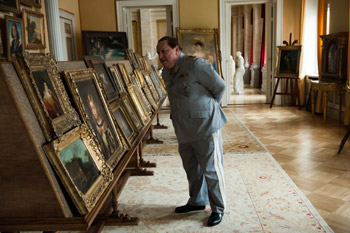 The screenplay drew Bob Balaban into the history. He gained a greater perspective from Robert Edsel's book and he drew inspiration and insight from another book given to him by Robert Edsel – a book of poetry written by Kirstein. 'It was written while Kirstein was overseas." Bob Balaban says. 'He was clearly overwhelmed and unprepared for his war experience. His book reminded me that while the Monuments Men were often too old and in many ways unqualified for the enormous task ahead of them, each of the guys was deeply honored to be there, and utterly committed to their mission."
Teamed in the film with Bill Murray's Richard Campbell, their relationship mirrors the one between Kirstein and Captain Robert Posey, who were assigned to Patton's Third Army during their search for the Ghent Altarpiece.
'This is the third time I've worked with Bill Murray," says Bob Balaban, 'And this time our characters were practically joined at the hip. Bill taught me everything I know about Thai cooking. And my putting improved dramatically just being around him. Preston Savitz and Richard Campbell didn't exactly get along. But we did. If I had to be tied to anybody for five months, I'm glad it was him."
The final Monuments Man in the film is Sam Epstein, played by Dimitri Leonidas. Not yet 19, Epstein is the only real soldier in the group, recruited for his ability to drive and to speak German.
'My character grew up in Germany – but Germany rejected him, because he's Jewish," Dimitri Leonidas says. 'When we meet Sam, he is a private in the Army and is basically lost in the system. They don't know what to do with him. They know he could be useful in some way, because of his German background, but he falls through the cracks. Frank Stokes is the one who sees his true value – as a driver and with his ability to understand German, he's handy to have around."
The inspiration for Leonidas's character is Harry Ettlinger. 'I was born in Germany under the Jewish faith," says Ettlinger. 'Hitler was on his way to get rid of all Jews in all the world. My father lost his business, and my parents realised that economic life for a Jew was no longer possible in Germany."
So, in September 1938, Ettlinger's Bar Mitzvah was moved up from January – and the next day, the family left for America. 'Actually, the rabbi suggested that we leave that same afternoon – even though you're not supposed to travel on the Sabbath," Ettlinger remembers. 'But my father said, -The war isn't going to start this afternoon' – and we left the next day."
After coming to America, Ettlinger enlisted at 18 – as all young men did at that time. On his 19th birthday, he was pulled out of a transport on its way to the front lines to fight the Battle of the Bulge, and three months later, joined the Monuments Men.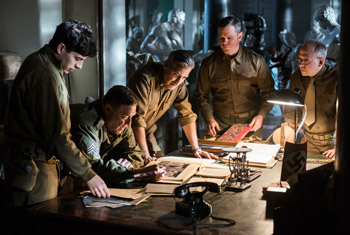 Working in the mines, Ettlinger came into contact with numerous pieces of priceless art. 'Jim Rorimer found a painting by Grunewald, the Stuppach Madonna – that was the item most precious to everybody – but on a personal basis, I saw a Rembrandt self-portrait that belonged to the museum in Karlsruhe, my home town. That painting was the museum's pride and joy – and actually, my grandfather had a print of that painting. It is hanging in my living room.."
In fact, Ettlinger's family had an extensive collection of ex libris prints that they had lost when coming to America. 'During my stay in Germany, I took a Sunday drive to Baden Baden, the resort town, in a Jeep driven by a Holocaust survivor named Ike. I hadn't told my sergeant, so technically, I was AWOL. That's where I found the warehouse with my grandfather's collection," says Ettlinger. 'We had a bit of a celebration – and that night, we ended up in the top suite in the best hotel in town. Here we were, a Holocaust survivor and an AWOL buck private, sleeping in a bed meant for the Kaiser of Germany. I'm very proud of that."
Cate Blanchett rounds out the cast as Claire Simone, a Frenchwoman in a unique position in Occupied France. 'Claire Simone is a curator at the Jeu de Paume – once an art museum but became a kind of depot for art looted by the Nazis," Cate Blanchett explains. 'But her real work goes on at night, when she records the provenance of the works and where they were being taken in an obsessively detailed way. She's the catalyst for the third act of the movie – the Monuments Men know the works are disappearing but they don't know where they are going, and they need her information."
Blanchett says that there was truly something different about the ways the Nazis went about looting art. 'In every war, there's looting. What was shocking to me was the mathematical, calculated and systematic way the Nazis went about their looting, and the fact that their acquisition of works began as early as 1938."
The other element that made the Nazi looting different was the so-called Nero Decree. 'When Hitler realized he was going to lose the war, he ordered that everything the Nazis had amassed was going to be destroyed. He was going to leave nothing in the hands of the victors," Cate Blanchett explains. 'In relation to the art, what the Nero Decree meant was that everything that they had stolen was to be destroyed."
'Matt Damon's character, Granger, must win her trust," Cate Blanchett continues. 'There was an understandable fear on the part of the French that, if the works were recovered by the Allies from the Nazis, they'd simply go to collections or collectors in Russia and the United States. From that standpoint, did it really matter whether it was stolen by the Germans, the Russians or the Americans?"
Ultimately, Granger and Simone forge an unusual bond, Cate Blanchett says. 'I think the love story that exists between them is a mutual love of art, of culture." Cate Blanchett says. 'They are both gripped – passionately gripped – by the importance of saving this work for all time. They believe that no single person can ever truly own a masterpiece. It's for everyone. So, I think they're united in the nobility of the cause."
Cate Blanchett's character is inspired by Rose Valland, a French woman who bravely and secretly kept track of the Nazis' systematic tracking, risking her life in the process. 'Rose Valland was, at first, a volunteer and then overseer at the Jeu de Paume, which adjoins the Louvre. During the war, it was a depot for looted Jewish art collections and other objects. Hermann Göring basically used the Jeu de Paume as a shopping mall – the Nazis set it up like an exhibition space for the pilfered art," Cate Blanchett explains. 'Her work singlehandedly saved crate-loads, castle-loads full of works of art that otherwise could have easily been destroyed. The fact that she was working alone was an act of extraordinary bravery. I think she was able to achieve what she did because she didn't stand out – she was the woman least likely."
About The Production

The Monuments Men was primarily shot on location in Germany, with a few weeks in England.
Behind the scenes, George Clooney and Grant Heslov reassembled a team of department heads who have collaborated on several of their films, including director of photography Phedon Papamichael, ASC (who filmed The Descendants and The Ides of March), production designer Jim Bissell (who marks his fourth film with George Clooney as director), editor Stephen Mirrione, A.C.E. (who has eleven collaborations with George Clooney, including all five of George Clooney's feature films as a director), and costume designer Louise Frogley (who has collaborated with George Clooney on eight films in total, including his most recent four films as a director).
'The whole crew – the editor, the production designer, the first A.D., the cinematographer, the sound guy, the wardrobe – they're all the same people picture after picture, because we trust them and love working with them. It makes it fun to go to work. It feels like family," George Clooney says.
Bissell admits that he was surprised by the new project's scope and ambition when he first read the script for The Monuments Men, even though he was expecting a break from the small-scale approach of The Ides of March. 'I thought, -That's a lot of sets' – I broke it down and it was 146 sets. It shattered George's own personal record of 110 sets on Confessions of a Dangerous Mind."
'I don't think most people realise the extent to which a production designer contributes to the making of a film," says Grant Heslov. 'They're the first ones in, they find the locations, and they're the ones that make the locations look right for the scene…"
'…and then, invariably, you have to improvise – say, you get bad weather. You can't waste the day, so you think, -Well, I could shoot this other scene…' Jim says, -OK, give me an hour' – and he makes it work," says George Clooney. 'I wouldn't make a movie without Jim Bissell."
Over the course of many pictures, Bissell has developed an economical and easy way of working with George Clooney. 'I talk to George Clooney about a shot – what elements are important compositional factors in a scene. Once I've talked with him, I can usually go out and either design the set or find the location that is good for what we need. Then, I'll go back and consult with him and he'll make a commitment at that point – before the shooting company is there. He really likes to be prepared and he doesn't like to waste," Bissell explains.
An Oscar® nominee for his design work on Good Night, and Good Luck, Bissell knows that seamless production design allows the audience to focus more fully on the essence of story and character. 'The most important thing always was to create an atmosphere, an impression of what it was like for the Monuments Men and what the dramatic settings were like where the story actually takes place. If I did my job right, nobody knows or notices what I did," he says.
For The Monuments Men, three core locations were selected for filming: southern and southeastern England in the United Kingdom; the city of Berlin and the area in and around Babelsberg, Germany – including the 100-year-old Babelsberg Studios and the adjacent countryside in Potsdam – and the Harz Mountains, the highest mountain range in northern Germany.
However, there were dozens of sub-locations within those countries which had to double for a variety of spots on the globe – including Washington D.C., New York City, Chicago, Paris, Great Britain, Belgium, Germany, Austria and Italy – while representing a plethora of specific settings: churches, cathedrals, museums, castles, salt mines, hospitals, airfields, a military training base and field headquarters, country roads, offices and living quarters.
Shooting on location helped the actors, says Jean Dujardin. 'Imagine being in a place with 300 extras, jeeps, tanks, and an intense story. We acted in Germany, in England. We shot in every kind of weather: snow, rain, wind, sun. Of course, it inspires you a lot," he says. 'I remember one scene with John Goodman. We're in the jeep and I'm wounded, lying in John's arms. Behind us, it's drizzling and incredibly foggy. I believe it does add to the picture and all the emotion."
'It was really challenging to make Germany work for France and Belgium, and to a certain extent, to make the U.K. work for Germany," Bissell says. 'Fortunately, Gothic cathedrals have a scale and style that sort of transcends national identities. So, we were able to be a bit more generic in the way we approached them."
For example, Bissell redesigned the interior of the Cathedral of St. Stephen and Sixtus in Halberstadt, the capital of the Harz district. Under Bissell's supervision, The Halberstadt Cathedral was made to double as the St. Bavo Cathedral in Ghent, Belgium, the rightful home for the Van Eycks' Adoration of the Mystic Lamb (aka The Ghent Altarpiece).
Geological processes have produced numerous caves in the Harz Mountains, many of which were mined for their mineral deposits. Bissell and crew transformed these into the mines for the film, principally those in Merkers, Germany and Altaussee, Austria, two monumental hiding places for Nazi plunder.
'The Harz Mountain area has the exteriors of all of our mines in the film," Bissell says. 'We found some great old period mines. Some of them were derelicts; others were abandoned but picturesque enough that we could fix them up and make them work for us."
One of the biggest challenges for Bissell was in conveying the enormity of the caches of stolen art and artifacts. 'Reading about the scale of the Nazis' thievery, the sheer volume is mind-boggling," Bissell says. 'It's very important that our audience understands what our Monuments Men found – even they were surprised at the extent, the scale of the theft. We needed that dramatic impact. You have to look at this – when they first start discovering these mines where the stolen art has been stored – and feel what they felt. It's awe, disbelief – before you begin to feel the elation from finding these treasures."
Though some filming was done in real mines, most of the tunnels were built on sound stages at Babelsberg Studios. 'That's a lot of stuff to shift around – paintings, crates, sculptures – and in order to get the scale you have to have large rooms that are accessible by one or two tunnels, fifteen hundred feet underground," Bissell says. 'That's not where you want to send a shooting company. So, we made the decision very early on to make a large mine set that was modular in a way where we could shoot it from different angles and it could be different art caches. We built those sets at Babelsberg Studios. They were large, but they had to be large."
In addition to these sets, effective masterpiece doubles were also key to the production. Over a thousand art works had to be authentically replicated, even if only a corner of the great painting, sculpture or tapestry would show on screen.
The production had a number of means of sourcing art. There are many rental houses – primarily in England – that have collections of oil paintings for rent. 'They're not masterpieces, but they're quite nice, mostly portraits," says Helen Jarvis, the film's Supervising Art Director, who sourced many of the necessary artworks. Many sculptures could be acquired the same way, by renting reproductions that had been made over the years.
Another means was obtaining high-resolution digital files and printing the paintings. 'Many of these paintings are quite complex, and printing has become so sophisticated; it was clearly the way to go," says Jarvis.
Two of these pieces, however, were artistic co-stars in the film: the Bruges Madonna and the Ghent Altarpiece. They would be getting quite a bit of screen time, and required special attention.
For the Bruges Madonna, the filmmakers took several tacks. 'We knew we were going to need two reproductions – one for our -hero shots,' as beautiful as we could get, and another that would be moved around, wrapped in blankets – used more as a prop," Jarvis remembers.
In Italy, the film's set decorator, Bernhard Henrich, found a yard full of statuary that had once belonged to Cinecittà, the famous Italian film studio. 'Amazingly enough, they had a Bruges Madonna, made of fiberglass," says Jarvis. 'We knew we were going to be renting several works from them, so we had that one sent ahead so we could see how good it was – and it was very, very good."
The filmmakers also hired a sculptor out of Berlin to carve a new reproduction out of high density foam. 'We went to Bruges and took some high-resolution images – and we purchased even better images in the gift shop! Also, in the Town Hall in Bruges, there happens to be a 100-year-old plaster cast of the Madonna sitting in a hallway. From that reproduction, we were able to get some very good side photos of the Madonna. Then, our very accomplished sculptor carved for two or three weeks."
The filmmakers then compared three life-sized photos side-by-side: the real Madonna, the fiberglass Italian reproduction, and the foam sculpture. 'The Italian fiberglass one won," says Jarvis. 'It was closer to the original. The foam Madonna became our backup."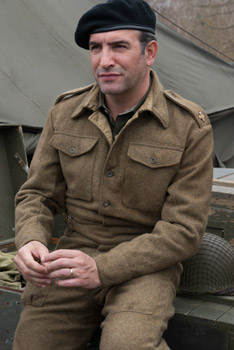 The other key piece was the Ghent Altarpiece. 'For the Ghent Altarpiece, we obtained the rights to a very high resolution digital file printed," Bissell says.
'We went through test after test," says Jarvis. 'We printed the panel of the Madonna in the green velvet dress on several different kinds of material before we found that a more modern technique – a vinyl-coated printing technique – was what worked best. Then we handed it off to our scenic painter, who put a paint finish over the top of it – an acrylic that had wax in it – that gave it a great look of having been painted. And then, our carpenter created all of the wooden framing, and we built an elaborate stone altarpiece for it to sit on."
The filmmakers also recreated The Burghers of Calais, the large Rodin sculpture. 'We found a company in New York that made two-foot-high replicas of the statue," says Jarvis. 'You might not think those would be useful, but they were great because we could rotate them can see every nuance of the drapery. Again, we carved those out of dense foam, but the bronze texture was much more forgiving than the marble."
Louise Frogley, the costume designer, says that her challenge was similar to Bissell's – one of logistics and scope. 'There were so many big scenes involving uniformed and civilian people in different stages of deterioration," Louise Frogley remembers. 'There were large quantities of people involved and large amounts of costume, and we had to do pre-fits while filming was still going on. Plus, we would be shipping stuff ahead while we were filming. Plus, we had to clothe people in one location while we were pre-fitting people in another. We had to find watches for every main actor, multiples for them. We had to do glasses, coated and uncoated. And sunglasses, coated and uncoated. For people with reading glasses, we had to do coated and uncoated, plus blank, coated and uncoated. It went on and on and on. We were driven mad with all of these details, but we did it."
Despite the number of past World War II films, military uniforms were not so easy to come by. 'Many of the original uniforms have been sold, destroyed or are in bad condition," louise Frogley says. 'This stuff doesn't last long if it's not looked after. There's original stuff still in existence, but the sizes are almost always too small. We had some wonderful, original Nazi jackets, but in sizes like 36-chest – and no trousers."
Louise Frogley, along with costume supervisor John C. Casey and military costume supervisor Joe Hobbs, had the added task of outfitting actors who represented several different armies: American, German, British, French and Belgian. 'And, of course, mid-way through the war, the uniforms changed," Louise Frogley adds.
To pull it off, Louise Frogley explains, it turned into a true international effort. 'The uniforms came from all over the place," Louise Frogley explains. 'We had stuff made in Poland. We had the fabric made in Pakistan. We bought stuff from dealers in Holland. We had boots from Mexico."
But although the Monuments Men spend most of the movie in uniform, it was important to design costumes in the early scenes that reflected their civilian lives. 'We were very much trying to reflect who they were first as civilians because they weren't the normal military types," Louise Frogley says. 'That way we would show what difference being in the military must have made. Stokes (George Clooney) is an intellectual, so he's smartly dressed, appropriately but not outstanding. Granger (Matt Damon) is slightly more arty; we first see him in nice period overalls over more casual clothes before he dresses up a bit to meet with Stokes. Campbell (Bill Murray) is an architect, so we see him in a suit, on site of a building project. Garfield (John Goodman) is a sculptor, so we meet in him a sculpting smock and cap; in uniform, he's still a bit of a mess, because that fits the character. Savitz (Bob Balaban) works in the world of dance; we dressed him a little more flamboyantly."
Once they've joined the military, each man becomes part of a unit, working toward the same goal. 'Of course, the actors still bring individuality to their characters and they can use the way they wear their uniforms to reflect that – a shirt tucked into a waist just so, a collar askew, little things that show different traits. These guys are all pretty smart actors. They're going to use every last thing they can, anything to enhance the character."
'Louise Frogley is a brilliant designer," says Cate Blanchett. 'I always find her wardrobe fittings really informative and creative. Together, you kick images and ideas around. Louise Frogley always approaches recognizable periods in unexpected yet true ways.
About The Real Monuments Men And The Art
For centuries, conquering armies have treated the art of their vanquished as spoils of war. But the world was not prepared for the pillage of the Nazis, who stole millions of art treasures as they marched through Europe.
Adolf Hitler was a great art lover. A frustrated artist who had twice been rejected by the prestigious Vienna School of Fine Arts, Hitler dreamed of transforming his adopted hometown of Linz, Austria, into a super city. The centerpiece of this dream metropolis was to be the Fuhrermuseum, which would house and display practically all of the world's finest art: paintings, sculptures, tapestries... anything that Hitler deemed worthy of his collection. Hitler's second in command, Reichsmarschall Hermann Göring, was Hitler's main procurer in the acquisition of Europe's art, while also stealing a significant number of great works for himself.
The sheer volume of stolen pieces is staggering: more than five million of Europe's greatest cultural treasures were looted by the Nazis. The stolen items included tens of thousands of works by the Masters, a veritable Who's Who of classic art: Michelangelo, DaVinci, Rembrandt, Van Eyck, Vermeer and many more. Just one repository for the artwork – the salt mine at Altausee, Austria – included 6,577 paintings, 230 drawings or watercolors, 137 sculptures, 122 tapestries, and 1200-1700 cases of rare books.
As word spread to the United States about the Nazi art thievery and the destruction of churches, museums and monuments by both sides in the War, leaders in the American art community organized to save the western world's cultural history. They took their case to President Franklin D. Roosevelt and, with FDR's backing, formed the American Commission for the Protection and Salvage of Artistic and Historic Monuments in Europe. From that commission sprang the Monuments, Fine Arts and Archives (MFAA) group, which would form the brigade that would protect the remaining historical monuments, recover the looted art and restore those treasures to their country of origin.
At the time of Germany's surrender, there were only about a dozen Monuments Men in the field in northern Europe, including:
Lieutenant George Stout, a leader in the field of art restoration who first conceived the idea of the Monuments Men. Stout was the acknowledged leader of the group (military rank did not necessarily reflect the practical hierarchy within the MFFA).
Second Lieutenant James J. Rorimer, a future director of the Metropolitan Museum in New York, the man most responsible for the Met's famous Cloisters.
Captain Walker Hancock, one of America's most renowned sculptors.
Captain Robert Posey, a well-known architect who served as MFAA advisor to Patton's Third Army.
Private Lincoln Kirstein, future founder of the New York City Ballet.
Private Harry Ettlinger, a German-born Jew and at age 18, by far youngest of the group. Ettlinger came to America with his parents shortly after the Nazi takeover of his homeland. Although Ettlinger did not move in the same artistic circles as the others, he proved invaluable as driver and translator.
The Monuments Men also found a valuable ally in Paris, in the person of Rose Valland, an art historian, member of the French Resistance and, at the time of the Nazi occupation, the overseer at the Jeu de Paume Museum. The Germans used the museum as their central storage and sorting depot for up to 20,000 works of art.
Valland surreptitiously kept records of each piece that came through the museum. For four years, she managed to keep secret the fact that she spoke German while tracking the destinations of the artworks and, at great personal risk, informing the French Underground which railroad shipments contained priceless works of art.
Valland is one of most decorated women in French history.
In March 1945, with the Allied troops fast approaching, Hitler issued his infamous 'Demolitions on Reich Territory Decree" (nicknamed the 'Nero Decree"), which ordered the destruction of German infrastructure to prevent their use by Allied forces – and was widely interpreted to extend to the massive collection of stolen art.
While the Monuments Men were responsible for the rescue and preservation of millions of European art treasures, two pieces in particular took on special significance: the Bruges Madonna and the Ghent Altarpiece.
The Bruges Madonna
Michelangelo's fourth treatment of the Madonna and Child theme represents a major departure from his earlier work. The Madonna does not cradle the Christ Child in her arms or on her lap. Instead, the Child has slid down between her knees, as if to take his first independent step. The worried gaze of his mother seems to indicate an awareness of his fate.
Around 1506, the Mouscron brothers, wealthy Flemish cloth merchants, brought the fifty-inch, free-standing marble statue to Belgium, where it was placed on the altar of their family chapel in the church of Notre-Dame in Bruges. Since then, the Bruges Madonna has been Belgium's most famous resident. The sculpture was removed from Bruges by retreating Nazis in September 1944, and was found and returned by the Monuments Men.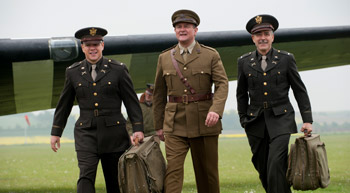 The Ghent Altarpiece
The Adoration of the Mystic Lamb or Lamb of God, an early Flemish polyptych panel painting, is one of the world's most spectacular and revered artworks. It is commonly called The Ghent Altarpiece due to its home in St. Bavo's Cathedral in the Belgian city of Ghent.
It is believed the work had been started by Hubert Van Eyck around 1415 and taken over by his younger and more prolific brother, Jan, upon Hubert's death in 1426. Jan completed the work in 1432. Art historians generally agree that Jan did the lion's share of the painting. The magnificent 12-panel altarpiece is a complicated production, comprised of eight hinged shutters, painted on both sides, which presents two distinct views, depending on whether they are opened or closed.
The Ghent Altarpiece is also reputed to be one of the most frequently stolen pieces of artwork:
1566: The altarpiece is dismantled and hidden to protect its burning as a Catholic icon by Calvinists.
1784 to 1860: Two panels, depicting the nude figures of Adam and Eve, mysteriously disappear.
I794: The four panels depicting The Adoration are taken to Paris by the French Army.
1816/17: Six shutters are purchased by William of Prussia.
1914-1918: The altarpiece is divided among three cities, Brussels, Berlin and Ghent.
In 1914: Germans steal the Adam and Eve panels.
1919: A clause in the Treaty of Versailles – at the insistence of world art critics – demands the return of all panels to their original site in Ghent. The clause was not enforced until 1923.
1935: The Righteous Judges and Saint John the Baptist panels are stolen, followed by a ransom demand. The Saint John panel is returned as a 'show of good faith" but no ransom is paid. The Judges panel is never recovered. (Belgian restorer Jan van der Veken repainted the missing panel after World War II.)
The Monuments Men
Release Date: March 13th, 2014