Interview with Lola Berry
Question: Can you talk about the challenges that Australian mums with kids aged 2-12 face in regularly providing a diet incorporating all healthy food groups?

Lola Berry: Our survey found that over three quarters of Aussie kids aged 2-12 years old are classified as 'picky" when it comes to eating healthy foods prepared by their parents, so no doubt parents have a very challenging time providing a diet incorporating all these healthy food groups for their kids. The challenges lie in the fact that parents struggle to find ways to prepare healthy foods that will appeal to their children, and therefore they fear their children are not getting the healthy nutrients they need. We've developed some exciting and creative recipes in line with the DVD release of Cloudy With a Chance of Meatballs 2 that parents can make and their kids will want to eat, purely because the 'healthy" foods are hidden and disguised in amongst the other foods, and the general presentation of the food is really fun!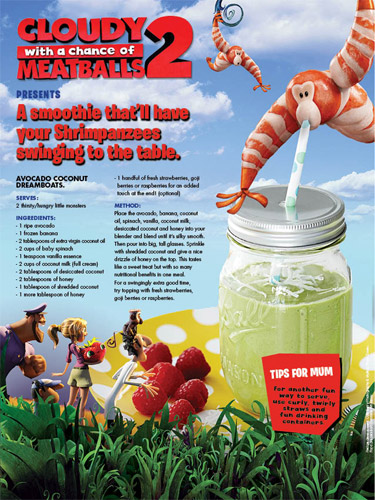 Question: Can you talk about what healthy foods you've found Australian children actually enjoy?

Lola Berry: The survey found that fruit and diary were the most loved food groups, so we know Aussie children really enjoy their fruits – apple was actually the most popular fruit, followed by bananas! On the diary side of things, we found children love all types of cheese and milk, with only a few having issues with yoghurt.


Question: Can you talk us through what is important to put in a lunchbox that can help fulfil the recommended dietary intakes for children?

Lola Berry: By adding colour to lunch boxes with different types of fruits and veggies you know you're getting a broad spectrum of nutrients because each coloured item contains a different plan chemical or "phytonutrient" so think real foods (unrefined in their most natural state and thing a broad variety, mix things up, sure they won't like everything but they will like some, I'm sure of it!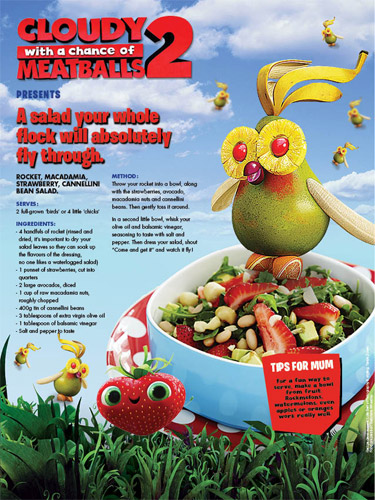 Question: What are the most disliked foods of kids aged 2-12?

Lola Berry: The four most disliked foods found in our survey were, in order of most disliked to least disliked: broccoli, cannellini beans, avocado and beef.


Question: Were you surprised that avocado, pumpkin and beef were in the most disliked foods list?

Lola Berry: Ok so this is where it gets tricky and it's all about being creative, try hiding things in mash, making it fun, raw treat with avocado work really well too! And get the kids involved with the cooking process! That way it's more fun and they'll be inclined to try it!


Question: Can you share your fun and nutritious meals for mum's and kids to cook to help mask the most disliked foods from the survey findings?

Lola Berry: For the release of Cloudy With a Chance or Meatballs 2 , we've created four fun and nutritious meals that mums and kids can definitely cook and enjoy, with each recipe featuring one of the top four most disliked foods. These are:
Avocado Coconut Dreamboats
Rocket, Macadamia, Strawberry and Cannellini Bean Salad
Mexican Beef with the World's Best Guac!
Broccoli and Cauliflower Rice with Lamb Chops and Tomato Sauce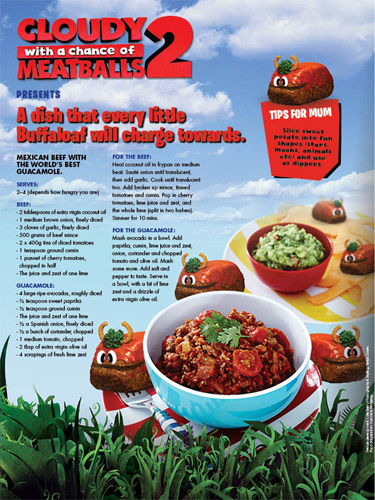 Question: Do you believe presentation and role modelling is important when serving healthy food to children?

Lola Berry: Yes, role modelling is key, led by example if you live breath and eat a health lifestyle your kids will follow suit. They will become used to it, our taste buds change every 14 to 21 days so they will get used to new flavours, even the ones they don't normally love!

And if the food looks nice they will be more included to want to eat it!



Cloudy With A Chance Of Meatballs 2 DVD
Cast: Bill Hader, Anna Faris, James Caan, Andy Samberg, Benjamin Bratt, Neil Patrick Harris, Kristen Schaal, Will Forte, Terry Crews
Directors: Cody Cameron, Kris Pearn
Genre: Children's animation
Rated: G
Running Time: 94 minutes

Flint Lockwood (Bill Hader) and the Swallow Falls gang are back to dish-up a hippotatomus-sized adventure in Sony Pictures Animation's Cloudy With A Chance Of Meatballs 2.

Bill Hader (Night At The Museum: Battle Of The Smithsonian) leads the returning all-star cast including Anna Faris (House Bunny, Scary Movie franchise), James Caan (Get Smart, TV's 'Las Vegas"), Andy Samberg (TV's 'SNL"), Benjamin Bratt (TV's 'Law & Order") and Neil Patrick

Harris (TV's 'How I Met Your Mother"). Newcomers include Kristen Schaal (TV's 'Flight of the Conchords), Will Forte (TV's 'SNL") and Terry Crews (TV's 'Brooklyn Nine-Nine").

In the second instalment of the hugely popular children's animated film, inventor Flint Lockwood's genius is finally being recognised when he's invited by his idol Chester V to join The Live Corp Company, where the best and brightest inventors in the world create technologies for the betterment of mankind.

It's always been Flint's dream to be recognised as a great inventor, but everything changes when Flint discovers that his most infamous invention – a machine that turns water into food, causing cheeseburger rain and spaghetti tornadoes, is still operating and is now creating food-animals, or 'foodimals!" With the fate of humanity in his hands, Chester sends Flint and his friends on a dangerously delicious mission to battle hungry tacodiles, shrimpanzees, hippotatomuses, cheespiders and other foodimals to save the world – again!

Special Features:
Filmmaker commentary
La Da Dee Music Video
Featurettes including:
Production Design: Back in the Kitchen, Cloudy Café: Who's on the Menu?, Anatomy of a Foodimal, Awesome End Credits, Making of the La Da Dee Music Video, Building the Foodimals, Delicious Production Design, The Mysterious Sasquash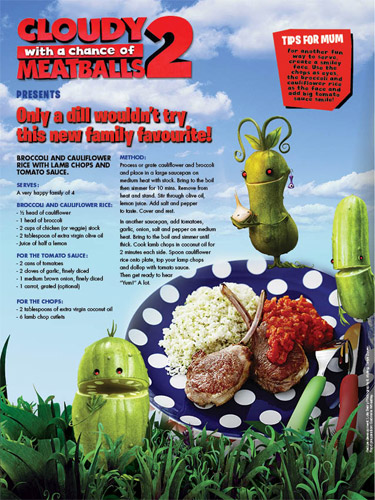 Blu-ray Special Features:
Filmmaker commentary
La Da Dee Music Video
Operation Foodimal Funimal (Game)
Short-films including: Steve's First Bath Mini-Movies, Super Manny Mini-Movies Attack of the 50 Foot Gummi Bear Mini-Movies, Earl Scouts Mini-Movies
Deleted scenes including: Barb picks up Flint, Flint prepares for his Mission Tunnel to Flint's Lab, Brent's Toes
Featurettes including: Production Design: Back in the Kitchen, Cloudy Café: Who's on the Menu?, Anatomy of a Foodimal, Awesome End Credits, Making of the La Da Dee Music Video, Building the Foodimals, Delicious Production Design, The Mysterious Sasquash

Cloudy With A Chance Of Meatballs 2
RRP: $39.95
Blu-ray™ + UltraViolet: $44.95
DVD Double Pack Cloudy 1 & 2: $44.95
3D + UltraViolet ™: $49.95

Interview by Brooke Hunter