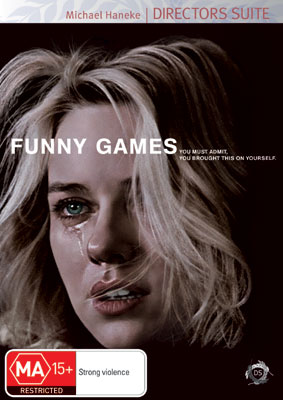 Funny Games
Director : Michael Haneke
Cast : Naomi Watts, Tim Roth, Michael Pitt and Brady Corbett.
Genre: Horror, Mystery/Thriller
Rated: MA15+
Running Time: 108.0 mins
RRP: $29.95

Special Features: Original theatrical trailer

A Film by Michael Haneke

When Ann (Naomi Watts) and George (Tim Roth) take their young son Georgie to their idyllic country home for a holiday, their plans are only to enjoy tranquility and restfulness. But their intentions are drastically interrupted when two young men, Peter (Brady Corbett) and Paul (Michael Pitt), appear on their doorstep. Eerily polite and dressed all in white, Peter and Paul ask to borrow some eggs. Soon, the family discover that they are the prey in an evil game of cat-and-mouse, as the disinterested young men torture them both psychologically and physically as part of an elaborate "game".

From the award-winning director of Hidden, Michael Haneke, remaking his 1997 German-language original, Funny Games is shocking and terrifying: a thriller that will challenge, disturb and shake you to the very core.