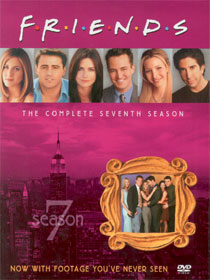 Starring: Jennifer Aniston, Courteney Cox Arquette, Lisa Kudrow, Matt LeBlanc, Matthew Perry, David Schwimmer
Genre: Drama Series
Running Time: 23 episodes - 576 mins

The fun is nonstop with these special guests stars throughout the seventh season: John Alexander, Hank Azaria, Kristin Davis, Morgan Fairchild, Gary Oldman, Denise Richards, Winona Ryder, Susan Sarandon, Kathleen Turner, Gabrielle Union.

You are cordially invited to join the festivities as the gang prepares for Monica and Chandler's wedding in this Deluxe 4-disc set of the complete season seven. This collection includes never before seen moments not originally broadcast and exclusive bonus features.

Special Features:
Producers commentary on 3 episodes
Friends of Friends video guestbook
Gag reel
Monica's wedding book challenge trivia quiz
Gunther spills the beans
About next season
Soundtrack remastered in dolby digital 5.0

Review:
This season kicks off just after Chandler has proposed to Monica, and ends with their wedding.
Its hard to believe that friends is finally over, but it is good to get back to some of the older seasons and see what happened. This season does not dissapoint, especially when coming from one of the greatest tv series ever to air.
We will go back in time to when Rachel has a crush on her hunky asisstant Tag, Joey is back on tv in "Days of Our Lives" and Ros is the holiday armidillo.
Season 7 is not like the other seasons which all focused on a storyline theme, this season instead has the wedding theme but mostly each episode is its own little story. Newcomers to the show should not start here, it is mostly for those that have become Friends fans and enjoy the laughs like only the friends characters can.

The episodes in this season are great and you find yourself laughing the whole way through. The gust appearances are really good and add a lot to the episodes. A great show, a great series and a great season. Friends fans will love it and it will be a good set to add to the colloection.