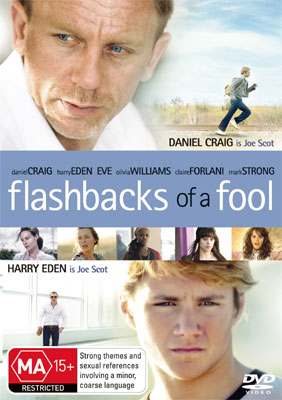 Starring: Daniel Craig, Harry Eden, Eve, Miriam Karlin, Jodhi May, Helen McCrory, Olivia Williams
Director: Baillie Walsh
Genre: Drama
Rated: MA15+
Running time: 116 Minutes

Some memories never fade for James Bond star DANIEL CRAIG in this beautifully crafted exploration of self-destruction and the recollections that fuel it, with the release to DVD of the British drama FLASHBACKS OF A FOOL available on DVD.

Written and directed by rising cinema star BAILLIE WALSH (Mirror Mirror) and produced by DANIEL CRAIG, FLASHBACKS OF A FOOL tells the heart-wrenching story of Joe Scott (DANIEL CRAIG), an aging and self-destructive English star living in Hollywood. The rapid approach of the end of his career and the death of his old childhood best friend Boots, catapults Joe into extreme self-examination through a flood of disturbing memories from his past.

In an extended flashback to his youth, we observe Joe as a teenager (played by HARRY EDEN) in the safety of a sunny seaside village, embarking on young love with beautiful schoolgirl Ruth (FELICITY JONES). As Joe and Ruth explore their feelings Joe is seduced by older woman Evelyn (JODHI MAY), who is also his mother's friend. When the affair ends in disaster, Joe flees England for a fresh start in America, leaving Ruth and his best friend Boots behind for a life of future Hollywood stardom.

However, years on, after news of Boot's death reaches him in LA, Joe returns home to England to face his demons and the now adult woman he left behind (CLAIRE FORLANI).

Superbly shot and set to an impressive soundtrack of music from the 70's including Roxy Music and David Bowie, FLASHBACKS OF A FOOL is a touching and emotional story of childhood memories and mistakes, and a man who is perceived to have everything, but can't own the past.