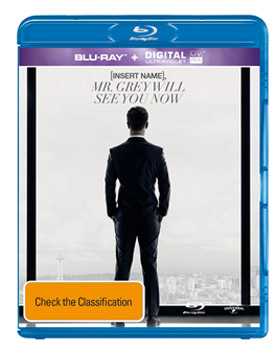 Fifty Shades of Grey Blu-ray Pre-Orders
To celebrate the highly anticipated home entertainment release of Fifty Shades of Grey the Universal Sony marketing team has created an exclusive, bespoke, limited edition pre-order version of the Blu-ray™ and DVD to entice audiences and ensure they have their copy of the film ordered ahead of the release date on May 21, 2015.

Fifty Shades of Grey has had momentous success theatrically in Australia, it is the biggest February opening of all time as well as being the biggest MA or R rated non-holiday opening of all time. In the opening weekend alone, the film made over $10 million.

To date, over 2,000 Australian's have pre-ordered their personalised version of the movie – which has their name included in the iconic sentence 'Mr Grey will see you now". This is a substantial number considering the film has only been in cinemas for two weeks. Consumers looking to place their orders and get a private glance at Jamie Dornan's chiseled chest behind closed doors should hurry as the fan edition Blu-ray and DVDs are only available to order until March 12, 2015.

Fans of the book and film can visit https://theviewingloungestore.com.au/?p=774 to pre-order their copy of the Blu-ray or DVD.

Viewers of the film are fanatical about the franchise, some fans have seen the film four times in the past two weeks.

A spokesperson for Sanity says "The response from fans of Fifty Shades has been truly incredible. We haven't seen such a reaction to a theatrical title available for pre-order on our site in years, if ever. It's safe to say this is fastest growing online pre-order we've ever experienced, and it shows no sign of slowing down anytime soon."

Cindy McCulloch, Marketing Director of Universal Sony says, 'Universal Sony Pictures Home Entertainment always strives to lead the Industry in creating unique ways to engage consumers and Fifty Shades of Grey is no exception. We're thrilled to work on such a high profile title and are looking forward to seeing the consumer conversation continue."


Fifty Shades of Grey
Cast: Dakota Johnson, Jamie Dornan
Director: Sam Taylor-Johnson
Genre: Drama, Romance
Rated: MA

Starring Hollywood's hottest new stars, Dakota Johnson (The Social Network, 21 Jump Street) and Jamie Dornan (Marie Antoinette, The Fall) as the infamous Anastasia Steele and Christian Grey, Fifty Shades of Grey is a must-have for any home entertainment collection.

Fifty Shades of Grey