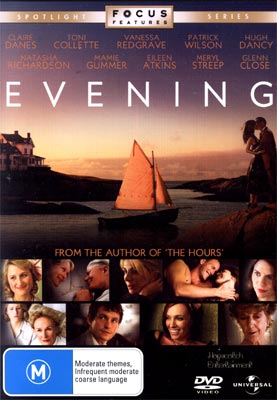 Cast: Claire Danes, Toni Collette, Vanessa Redgrave, Patrick Wilson, Hugh Dancy, Natasha Richardson, Mamie Gummer, Eileen Atkins, Meryl Streep, Glenn Close
Director: Lajos Koltai
Genre: Drama
Rated: M
Runtime: 112 minutes

Deeply moving and incredibly romantic, Evening is a film about the moments in life that define us, and the timeless love that binds mothers and daughters, sisters and friends. The film explores the romantic past and emotional present of 65 year-old Ann Lord (Vanessa Redgrave), told in two parallel stories.

Based on the beloved novel by Susan Minot and adapted for the screen by Pulitzer Prize-winning author Michael Cunningham (The Hours), Evening boasts one of the strongest female casts assembled in recent times, to include Claire Danes, Toni Collette, Vanessa Redgrave, Glenn Close, Natasha Richardson and Meryl Streep.

Evening is a wonderful, exhilarating and poignant film of spellbinding power on the nature of memory and love. A timeless and stirring story about the secrets we share, the choices we make and the people who fill our lives.

Bonus Feature:
One Weekend by the Sea - Remembering Evening (the making of Evening)

Review: Intensely romantic and heartbreaking, with some warm honest portrayals.